Image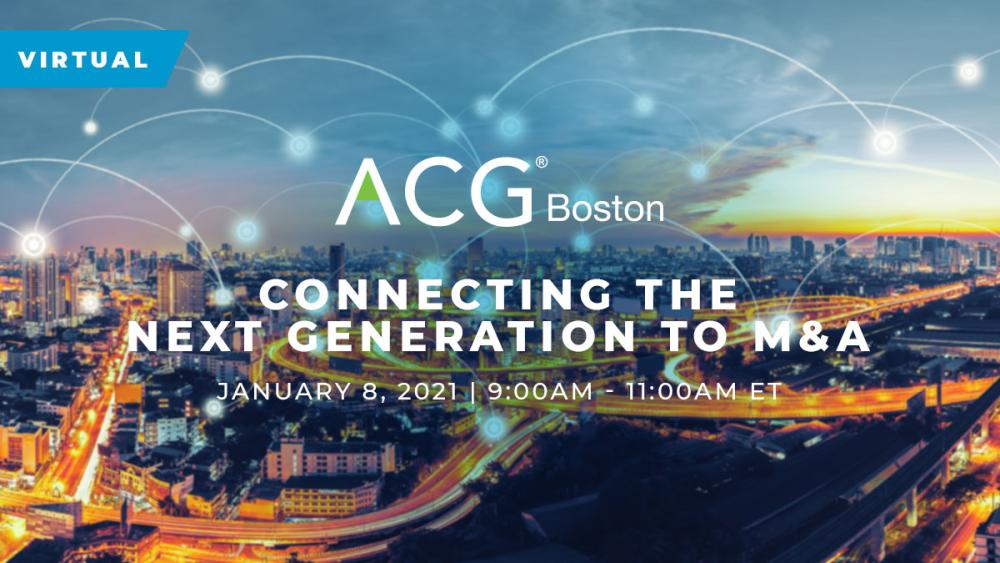 Event Details
When:
January 8, 2021 9 AM - 11 AM EST
Where:
Add to Calendar
Overview
Body
ACG members are invited to attend our complimentary, members-only 7th Annual "Connect the Next Generation to M&A" virtual event on January 8, 2021.
Members will have the opportunity invite their college-aged or recent college graduate children, mentees, or other young professionals who are looking to break into the M&A industry, or to advance in their careers in middle market, to virtually meet other ACG members who can share valuable knowledge and expertise.
This year's breakfast will feature ACG Boston Board Member Chris Nicholas, Managing Partner, Shields & Company, who will share his experiences and advice on breaking into and advancing in investment banking, and provide tips on how to get started building and navigating a career in M&A.
It's a great chance for ACG members to offer guidance to the next generation on the ins and outs of getting an internship, finding potential mentors, learning the ropes, effective networking tips, advancing their M&A careers and more.
Please note this event is by invitation only for ACG members. If you are an ACG member and interested in attending, please contact us.
Event Secondary Body
Agenda
9:00am - 9:30am: Small Group Networking
9:30am - 10:15am: Introductions and Featured Speaker
10:15am - 11:00am: Small Group Networking
Hosted by:
ACG