Image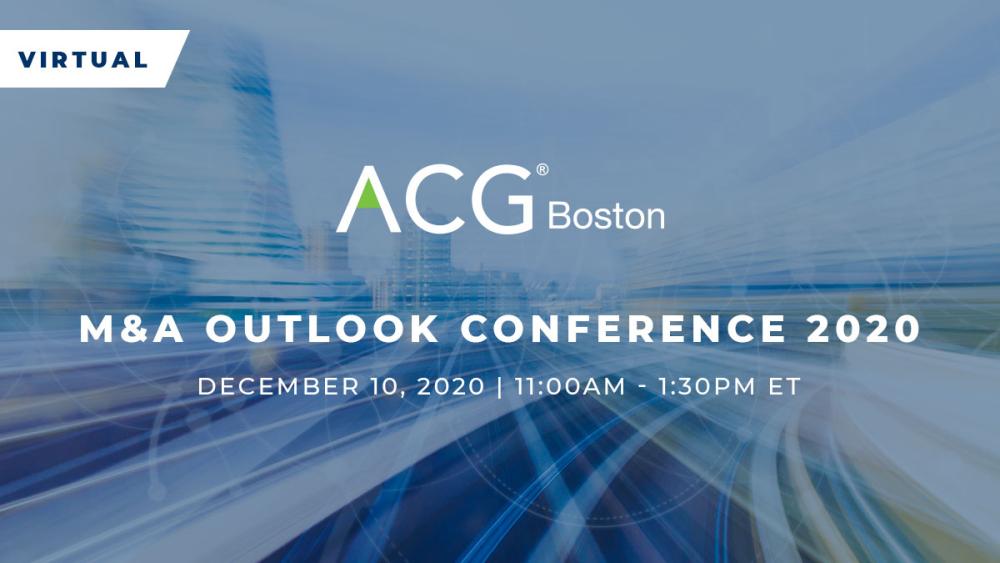 Event Details
When:
December 10, 2020 11 AM - 1:30 PM EST
Where:
Add to Calendar
Overview
Body
Join us for our annual M&A Outlook Conference - fully virtual this year! You'll hear from CEOs who successfully exited their businesses amidst the pandemic, as they share their experiences and lessons learned. And back by popular demand, to follow up on his predictions made to our members in late April 2020, Jeff Mortimer will be back to share his perspective and forecasts for what's ahead in 2021.
The M&A Outlook Conference will be hosted on the Remo platform, giving you opportunity to network in a virtual ballroom environment, and allowing for more natural and flexible connections with your fellow deal professionals from across the country.
Event Secondary Body
Agenda*
10:00am - 11:00am: Log into Remo to familiarize yourself with the tool (attendees will receive the Remo link prior to the event)
11:00am - 11:15am: Networking
11:15am - 12:00pm: CEO Exit Panel
12:00pm - 12:30pm: Networking
12:30pm - 1:00pm: Closing Keynote - Jeff Mortimer, Director of Investment Strategy, BNY Mellon Wealth Management
1:00pm - 1:30pm: Networking
*subject to change
Pricing
ACG Member: $65
Non-Member: $95
Hosted by:
ACG
Sponsors
Event Materials
Event Materials
Tech Tips for Remo:
Use Google Chrome
Turn off your Firewall and/or VPN
Refresh your browser window
Enable your microphone & camera access in your browser (typically from the URL bar in your browser window)
If you continue to experience trouble please visit our Zoom Help Desk (from 10:00am - 12:30pm ET on Dec. 10) here: https://us02web.zoom.us/j/87072933686?pwd=VldDN1FOOE1wcmxIZG5xcGUzNG9IUT09 
 
How to Use Remo:
Once logged in, you will be placed into a "Virtual Ballroom"
The ability to turn your camera and microphone on and off is at the bottom of the floorplan (note that it must also be enabled in your browser)
To move around the floorplan, double click on a table with an empty seat and you will be placed at that table. You can also click and drag the floorplan to move it around, and/or zoom in and out
The chat function is at the bottom of the floorplan. You can send a message to the group, or privately chat with those attending the event
There are two floors in which you can navigate. The "virtual elevator" is located on the left hand side of the floorplan. The 2nd level will feature networking tables for our young professional and women's connection groups to meet up with one another. There will also be extra tables that can be used for overflow networking, or if you are just looking for an empty table to make a phone call, etc.
Prior to the presentation start time, there will be a 30-second countdown so that you may wrap up any conversations. Once the presentation begins, you will no longer see the ballroom - you will be in presentation mode and will see the speakers on your screen
Questions during the presentation are encouraged, and can be submitted through the Q&A tab on the right-hand side of your screen when in presentation mode