Image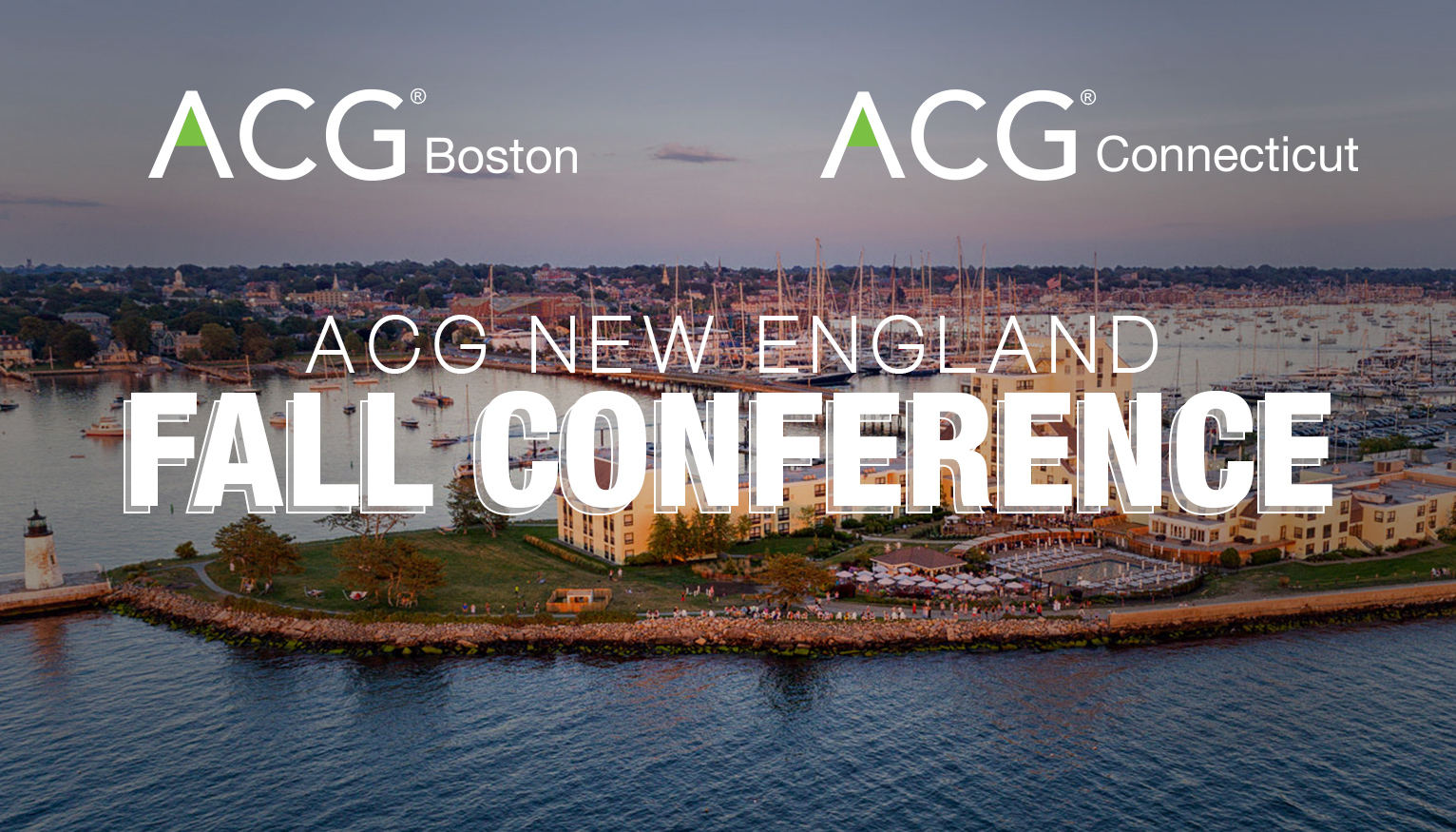 Event Details
When:
September 17 - 18, 2019
Where:
Location Name
Gurney's Newport Resort & Marina
Add to Calendar
Overview
Body
Online registration is now closed. Walk-ins are welcome at the door for an additional fee.
ACG Boston and ACG Connecticut are bringing together 200 M&A professionals from across the region for the 5th Annual ACG New England Fall Conference to foster new relationships and reconnect after the summer, and hear updates from seasoned executives on hot industry specific topics.
This year's conference will take place at Gurney's Newport Resort & Marina, and feature:
An afternoon Boat Cruise of beautiful Newport Harbor on the Schooner Aurora (includes lunch)
A clambake at Belle Mer
*SOLD OUT* Tennis Round Robin at the International Tennis Hall of Fame, brought to you by New England Consulting Partners
Exclusive Women's Connection breakfast
Company Showcase featuring local New England companies
VIP Lounge available for informal One-on-One meetings for private equity and investment banking firms
Facilitated roundtable discussions on a range of M&A hot topics
Agenda
September 17
September 18
8:00am - 9:00am: Open Breakfast & Women's Connection Breakfast
9:00am - 10:00am: ESG Investing Panel, with: Elizabeth Burgess, Partner, Head of Growth Business, Bridges Fund Management; Carrie Endries, PhD, Sr. Portfolio Manager & Director of Impact Investments, Reynders, McVeigh Capital Management, LLC; Laura D. Kunkemueller, ESG Officer, Mellon; Iqbal Quadir, Senior Fellow, Harvard Kennedy Center Belfer Center for Science and International Affairs; Lew Segall (moderator), Partner, Sullivan & Worcester
10:00am - 11:30am: Facilitated Roundtable Discussions
11:30am - 12:30pm: Closing Networking Lunch
Speakers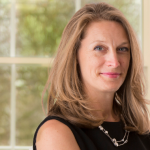 Elizabeth Burgess
Bridges Fund Management
Partner, Head of Growth Business
Elizabeth Burgess is a Partner and Head of the Bridges U.S. Sustainable Growth Fund, where she leads on fund strategy, origination, investment and portfolio management. Elizabeth has approximately 30 years of experience in private equity and leveraged transactions across a wide range of industries and markets. Previous to Bridges, she was a Founding Senior Partner at Altus Capital Partners, a lower middle market buyout firm focused on investing in North American industrial companies poised for growth. Elizabeth led and supported a myriad of successful investments across two dedicated funds and directed the completion of strategic initiatives identified for these companies while serving as Chairman or Director on their Boards. Prior to Altus (and its predecessor fund Max Capital), Elizabeth sourced and structured leveraged loans in a wide array of industries within Bank of America, GE Capital and The Chase Manhattan Bank, where she began her career. Most of these transactions focused on growing and expanding lower middle market companies in the U.S. Elizabeth earned a BA from S.U.N.Y. Plattsburgh with a concentration in international business and an MBA from Columbia Business School.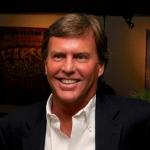 Bill Dessel
KEEL Vodka
Co-Founder & CEO
A Rhode Island native, Bill Dessel was striving to find balance between his demanding professional career and physically-active lifestyle. As many business dealings merged into social occasions, Bill clearly saw the need to develop a premium, light spirit to allow him to be social while staying sharp. Finding a low-calorie/low ABV spirit was a virtual impossibility, and Bill's entrepreneurial spirit kicked in. After recruiting his longtime friend Tom McGowan, the concept of KEEL Vodka was born.
With decades of experience at the intersection of business, hospitality and law, Bill Dessel has founded, invested in, operated and sold several highly-successful and award-winning businesses that span industries of manufacturing and distribution, sports and entertainment, and beverage and hospitality. As a lawyer and business owner, he has resolved the myriad legal issues that impact and govern companies in these industries. He has raised capital for several multi-million dollar business acquisitions, working both in the United States and abroad. In hospitality, Bill serves on the Board of the Rhode Island Hospitality Association.
He founded and owned Billy's, an American-style bistro for seven years, winning "Best of Rhode Island" for five consecutive years, and in 2015 was designated as a top 10 Diners Choice Award winner by Open Table, ranking No. 8 in New England and No. 1 in Rhode Island. Bill sold Billy's in June 2016 to focus on KEEL's expansion. Bill's legal career at Duffy & Sweeney combines his real-world knowledge with his skilled and sophisticated style to advise privately held companies in general corporate matters and strategic legal transactions. He is known for his collaborative approach to complex deals with an eye toward successful resolution of conflicts for all involved. Bill Dessel started his career as an attorney for The Cookson Group in the position of Corporate Development Manager, coordinating acquisitions in the US and Europe and, ultimately, growing the multi-national conglomerate to over $4B in revenue and into the FTSE 100. He also worked as a lawyer for a global law firm, opening and expanding its first London office.
Bill has led manufacturing and distribution organizations, both as an owner and member of senior management. He was Managing Director of FatHead and as President of Cowan Plastics and American Assembly, he provided products for Titleist, OralB/Gillette, Boston Scientific, and Mosquito Magnet and received the Rhode Island Manufacturer of the Year Award. He resides in Barrington with his wife, Alison, and their three children.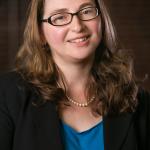 Carrie A. Endries, Ph.D.
Reynders, McVeigh Capital Management, LLC
Sr. Portfolio Manager & Director of Impact Investments
Carrie advises on more than $350 million in assets for individuals, families and foundations at Reynders, McVeigh. She is an Investment Committee Member, and also directs the Firm's private impact investment work, researching and recommending private placement impact investments to all interested clients at RMCM. Carrie brings over 15 years of experience as a researcher, teacher, and investment professional to our socially progressive investment work. She graduated from Bowdoin College and earned a Ph.D. in History from Harvard University. Dedicated to the non-profit and impact communities, Carrie is the current Board Chair at Camp Starfish, a program for emotionally and behaviorally challenged kids, and a Board Member at the innovative Jewish Studio Project. She enjoys mentoring social impact entrepreneurs through the Social Innovation Forum's impact accelerator and she serves as a Professional Advisor to the Cambridge Community Foundation. She is also a member of the Boston Economic Club. Carrie lives with her husband and daughter in Somerville, where they are active in supporting local food and business in their vibrant urban community.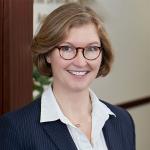 Laura D. Kunkemueller
Mellon
Director, ESG Officer
Laura is Mellon's ESG Officer and the chairman of the ESG Steering Group. In this role, she is responsible for overseeing the adoption and integration of environmental, social and governance (ESG) considerations into investment processes across each of the investment disciplines. Before joining the firm in 2015, Laura was an investment consultant for eight years at Mercer Investments/Evaluation Associates, specializing in not-for-profit clients. In this capacity, she was a liaison to Mercer's responsible investment research team. Before that, she was an associate director at RogersCasey and the principal consultant at Kunkemueller Consulting. She began her career in the insurance industry. Laura earned a BS in history from Princeton University, an MBA from the Yale School of Management, and a master's degree in coaching and consulting for change from Oxford University/HEC. She is a former trustee of the Berklee College of Music, a former director of USRowing and an internationally credentialed rowing referee.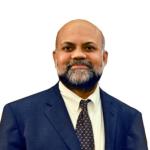 Iqbal Quadir
Harvard Kennedy Center Belfer Center for Science and International Affairs
Senior Fellow
Iqbal Quadir is a Senior Fellow with the Belfer Center for Science and International Affairs. Iqbal Quadir has been teaching at Harvard and MIT since 2001. After teaching at Harvard Kennedy School for four years, he moved to MIT in 2005 where he founded and, for next decade, directed the Legatum Center for Development and Entrepreneurship. As an MIT Professor of Practice, he taught and mentored about 200 student entrepreneurs. He returned to the Kennedy School in 2018 as a Senior Fellow.
For more than 25 years, Quadir has been building and helping others build large enterprises to serve and economically-empower average citizens in low-income countries. The companies he created or co-created serve more than 100 million people today. Quadir's efforts reflect his philosophy that this approach is the best way to uplift these countries and contribute to global peace and prosperity. In promoting this philosophy, he additionally, he co-founded and co-edited Innovations, an MIT Press journal focused on entrepreneurial solutions to global challenges which has now run for 12 years.
Quadir is credited with being the first to envision the potential of digital mobile phones to transform low-income countries. In 1993, he began a full-time quest to bring the power of these digital tools to all, including the poorest, citizens of his native Bangladesh. He did this by synthesizing his observations that connectivity is critical to economic empowerment, that such empowerment translates into an ability to pay for a connectivity service, and that there would be a dramatic drop in its cost. With these concepts, he created a consortium of organizations and, in 1996, founded Grameenphone, the game-changing mobile network operator. Today, Grameenphone has about 70 million subscribers and its network covers more than 99% of Bangladesh's population.
In 2009, Quadir and his younger brother Kamal Quadir co-founded the US cpany Money in Motion LLC (MIM) to assemble expertise and other resources to create a mobile payment system in Bangladesh. Using MIM as its launch pad, Kamal then founded bKash Limited in Bangladesh and Quadir served on the bKash board during its formative ten years. bKash currently has in excess of 32 million registered customers who execute about six million transactions a day. Quadir's articles have appeared in many publications including the Financial Times, Forbes.com, Harvard Business Review, Nature, Newsweek, Science, and the Wall Street Journal. His work and thinking have been cited in more than 70 books. He holds an MBA and MA from the Wharton School, University of Pennsylvania, and a BS from Swarthmore College. Quadir has received two honorary doctorate degrees and other honors for his work.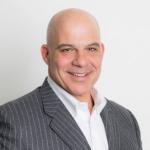 David Santora
When David joined Ineo in 2009 he brought with him nearly 30 years of senior executive experience, a proven record of leadership, and an entrepreneurial spirit. He is known best for his expertise in the financial and strategic management of mobility-related companies. David leverages that deep industry experience to ensure Ineo continues to maintain its position as the mobility industry's most trusted knowledge source. Prior to joining Ineo David co-founded Relocation Taxes, LLC and was a former partner and co-owner of The Hessel Group, Inc. and The Hessel Group U.K. David also founded several successful real-estate venture and professional consulting firms, a private equity firm, and a CPA firm. He's served in a range of senior management positions, including CFO, COO and Division President. David is a CT Certified Public Accountant, a CT licensed real estate salesperson and an advisory board member of the First Bank of Greenwich. He earned a B.S. in accounting from Mt. St. Mary's College and is an alumnus of the Virginia Military Institute. When not focused on making Ineo the best company it can be, David enjoys spending time with his family and going off grid for fly-fishing and hunting adventures.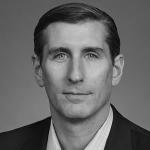 Lew Segall (Moderator)
Sullivan & Worcester
Partner
Lew is the leader of Sullivan's Corporate/M&A Group. His practice is focused on a number of transactional areas. He regularly represents public and private companies in equity and debt financings, joint ventures, domestic and international mergers and acquisitions, and general corporate matters. Lew also represents financial institutions in secured and unsecured credit facilities. His clients consist of major financial institutions, private equity groups, family-owned businesses, family offices and other investors, as well as emerging and established companies engaged in a variety of industries, including renewable energy, advertising, health care, communications, manufacturing and software. Lew is the author of Mergers & Acquisitions: A Step-by-Step Legal and Practical Guide (2nd edition) (Wiley), which he co-authored with Edwin L. Miller, Jr.
REPRESENTATIVE CLIENT WORK
Represented a software as a service company in its Series A and B financings and multiple partner arrangements
Represented a private equity firm in its $140 million acquisition of a public software company
Represented a health care company in its $53 million sale to a private equity firm
Represented a renewable energy company in over $65 million in venture financings and multiple R&D agreements
Advised a solar development company on novel financing platform for replicable small-scale solar installation deal structures, including optimization of structure for incorporating non-traditional tax equity investments
Represented a family office in multiple early stage financings for emerging businesses
Represented a private equity firm in its acquisition of a medical devices manufacturer
Represented the founder in the $120 million sale of a personal care products company to a private equity firm
Event Secondary Body
Boat Cruise
Enjoy breathtaking harbor views on an afternoon Boat Cruise on the Schooner Aurora, taking off from Goat Island Marina on September 17, 12:00pm - 2:30pm (with lunch provided)! The boat cruise accommodates up to 70 attendees for an additional $80.00 registration fee. You'll have the chance to sign up during the registration process.
Tennis Round Robin (Sold Out)
New England Consulting Partners brings you a Tennis Round Robin played on the grass courts (weather permitting) at the International Tennis Hall of Fame from 11:30am - 1:30pm on September 17.  The Round Robin will be followed by Lunch on the Member Porch from 1:30pm - 2:30pm.  There is no additional cost to attendees, but space is limited to 16 players!  You'll have the chance to sign up during the registration process. 
Accommodations
Rooms are available at Gurney's Newport for this event: click here to book your hotel room or call 833-235-7500.
Pricing
| | | |
| --- | --- | --- |
|   | Early (Ends 09/06) | Late (Ends 09/17) |
| Members | $300 | $325 |
| Non-Members | $375 | $400 |
| Boat Cruise (Add-On / Lunch Included / Limited Space Available) | $80 | $80 |
| Tennis Round Robin (Add-On / Lunch After / Limited Space Available) | Complimentary |   |
Hosted by:
ACG
Event Materials
Event Materials
Attendee List Policy
It is ACG Boston's policy that the attendee list for our events is available only to ACG members who are registered to attend, and the sponsors of the specific event.
The attendee list will be distributed to registered members of ACG a few days prior to the event start date.
If you have any questions about this policy, please feel free to contact us at info@acgboston.org.