Image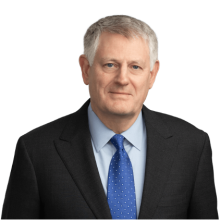 Katten Muchin Rosenman, LLP
Craig Courter is Katten's Chief Operating Officer. Craig is responsible for all aspects impacting the firm's operations and strategic growth objectives. Using his extensive industry knowledge, he incorporates technology into legal operations in order to improve efficiency while maintaining and advancing the firm's client services and legal talent.
Craig has more than 30 years of broad-ranging experience in the legal industry and legal technology. Prior to joining Katten, he was promoted to global COO at Baker McKenzie from his role as chief technology officer. He also served as COO for Perkins Coie.
Craig began his career as a practicing lawyer with Seltzer Caplan McMahon Vitek in San Diego, where he specialized in complex civil litigation with emphasis in high tech. He has more than 45 years experience in computer programming and a significant background in databases and data architecture. Craig has taught college-level computer programming and a law school course on computers and the law. In 2016, he was named one of Legal Week's "Top 20 Legal Innovators" and has been consistently recognized by team members for championing diversity and mentoring and developing people for future success.