Image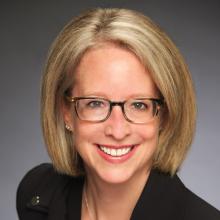 Heather leads Huron Capital's business development, marketing, and investment sourcing activities.  She has 20 years of experience originating, structuring, and executing debt and equity transactions in the middle market.  Prior to joining Huron, Heather was responsible for all West Coast new business development for SPP Capital Partners, a NY-based investment bank. She also served as Vice President and Team Leader of Middle Market Banking at Comerica Bank in San Francisco and has also held roles at CIT Sponsor Finance and Madison Capital Funding LLC where she focused on originating and structuring leverage finance products for private equity clients.
Heather serves as Board Member of the Detroit Chapter of the Association for Corporate Growth (ACG), is the Founder and past Chair of the ACG Detroit Women's Forum, and was co-chair of the 2019 ACG Great Lakes Capital Connection conference.  Heather is also on the board of Friendship Beverage, a Minneapolis-based beverage company whose brands include Juni and Chirp.
She received a B.A. from Cornell University.