Image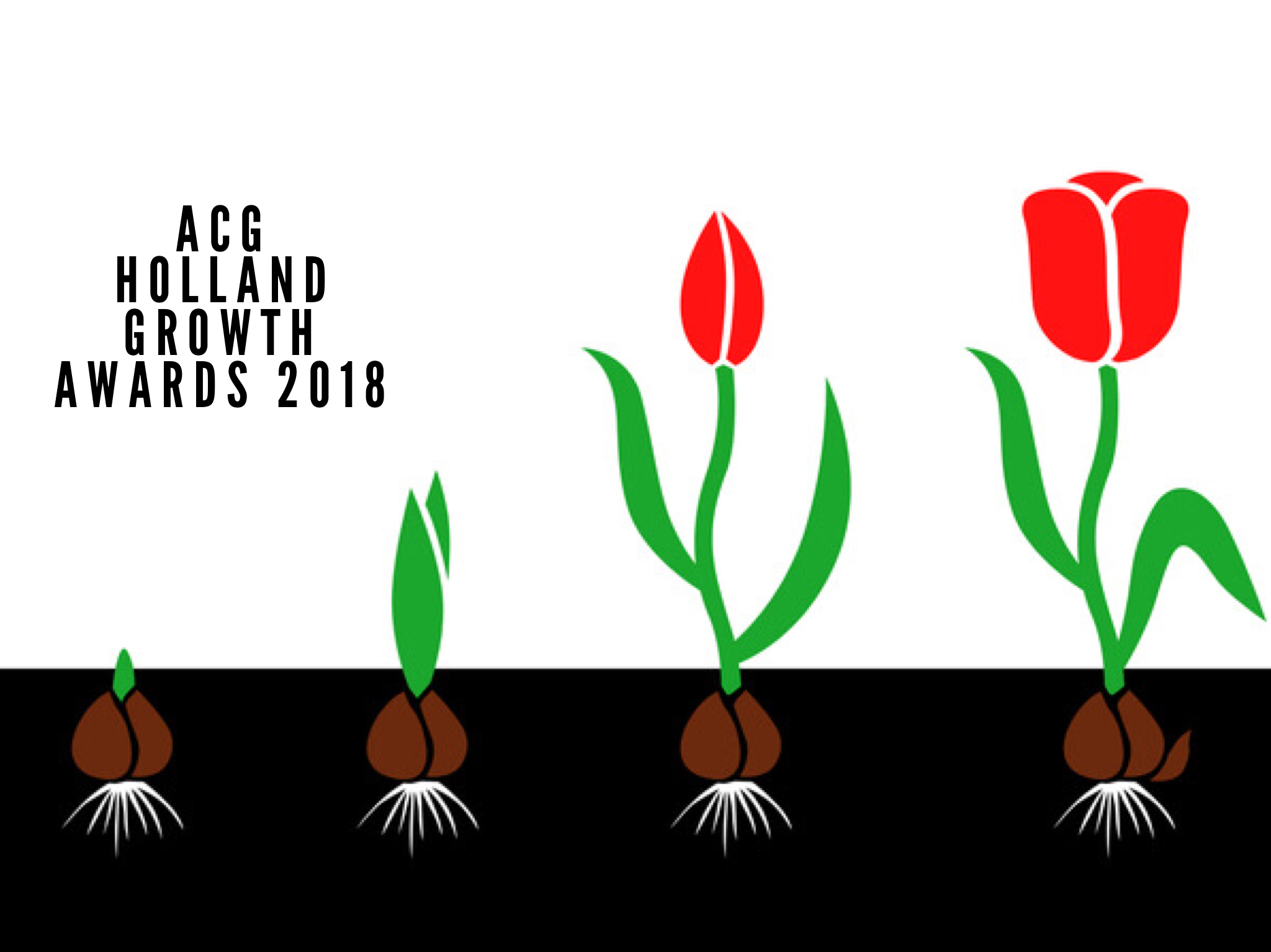 Event Details
When:
June 19, 2018 7 PM - 10:30 PM CEST
Cost:
Free
Where:
Add to Calendar
Overview
Body
We are delighted to invite you to join us on Tuesday 19th June for our third Annual Growth Awards which will be held at Strand Zuid, Amsterdam. The event will recognise the achievements and contribution of member companies and individuals who have demonstrated leadership in their field.
Special for this year is that the ACG Holland Growth Awards will be part of the Eurogrowth evening programme and we are very excited that the awards will be presented by ACG Global Board Chairman, J.B Dollison. This brings a real international feel to the event and presents a great opportunity for us to showcase Dutch excellence with ACG members from other European and US chapters.
The ACG Holland member awards
The annual Deal of the Year Award will recognise the most impressive corporate middle market deal in the Netherlands.
The annual Best ACG Holland Advisor Award will recognise the adviser who has achieved significant success on M&A transactions in the Netherlands. Sponsored by RSM Netherlands Due Diligence Services.
The annual PE Firm Exit Award will recognise the PE Firm who has achieved the best exit on an M&A transaction in the Netherlands. Sponsored by Orange Clover.
The annual PE Firm Entry Award will recognize the PE firm who has achieved the best entry on an M&A transaction in the Netherlands. Sponsored by Valery Capital.
The annual Innovation Award will recognise the company showing exceptional creativity and talent while having a significant positive impact on their region, community or a sustainable development goal.
ACG Holland members were invited to submit their nominations and the winners will be selected by our event sponsors and the ACG Holland President.
Programme
19.00 – Drinks, barbecue & networking
21.00 – ACG Holland Growth Awards 
21.30 – Drinks, barbecue & networking continue
22.30 – Event close
Sponsors
The ACG Holland Growth Awards 2017 is sponsored by Valery Capital, Orange Clover and RSM Netherlands Due Diligence Services and we would like to thank them for their kind support of this event. The trophies are provided by Trophy Assets Holding.
Registration
The event is free to ACG Holland members and guests but please note that a fee of EUR 50 will be invoiced to any 'no shows' to cover costs related to the event. You can register here with the password ACGHolland.
https://www.eventbrite.co.uk/e/acg-holland-growth-awards-2018-tickets-45115475602
The dress code is business casual.
Previous winners
If you are curious to know who our previous winners were?  You can find out more here....
See you there!
We look forward to seeing you on the 19th June for an evening of inspiration, international networking and fun.
Kind regards
Bas van Helden, President ACG Holland on behalf of the ACG Holland Board
Justine van Buttingha Wichers, Eddy Boorsma, Joris Broeren, Luc van Daele, Sander Deelstra, Hans van Ierland, Jeroen Kruithof, Renée Naber, Boudewijn Niels, Frank van Opstal, Pieter van Opsal, Angenita Pex, Mark van Rijn, Titus Schurink, Tim van der Weide, Roelof Valkenier, Roelof Vos.
Contacts event organisers
Bas van Helden, ACG Holland, President
 E: bas.van.helden@accuracy.com
Justine van Buttingha Wichers, ACG Holland, Chapter Executive
E: acgholland@acg.org 
Eddy Boorsma, ACG Holland Board member
 E: e.boorsma@sig.eu 
Hanneke Modderman, ACG Holland Board Member Company
 E: hanneke.modderman@bolsterinvestments.nl 
Please note that by registering for the ACG Holland Growth Awards you accept that you may be contacted by our event sponsors for marketing purposes.
Sponsors