Image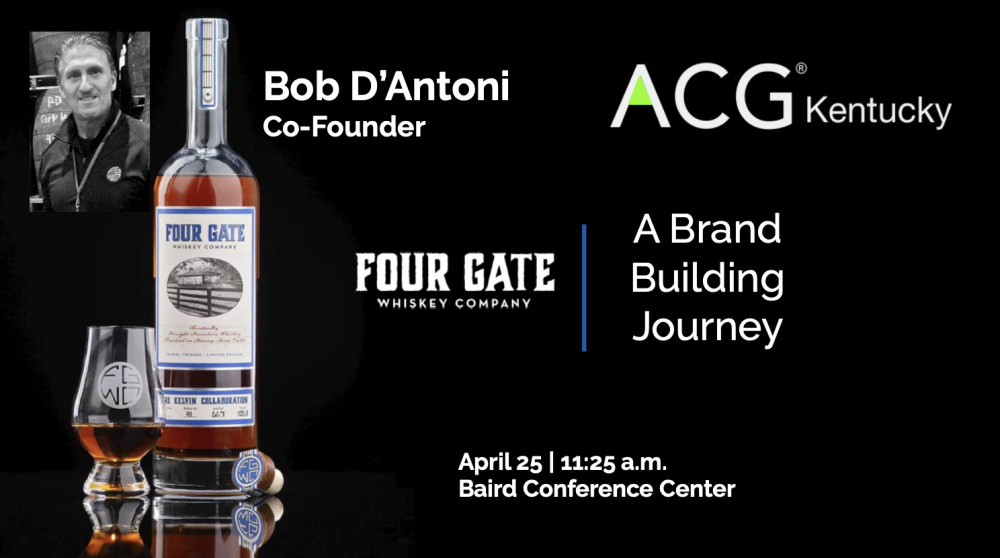 Event Details
When:
April 25, 2023 11:25 AM - 1 PM EDT
Where:
Location Name
Baird Conference Center
Add to Calendar
Event Secondary Body
Bob D'Antoni — co-founder and chief barrel officer for Four Gate Whiskey Company - provides a full sensory experience for ACG Kentucky members and guests at our April 25 lunch meeting at Baird Conference Center.
His "tasteful" presentation will cover the launch and his experiences building the brand of the spirits company.
Batches of the ultra premium, limited release are in stores across Kentucky, Tennessee, Georgia, Indiana, Texas, and Louisiana, and available leading online beverage retailers.
Location: Baird Conference Center, 500 West  Jefferson St., Louisville, 40202
Time and Date: 11:25 a.m., April 25
Hosted by:
ACG
Event Materials
Event Materials
THE EVENT LOCATION IS BAIRD CONFERENCE CENTER (Actual address is 500 W. Jefferson, Louisville, Kentucky, 40202), instead of the address listed above.
MEMBERS AND SPONSORS: Cost is covered by membership / sponsorship
GUESTS: $50
For registration help or questions, email Terry McWIlliams at acgkentucky@acg.org or call 502.410.2113