Image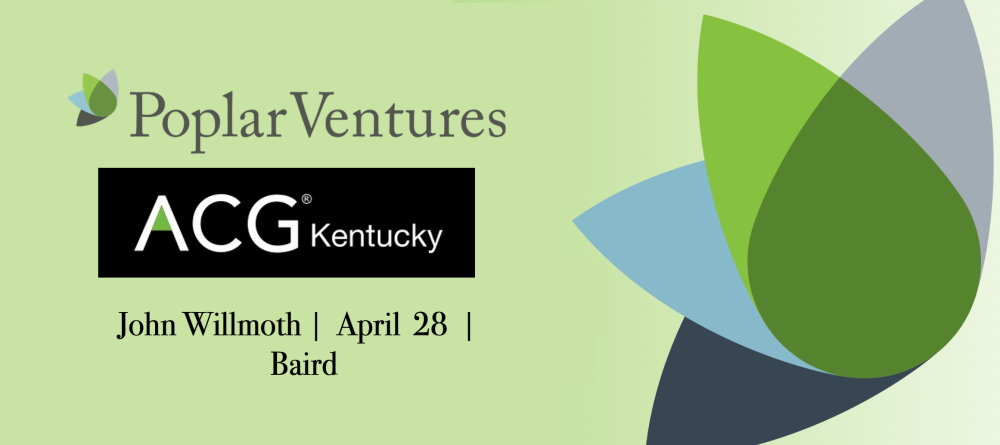 Event Details
When:
April 28, 2022 11:30 AM - 1 PM EDT
Where:
Location Name
Baird Conference Center
Add to Calendar
Overview
Body
There's adventure in Venture Capital!
Hear from Poplar Ventures Managing Partner John Willmoth, whose company mission is to build compelling technology companies in middle America. This is how they describe their investment emphasis on their website:
Cloud-based Software: Poplar Ventures invests in companies who deliver B2B software technology services via the cloud using a subscription based business model. The solution doesn't have to be bleeding edge but it should give the company a unique opportunity to target a new emerging market or to disrupt an existing market. In either case, this means potential for outsized growth.
Middle America: We will invest anywhere in the U.S. but our roots are in middle America and like the fact that companies here tend to be a little more pragmatic. We will not be shy about investing for growth when the conditions warrant, but growing your business in a capital efficient manner works just fine too.
Early Growth:
We prefer to invest our initial capital once the company has achieved at least $1 million in annualized recurring revenue. This means better clarity on customer traction and the operating characteristics of the business. Having said that, most of our investments have come from pre-existing relationships, so we do like to get to know entrepreneurs early.
Event Secondary Body
Attendance for ACG Kentucky members and sponsors is covered under your membership or sponsorship.  Members can bring a guest to this event. In addition to their two corporate members, annual sponsors can bring four guests; table sponsors, two guests.
Non-members may attend for $40/person, which includes lunch, networking and the presenation. After you register, you will receive an email confirming your reservation and providing additional event details. 
Hosted by:
ACG