Image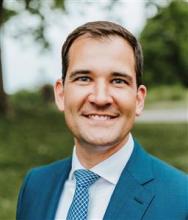 From Hendersonville, Tennessee, Bryan earned his bachelor's degree in business administration, finance from the University of Tennessee, Knoxville and his Master's in Business Administration from Middle Tennessee State University graduating Summa Cum Laude from both institutions.
In 2015, he joined Pinnacle Bank, where he is currently Executive Vice President, leading the firm's Corporate Banking effort as well as the Solar Capital Advisory team and serves in various capacities including the firm's Asset Liability Committee, Credit Policy Committee, Highly Leveraged Transaction Committee, Strategic Partnership Committee, and is a member of the board of directors of PNFP Capital Markets Inc. Prior to Pinnacle, he held various positions at SunTrust Bank, in Nashville.
A board member of Goodwill Industries of Middle Tennessee since 2012, Bryan has served in various leadership roles including board chair, vice chair and finance chair, leading the organization through transformative change over the past decade. He is a graduate of Leadership Nashville, Leadership Sumner and Young Leaders Council. Bryan and his wife, Amy, have five children (16, 13, 10, 8, 4). He enjoys travel and golf and lives on an operating farm.