Image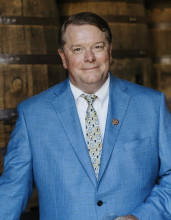 Kentucky Distillers Association
As President of the KDA, Eric Gregory is at the helm of an association that's redefined the culture of bourbon and spirits in the Commonwealth.
A veteran communicator and full proof leader to our 140+ year old association, Eric has advocated for bold, historic reforms that have made Kentucky Bourbon the thriving, global economic driver that it is today.
But it's not just the thousands of jobs, billions in capital investment and unparalleled boost to tourism for Eric—it's the fact that he gets to wake up and do what he loves.
As KDA President, Gregory oversees all aspects of the  non-profit association that unites, promotes, protects and elevates the Commonwealth's signature Bourbon and distilled spirits industry, including the famous Kentucky Bourbon Trail® and Kentucky Bourbon Trail Craft Tour® experiences.
Kentucky's historic distilleries produce more than 95 percent of the world's Bourbon, a rich heritage that dates back more than 200 years. Today, Bourbon is a leading export and a thriving symbol of Kentucky craftsmanship and tradition.
Gregory joined the KDA in 2008 after serving as Governmental Affairs Manager at East Kentucky Power Cooperative. He previously served as VP of Public Affairs for the Lexington PR/Marketing/Research firm Preston-Osborne.
A graduate of the University of Kentucky, Gregory began his career as an award-winning journalist for the Lexington Herald-Leader. He also served as a reporter and editor at the Honolulu Advertiser, and has been nominated twice for the Pulitzer Prize.
Gregory is a native of Henderson, Ky. He and his wife, Ellen, live in Midway, Ky., the Commonwealth's first railroad town, and have three children and two dogs. The couple are avid preservationists and have received state and national accolades for their restoration or five historic homes.