Image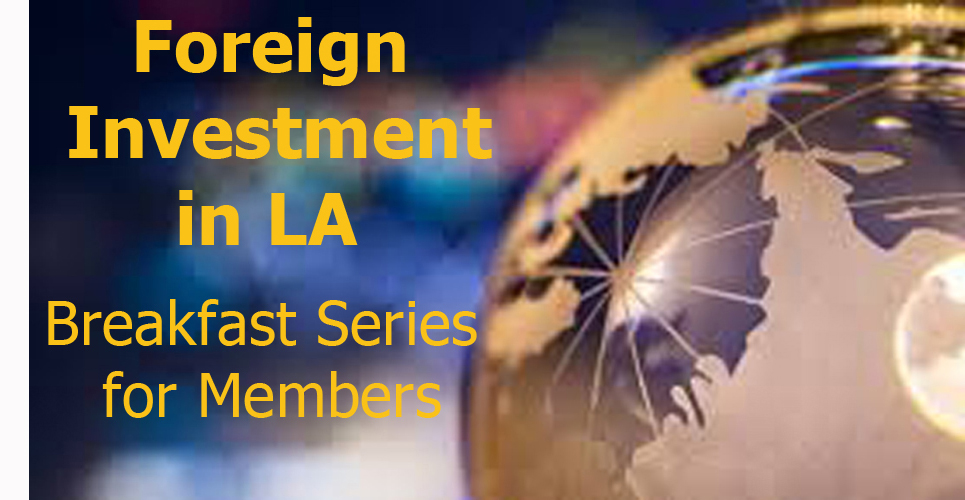 Overview
Body
"Foreign Investment in Los Angeles" part of ACGLA Breakfast Series. MEMBER ONLY EVENT. Complimentary. RSVP required: REGISTER NOW!
Event Secondary Body
Hosted by:
ACG
Sponsors
Attendee List
Event Materials
Event Materials

At DB Schenker, we're committed to providing innovative supply chain solutions that challenge the status quo. As a global industry leader with more than 140 years of logistics experience, we're proud to support industry and trade in the global exchange of goods.
DB Schenker is the world's leading global logistics provider — we support industry and trade in the global exchange of goods through land transport, worldwide air and ocean freight, contract logistics and supply chain management. Integrated logistics resides at the world's most important intersections, where the flow of goods creates an effective link between carriers. Our value-added services ensure the flow of goods continues seamlessly and supply chains stay lean and optimized for success. Our business holds top positions in automotive, technology, consumer goods, trade fair logistics, special transports, and special events logistics.  About 2,000 locations around the world and more than 68,000 employees worldwide
Land Transport: With approximately 19,000 employees, across 430 locations, DB Schenker is a leader in land transport. Across the country, within the region, or around the world, we get your goods where it needs to be.
Air/Ocean Freight:  As a leader in the air freight and ocean freight market, DB Schenker is one of the world's top freight forwarding providers. We operate at more than 800 locations around the world, with approximately 13,000 employees. We run approximately 1,200 chartered flights a year on premium airlines, connecting hubs on all continents. In fact, as one of the pioneers in the air freight industry, DB Schenker is now the leader in innovative air freight concepts.
Contract Logistics/SCM: DB Schenker is a global leader in contract logistics. We have around 20,000 employees at nearly 750 locations, and warehouse space totaling 8 million square meters across over 50 countries on all continents. This extensive network allows us to offer bespoke logistics solutions for industry and trade. Our comprehensive portfolio of individual solutions for the Automotive, Consumer, Electronics, Industrial and Healthcare units demonstrates this. Our range of services includes all stages in the value chain, from procurement, production and distribution logistics, to after-sales service.

    Blank Rome is an Am Law 100 firm with 13 offices and more than 600 attorneys and principals who provide a full range of legal and advocacy services to clients operating in the United States and around the world.  Their professionals are widely recognized for their leading knowledge and experience across a broad spectrum of industries, as well as their dedication to diversity and inclusion initiatives and pro bono work.
    But what really sets us apart is our investment in client relationships—our unwavering commitment to understanding their businesses, the around-the-clock access we provide, and our nimble and customized delivery of services. Blank Rome treats your goals, ideas, and objectives as our own and fight fiercely for resolutions that are in your best interest. This promise goes deeper than words. It is our creed, adopted and held true at all levels, starting at the very top.
Stephen Cheung, President, World Trade Center Los Angeles
Stephen Cheung was appointed president of World Trade Center Los Angeles in 2015.   The WTCLA works to support the development of international trade and business opportunities for Southern California companies as the leading international trade association, trade service organization and trade resource in the Los Angeles region.
Prior to his current role, Cheung was the Secretary General for Los Angeles Mayor Eric Garcetti, and was responsible for managing policies and programs related to the Port of Los Angeles, Los Angeles World Airports, International Affairs and Global Trade. Cheung served on the Board of Director of the Los Angeles Regional Export Council and the Los Angeles Business Council, and was the lead organizer for Mayor Garcetti's international trade missions to Mexico, China, Korea and Japan.
Concurrently, Cheung was the Director of International Trade for the Port of Los Angeles – the busiest container port in North America, and was responsible for developing programs to increase trade through the Port of Los Angeles, and facilitate goods movement through the Southern California region.
Cheung joined the Port of Los Angeles and Mayor Garcetti's Office after serving as Managing Director of International Trade and Clean Technology the City of Los Angeles. He was responsible for enhancing international trade opportunities for Los Angeles-based companies, and expanding the city's role as a leader in international trade, entertainment, tourism, manufacturing and professional services. Cheung was the City's lead organizer for the historic visit to Los Angeles by Chinese President, Xi Jinping in 2012. Furthermore, Cheung implemented the city's strategic plan to make Los Angeles a global capital of clean technology by building the infrastructure to support research, development and manufacturing with key partners such as the Los Angeles Cleantech Incubator and Port Tech LA.
A proud Angeleno, Cheung was born in Hong Kong and grew up in Los Angeles where he received both his bachelor's in Psychobiology and master's in Social Welfare from UCLA. He currently teaches a graduate-level course on public policy at the Luskin School of Public Affairs, and serves on the Advisory Council of USC's Center for International Business Education and Research and the Los Angeles Cleantech Incubator.
    Cheung holds a Bachelor's in Psychobiology and Master's in Social Welfare from UCLA. Cheung is fluent in Mandarin and Cantonese.
CONTACT Stephen Cheung ABOUT:
Investments into the Los Angeles Region
Exports from Los Angeles companies
International Trade in the Los Angeles Market
📞213-236-4845
"MAKING LOS ANGELES THE NATION'S LEADING CENTER FOR INTERNATIONAL TRADE"
The World Trade Center Los Angeles (WTCLA) provides business assistance to international companies seeking to locate or expand operations in Los Angeles, and to local companies seeking to export products and services to the international market. As the leading international trade service and promotion organization in the Los Angeles region, WTCLA supports the development of international trade and business opportunities through our business assistance, educational and matchmaking programs.