Image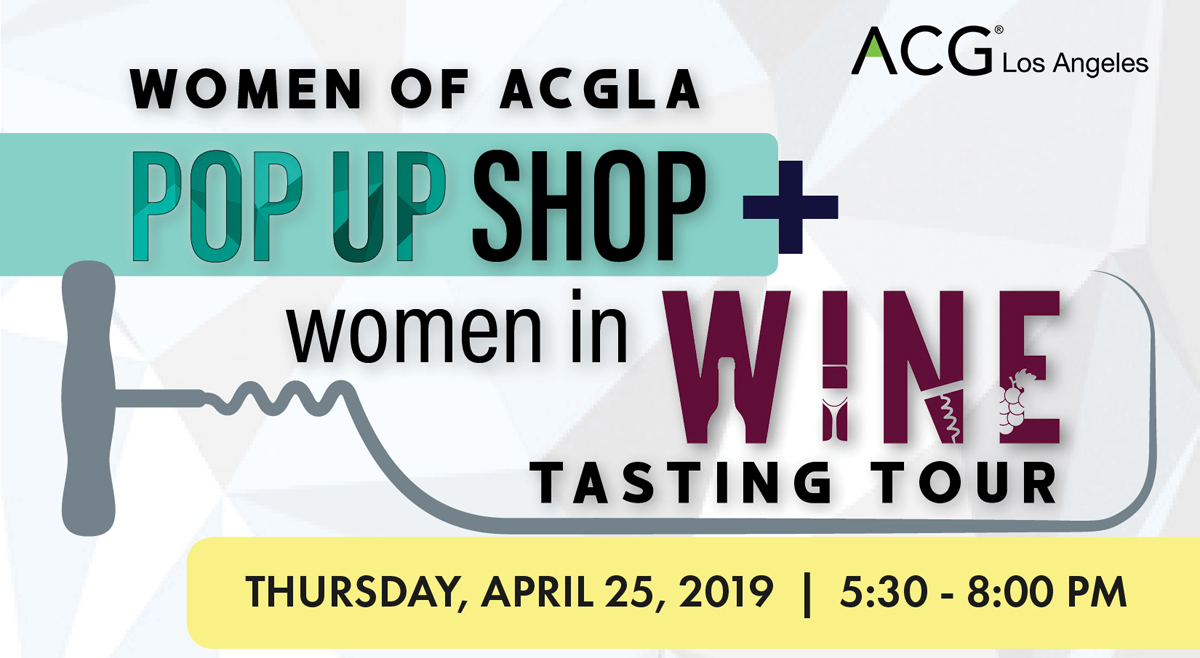 Event Details
When:
April 25, 2019 5:30 PM - 8 PM PDT
Where:
Location Name
Viceroy L'Ermitage Beverly Hills Rooftop
Add to Calendar
Event Secondary Body
On-line registration for this event is now closed.  You may register at the door for an additional $25.  We look forward to seeing you at the Viceroy tonight! 
PARKING:
Street parking is available on Burton Way.  Metered parking is on surrounding streets.  The Beverly Hills Parking Garage is a viable option also.  The Viceroy is located on the north side of Burton Way with Foothill Road - the side street (westside of Viceroy).     
Hosted by:
ACG
Sponsors
Attendee List
Event Materials
Event Materials
VENDORS:
GEM -  is a plant-based food vitamin created by women for all women, including Mother Earth. Made from only 13 ingredients, GEM is part of a broader mission to democratize access to healthy and sustainable plants and change the way we nourish ourselves and our planet. www.dailygem.co
Zen Yoga Strap - The Zen Yoga Strap is a tiered stretching / progress yoga strap with a 3-loop design and a convenient handle to allow for ease of transition while stretching and a deeper stretch.  The strap was designed originally in January 2016 for our dear friend, Julie, who was struggling with the Happy Baby (Ananda Balasana). Julie struggled for a couple of years while working through some knee issues and had been seeing a trainer and a PT with not much progress. After one of our Restorative / Yin Yoga sessions, I decided to design a tiered yoga strap for Julie's birthday, so she could progress from her knees to her feet. Within 9-months, Julie's flexibility increased, and she was able to achieve the proper Happy Baby pose along with some additional poses! During that time, our friends, some of whom are yoga instructors, shared the straps with their yoga teacher training sessions and the straps were an instant hit! Our friends immediately replaced their regular straps with the Zen Yoga Strap!  The Zen Yoga Strap is great for individuals, athletes and/or yoga practitioners, whether you are a beginner or advance practitioners. As someone who is very flexible, I hadn't enjoyed a nice hamstring stretch in a long time. When I would perform a fold over stretch, I felt I was just laying on my legs… however, with the Zen Yoga Strap, a little tug with my finger in the third loop allowed me to obtain a nice hamstring stretch. Today, we work with corporations to provide their employees with resources for corporate wellness and incorporate the importance of regular stretching in the office, at your desk, during travel, or simply at home. Sitting is the new smoking, and regular stretching in bite-sized chunks can help individuals obtain the much-needed stretches to promote a healthier, more active lifestyle. What began as a desire to help a friend turned into an ecommerce business that has allowed us to help many more safely progress in their daily stretching and achieve deeper, longer stretches. We could not be more grateful for these opportunities. 
Brooke Corson  -  Defines my artistic vision. The pieces are designed to mirror the spirit of today's woman. The pieces are simple, elegant, wearable, and hopefully timeless. They are only part of a collection, they become part of a her. Much of my inspiration is drawn from childhood memories of my mother's iconic jewelry. Her pieces were always a part of who she was and are still a part who she is today. Like art - they transcend decades and all the stages of a woman's life. This line is an expression of the female spirit. It seemed inevitable that I would become a designer. I have always loved every aspect of jewelry. Even the taste. As a 3 year-old, I swallowed my mother's diamond earring. In middle school I got an after-school job just to buy rhinestone jewelry (even though I was horribly allergic). I'd break out in terrible rashes, but nothing could stop me from adorning myself with sparkle. Finally, I remember the day I wore one of my own designs for the very first time, not to a fancy brunch or party, just to the grocery store. But it made me walk a little taller and smile a little broader. A very fashionable woman stopped me, asking about the piece and who made it. I still get goosebumps thinking about it. When I told her that it was my own design, she floored me by offering to buy it right off my neck! That was the first day I felt like an actual designer. Every day since then my mission in life is to help every woman shine a little brighter. 
SOCIAL Sparkling Wines - SOCIAL's mission is to create the cleanest alcohol available today by revolutionizing the beverage industry. SOCIAL sets out to empower people to live a more vibrant, happy, healthy and connected life. All of our flavors are USDA certified organic, 88 calories, gluten-free and sulfite-free, and are 4% ABV. They also only have 1g of sugar, 4g of carbs, and are made with superfoods! 
Lunya Sleepwear - WE'RE REINVENTING SLEEPWEAR FOR THE MODERN WOMAN.  Our pieces are crafted to make you feel confidently comfortable in your most intimate space — the bedroom. Being a modern woman can be complicated. We're here to simplify — we know lots of things keep you up at night; what you sleep in shouldn't be one of them. Design - 
Thoughtful and intentional design decisions — lay-flat pockets, straps that don't slip, intimates that won't ride up, styles that make you feel effortlessly cool… essentially, it's all the things that you didn't even know you needed. Now you don't need to abandon you when you walk into the house. Innovation - We develop our own fabrics that are luxuriously soft and made from predominantly natural fibers with collections focused on addressing the things that keep you up at night, such as restlessness, temp control, and muscle aches to name a few. 
Quality - Bottom line, we want you to feel good about your investment, so our products are the best. Wear tests, lasting construction techniques, high quality finishes—these are some of the things you can expect from us.  EST. 2014 - I walked by my bedroom mirror and marveled at my outfit – I was wearing my husband's old frat t-shirt and rolled up boxer briefs. In the pursuit of comfort, I had let the wheels fall off. This realization sent me on a journey to find comfortable, flattering sleepwear, but the options available didn't match the modern woman I was or wanted to be. I realized that even though you spend over one-third of your life in bed, sleepwear tends to be the most undervalued part of your wardrobe. It became my mission to make sure that women could feel both comfortable and confident.
Chrysmela - The Most Secure Earring Back
Have you ever lost an earring?  In our survey, 86% of us have lost an earring at least once.   But no more.   Chrysmela was invented by a woman for all the women to solve earring problems - lost earrings, downward tilting diamond studs and uncomfortable heavy earrings.   Patented in the US, UK, France, Italy and Japan.
Ladies, say goodbye to shapewear and hello to your best body! SHEER is the World's first three-layer dress that combines the power of shapewear and compression garments all-in-one piece. IT'S A WARDROBE GAME-CHANGER!   SHEER is for every girl who is ready to believe in herself - no matter what shape, size, or body type. Their figure-flattering dresses have a three-layer lining technology, built into the dress, discreetly. Designed by a previous SPANX executive designer, their unique lining system is constructed to help shape and enhance your natural curves - removing the need for shapewear all-together! Say goodbye to all those confining corsets, awkward undergarments, and cramped cinchers that feel restrictive and just add more layers. Step into SHEER, and step into magic!
Coolhaus co-founders Natasha Case and Freya Estreller started baking cookies, making ice cream, and combining them into "cool houses" in 2008. With mutual backgrounds in the design and real estate fields, they began naming their ice cream sandwiches after architects and architectural movements that inspired them – and eventually decided to take their newfound passion to their hometown streets in Los Angeles. Now, Coolhaus distributes in 7,500+ grocery stores ranging from Whole Foods to Safeway to Publix markets. Fans can also visit Coolhaus at its two Southern California-based storefronts in Culver City and Pasadena, or swing by one of the 10 mobile ice cream trucks and carts in Los Angeles, New York, and Dallas.
Reimagining scones, Sconely bakes and delivers delicious sweet and savories that you can feel good about eating. With an emphasis on organic ingredients, the entire menu is free of refined sugar and soy, with many plant-based and gluten-free options. www.sconely.com