Image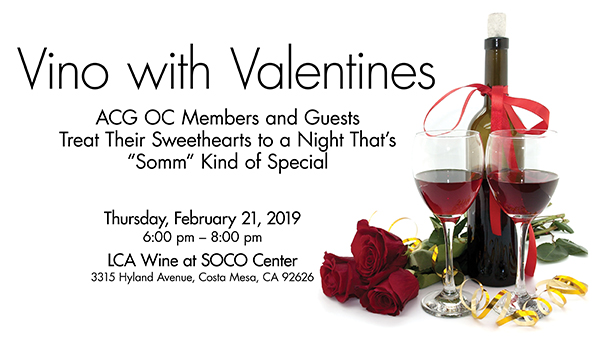 Event Details
When:
February 21, 2019 6 PM - 8 PM PST
Where:
Add to Calendar
Overview
Body
Vino with Valentines
ACG OC Members and Guests Treat Their Sweethearts to a Night That's "Somm" Kind of Special
Leave Valentine's Day for the amateurs and join fellow ACG OC professionals and their significant others for a fabulous February sommelier-guided wine tasting event. Sample an array of varietals, learning how to recognize their unique virtues and how to associate them with the regions they represent. Then, indulge your taste buds with a savory assortment of modern Spanish tapas. It's a sweetheart of a deal!
Hosted by:
ACG
RSVP by:
RSVP Deadline
February 21, 2019 12am