Image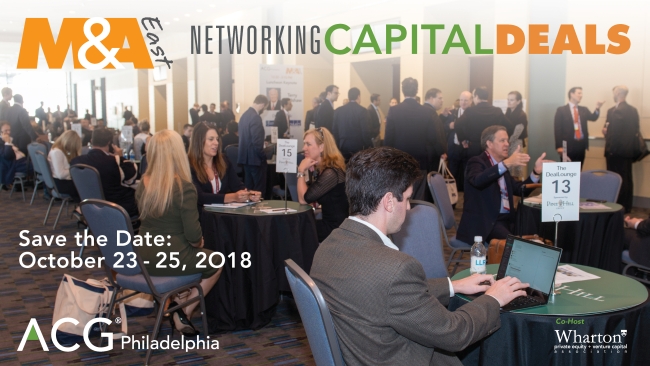 Event Details
When:
October 24 - 25, 2018
Where:
Pennsylvania Convention Center
Overview
Body
Conference - Wednesday October 24 and Thursday, October 25

Golf - Tuesday, October 23


 
In 2018 we will return to The Terrace Ballroom at the Pennsylvania Convention Center improving upon last year's highly successful event with a keen eye on creating an even more energetic and connected attendee experience.  At M&A East you will meet over 1,300 top strategic and financial dealmakers as well as leading middle market advisors for the best, most efficient dealsourcing anywhere.

M&A East Sponsorship Opportunities  
The 2018 Sponsor Kit will be available in February 2018. Returning sponsors at the Diamond or Platinum level should note that the Right of First Refusal deadline is Friday, March 9 (a firm deadline).
 
There will be updates to the kit for 2018, but you may view last year's for reference.
Meet our 2018 Steering Committee
Conference Co-Chairs
Matt Moran, Inverness Graham

Michael Rittinger, Klehr Harrison Harvey Branzburg LLP 

Pat Dolan, Delancey Street Partners 

David Lorry, Versa Capital Management
Corporate Outreach 
CHAIR: Michael Probst, Teleflex 

CO-CHAIR Kathleen King, Day & Zimmerman
DealSource
CHAIR: T.J. Haas, Eureka Growth Capital
Golf
CHAIR: Brian McDaid, Spring Capital Partners
Keynotes
CO-CHAIR: Michael Jacoby, Phoenix Capital Resources

CO-CHAIR: Bharat Ramprasad, Sfiel
Marketing 
CHAIR: Kristy DelMuto, LLR Partners
Private Equity Outreach 
CHAIR: Brian Van der Waag, Janney Montgomery Scott
Programs 
CO-CHAIR:  Dan McDonough, Pepper Hamilton LLP

CO-CHAIR:  Kevin Shmelzer, Morgan Lewis
Sponsorship 
CO-CHAIR: William Borkovitz, Kaplan Partners

CO-CHAIR: Daniel Mahoney, Trusight LLC