Image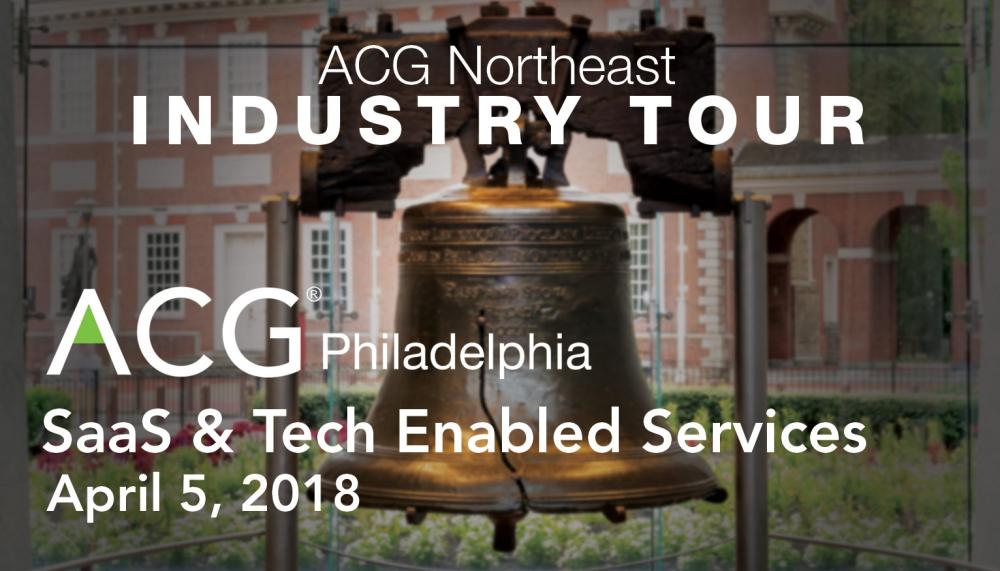 Event Details
When:
April 5, 2018 12 PM - 7 PM EDT
Where:
Location Name
The Union League, 140 S. Broad Street, Philadelphia
Add to Calendar
Event Secondary Body
Announcing a collaborative new event series presented by ACG Philadelphia, ACG New York & ACG Boston: ACG Northeast Industry Tour.

The "industry tour" series will offer ½ day conferences designed to leverage the larger ACG community and foster connectivity among dealmakers and company executives in a highly targeted deal networking, discussion and education environment.
ACG Philadelphia hosts the first stop on SaaS and Tech-Enabled Services. The day's content includes 1:1 deal meetings for all attendees, topical roundtables, a M&A East market update panel and a closing reception. CEOs, PE investors and investment bankers with deep domain expertise will lead the interactive, engaging roundtables sessions. 
The Meeting App / Scheduler is launching soon!   All registered attendees will have access to our Mobile App to schedule 1:1 meetings on April 5th between 12 - 2 pm.  A link and directions will be sent approximately 2 weeks beforehand.  The exact launch date will be posted here for attendees' reference.
 
DAY AT A GLANCE

 
11:00 AM  (note the new earlier start time(

Registration

11:30 AM
Lunch

12:00 - 2:00 PM

1:1 Meetings

2:15 - 3:15 PM 

Concurrent Roundtables: 

- Farmers/Hunters/Acquirers: Managing a Sales Organization to Maximize Revenue Growth

Michael Sala, Managing Director, Strategic Origination, LLR Partners (Moderator)
David Badler, Operating Partner, Susquehanna Growth Equity Partners
Saar Menachemi, Senior Director, Marketing & Business Development, DealCloud, Inc.
Paul Slaats, Partner, Milestone Partners

- Marketing Technology Software and Services

Seth Rosenfield, Managing Director, Petsky Prunier  (Moderator)
Lucinda Duncalfe, President & CEO, Monetate
Ross Shanken, CEO, Jornaya

3:15 - 3:30 PM
BREAK

3:30 - 4:30 PM 

Concurrent Roundtables:

- Internet of Things

Michael Morrissey, Managing Principal & Head of Business Development, Inverness Graham (Moderator)
Allen Proithis, CEO, Capstone Partners
Brandon Richter, Managing Director, Hamilton Robinson Capital Partners
James Turino, Managing Partner, Drake Star Partners

- The 3 Ps of Software Investing: Platform/ Process/Product

Kevin Kemmerer, Executive Vice President, Product Management, iPipeline
Allen Born, Director, Fairmount Partners
Michael Kopelman, General Partner, Edison Partners
Tom Olivier, Managing Director, Houlihan Lokey
Ellen Purdy, Chief Financial Officer, Office Practicum

4:30 - 4:45
Break

4:45 - 5:45 PM  

Plenary Session: 

- Current Trends in Technology M&A: Valuations, Buyer Tactics, Multiple Enhancers, Credit

Bill Filip, Managing Director, Delancey Street Partners (Moderator)
DJ Andrzejewski, Principal, PeakEquity
Garrett DeNinno, Senior Vice President, Raymond James
Vijay Khanna, Senior Executive, M&A + Strategic Partnerships, SAP
Chase Sanders, Managing Director, Baird

5:30 - 7:00 PM  

Cocktail Reception 
Dealmakers will benefit from leveraging the larger ACG community and will have the opportunity to:
Expand deal networks beyond their chapter
Deepen deal relationships in the sectors in which they invest
Engage in meaningful dialogue on trends and issues with those who operate, invest or advise in the same industry verticals as them.
Schedule targeted 1:1 meetings
EVENT DETAILS  

Thursday, April 5, 2018 
11:30 - 7:00 pm  
Union League, 2nd Floor  
140 South Broad Street 
Philadelphia, PA

Hotel Accomodations
We did not arrange for a room block and suggest using an online booking site like Priceline or Kayak to find the best rate. Nearby hotels to consider include: Hotel Palomar, Hotel Sofitel, The Ritz Carlton, Hyatt at the Bellevue and Doubletree to name a few. Stay at the Union League of Philadelphia if you are a member.

PRICING
Members: $145
Non-Members: $225
Industrial: June 7, 2018 (New York) 
Healthcare: November 2018 (Boston) 

In the event your plans change, replacements are welcome before hand or at registration. Full refunds are available for cancellations made more than 48 hours in advance. A $5 processing fee will be applied to all refunds. Email replacement or cancellation requests to mdagit@acg.org.
Hosted by:
ACG
Event Materials
Event Materials
We have created a User Guide to help you navigate the Mobile App for the 4/5 SaaS and Tech Enabled Services event. We hope you find this helpful. Click the link below.
Benefit from exposure to the broader ACG community as these industry focused dealsour-cing events will be marketed to all three chapters: Philadelphia, New York and Boston. Sponsor the SaaS/Tech-Enabled Services Philadelphia Industry Tour or expand your visibility by sponsoring a second industry vertical. Sponsorships are industry exclusive and limited in availability.