Image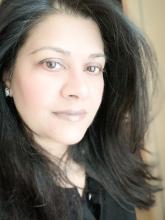 Diversity & Inclusion and Business Growth Consultant
Asfa Malik is an award-winning talent development leader with a strong background in sales, learning and strategy. She is also a cultural change agent, inclusion strategist, thought leader and brand builder. In her career, she has been able to marry her strategic mindset, sales and people development experience to create impact with business leaders and employees to drive revenue growth.  Having spent most of her professional life at a global big data company, she ran the Learning & Development team serving over 5,000 employees around the world.  Her expertise in data analysis, consultative selling and leadership development allows her to build strong employee programs in a growth-oriented fashion. Most recently, she led the design and development of Diversity & Inclusion strategies for a mid-sized professional staffing firm to drive innovation and belonging. In addition to leading the D&I initiative, restructured the Learning & Development team from onboarding to leadership development to drive cultural change and retention. As a consultant, she partners with CEO's from small to mid-sized companies in various industries (Sports Management, Digital Media, IT Solutions, Transportation, CPG and Executive Search) to design growth and change management strategies to drive cultural diversity and inclusive leadership.
Asfa has been published in Training Industry Magazine and a cited expert in Chief Learning Officer Magazine, Workhuman, Reworked, CMS Wire and HR UK Magazine. She has also been an expert podcast guest in The Mondo Minute Leadership series, Careerwell Adventures in Job Seeking and Improve It Failed It.
One of her greatest passions is to provide best in class development opportunities for professionals to excel in their roles, leverage their strengths, and drive career success. All of which are possible with a culture of inclusion and belonging.
Sessions