Image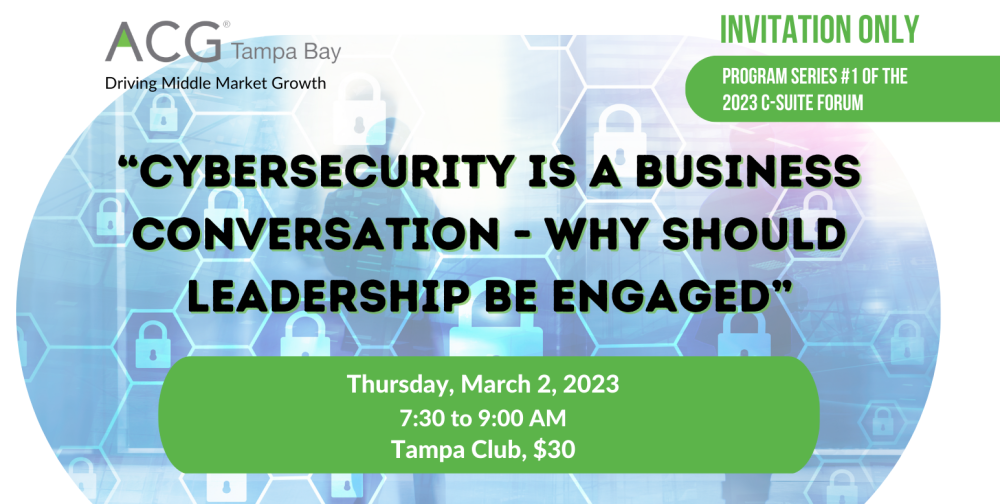 Event Details
When:
March 2, 2023 7:30 AM - 9 AM EST
Where:
Add to Calendar
Overview
Body
"With mounting regulation and the constant evolution of sophisticated threats, cyber security is becoming a suite C-suite issue more than ever before. Leadership's approach to cybersecurity can have a significant impact on an organization's valuation and revenue. Cybersecurity is a business problem."
Event Secondary Body
Join ACG Tampa Bay for this "invitation only" program, "Cybersecurity is a Business Conversation - Why Should Leadership Be Engaged?".  This is the first of five opportunities in our 2023 C-Suite Forum.
The Network & Opportunity
The C-Suite Forum is an invitation only initiative for growth oriented owners, operators, founders and CEOs of closely-held businesses who are interested in gathering among peers to:
Explore and understand the challenges and opportunities for organic and acquisitive growth
Access expert resources, insights, and lessons learned from the most experienced corporate growth and deal professionals
Be welcomed as a member of the region's only professional community dedicated to building and growing middle-market companies.
Who Should Attend?
Position held – CEO or equivalent
Enterprise value of company - $20,000,000+
Company seeking/interested in acquisitions, growth financing or understanding exit strategies and options
Hosted by:
ACG