Image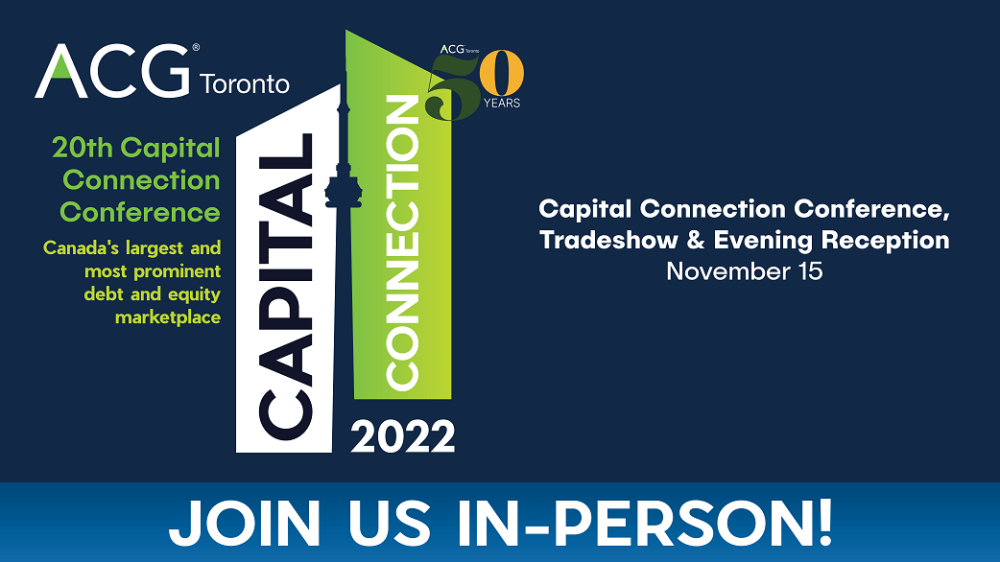 Event Details
When:
November 15, 2022 7:45 AM - 4:30 PM EST
Overview
Registration is now closed. We look forward to seeing you in 2023.
ACG Toronto's Capital Connection Conference & Tradeshow will be returning this November 15, live and in-person! 
7:45 AM ET: Registration & Networking Brekafast
8:15 AM ET: Keynote Presentations
11:30 AM ET: Breakout Sessions
12:10 PM ET: Networking Lunch & Tradeshow
1:20 PM ET: Keynote Presentations
3:00 PM ET: Breakout Sessions
4:30 PM ET: Networking Reception (separate registration required)
DealSource North Conference will be held in conjunction with Capital Connection. For more details, please visit here.
Here are the companies attending Capital Connection:
ACA Global
Accuracy
AIM Group Canada Ltd.
AIMA Canada
Aird & Berlis LLP
Antares Capital
Ares Management LLC
Audax Private Equity
Bank of America
Bannockburn Global Forex
BDG
Bennett Jones LLP
BFL Canada
BGO Advisory
Blake, Cassels & Graydon LLP
BMO
Boyden
Brown, Gibbons, Lang & Co.
Canada CFOs
Canadian Business Growth Fund
Celina Capital Corporation
CHARM Group
CIBC
Ciel Capital
Clearlake Capital Group
Clearspring Capital Partners
Clearview Capital
CohnReznick
Corpay/Fleetcor
Cortland Credit Group
Deokali Investments
Desjardins Securities Inc.
DHR Global
Dickinson Wright LLP
Dynamic Capital Equipment Finance
EHS Support
Enlightened Capital Inc.
EUCLID TRANSACTIONAL
Excellere Partners
Express Business Funding
EY
Family Office Executive
Farber Group
Fengate Private Equity
Fifth Third Bank
FirePower Capital
Fogler, Rubinoff LLP
FrontWell Capital Partners
Gallagher
Genova Private Management
Gordon Brothers
Grata
Graywood Development Ltd.
H.I.G. Capital
Harbour Group Industries
Hark Capital
Hermitage Canada Finance/Novipro
HUB International
Huntington National Bank
INFOR Financial Group
Insight Equity
Instar Asset Management
Instar Invest
irlabs
Kadant Inc (Industrial Process Equipment Manufacturer)
Kroll Corporate Finance Canada
KSV Advisory Inc.
LHH Knightsbridge
Liberty Global Transaction Solutions
Mangrove Equity Partners
Marsh
Meridian
Meridian Credit Union
MidStar Capital
MIII MSP
Miller Thomson LLP
Mitsubishi HC Capital Canada Inc.
MNP Corporate Finance
MNPCF
MyDreamFinance
NewPoint Capital
Northleaf Capital Partners
Novacap Management Inc
OHANA CAPITAL
Peloton Search Partners
PNC Riverarch Capital
Portage M&A Advisory
PRIVEQ Capital Funds
Prudential Private Capital
Quadrivium Advisors
Raymond James Bank
RBC
Richter
River Associates Investments
Robins Appleby LLP
RSM Canada
Sallyport Commercial Finance, LLC
Sapling Financial Consultants Inc.
Sentinel Capital Partners
Siena Business Lending, LLC
Startup
Stikeman Elliott LLP
STNL Advisors
STORE Capital
STREAM CAPITAL PARTNERS
Swander Pace Capital
TD Bank
TD Commercial Banking
TD Securities
The Riverside Company
Third Eye Capital
Torkin Manes LLP
Trivest Partners
Turnout Industries
WhiteHorse Capital
ZOC Consultants Inc.