Event Details
When:
March 3, 2020 4:30 PM - 7 PM EST
Where:
Location Name
The Townsend Hotel
Add to Calendar
Overview
Body
Women in Leadership Series
The Women's Forum of ACG Detroit is proud to offer a series of seminars focusing on successful women in positions of leadership.  These events will be held on a regular basis throughout 2020, and are designed to highlight women in leadership across a wide spectrum of industries and positions here in Michigan.  Join us to be inspired by these leaders, hear their success stories and learn more about their approach to the challenges that we all face in our professional and personal lives.  This series of seminars will not only provide unique stories of accomplishment from featured leaders, but will also offer the attendees an opportunity to network with other like-minded professionals.
Our March program features the success story of Jenny McCuiston, Co-Founder of Goldfish Swim School.  Moderated by Kim VanCleef of DuckerFrontier, the fireside chat style discussion will focus on the story behind building a company from scratch, the struggles and accomplishments Jenny faced along her journey to success, and opportunities she believes the future will bring. 
Speakers
Image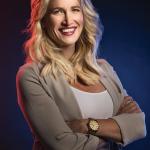 Jenny McCuiston
Goldfish Swim School
Co-Founder
A lifelong swimmer, Jenny McCuiston is the proud co-owner of the flagship Goldfish Swim School in Birmingham, MI, and Goldfish Swim School Franchising, LLC. As a two-time Olympic Trials Qualifier with a degree in early childhood development and family studies, Jenny serves as the company's visionary, as well as the thought leader in designing and executing the brand's proprietary Science of SwimPlay® Curriculum, which focuses on teaching swim and safety skills while building character through guided play. As a mother of four, basic education surrounding water safety is an aspect that empowers and motivates her to continue to expand the franchise. Jenny has been featured on the TODAY Show, Reader's Digest, Romper, Livestrong and many more media outlets to help build awareness surrounding water safety and drowning prevention, as well as empower women in business to follow their passion and dreams.
Image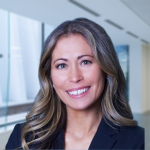 Kim VanCleef
Kim is a director of DuckerFrontier's private equity and investment banking coverage practice in North America, providing market diligence (both buy and sell-side) for M&A transactions. Kim has nearly 20 years of investment banking, private equity, and leveraged lending experience across a variety of industries, with a focus on industrial manufacturing, aerospace, automotive, and building products businesses. Prior to joining DuckerFrontier, Kim has spent time with BDO USA, Quarton International (a Cowen company), Altus Capital Partners, Alvarez & Marsal, Cerberus Capital, and William Blair & Company in various investment banking and private equity positions. Kim is on the board of ACG (Association for Corporate Growth) Detroit, is the chair of the ACG Detroit Women's Forum, and is an advisory board member of the Financial Markets Institute "FMI" at Michigan State University. Kim holds a bachelor's degree in finance from Michigan State University.
Hosted by:
ACG
RSVP by:
RSVP Deadline
March 3, 2020 11pm