Image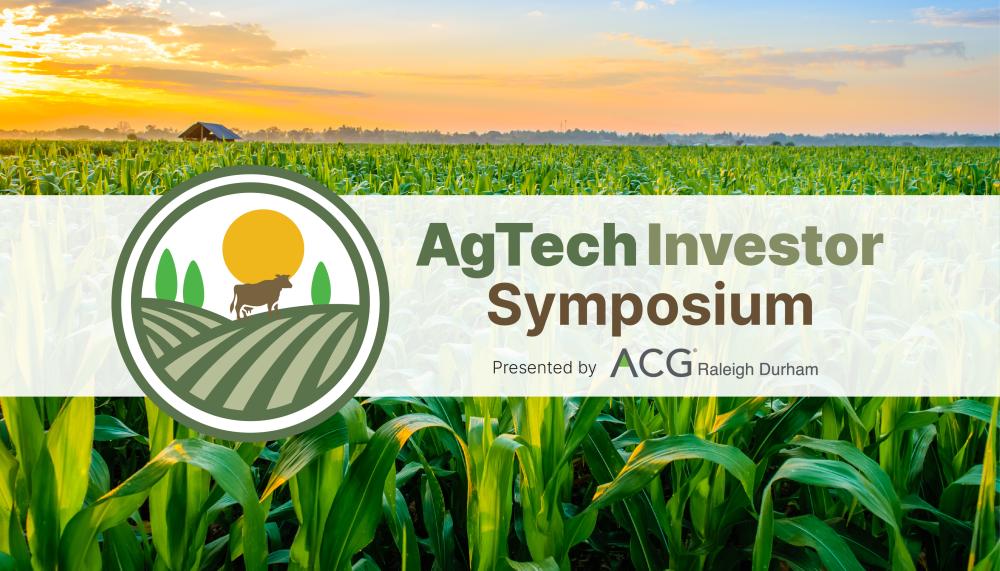 Event Details
When:
October 12, 2023 8:30 AM - 4 PM EDT
Where:
Raleigh Marriott City Center
Overview
Join us for ACG's 2023 AgTech Investor Symposium dedicated to the rapid-growth world of agtech. 
Hosted by ACG Raleigh-Durham, this one-day event will educate investors about this hot industry sector in an environment ripe with opportunity.
The global agtech market is on the rise. Consumer demands concerning food production and improvement of agricultural technology are boosting growth. As of 2023, the global agtech market is worth $21.89 billion. By 2030, that amount rockets to over $43 billion. As investment gathers pace, valuations are growing with the industry. This symposium takes a hard look at where the investment opportunities are currently and where private capital should be poised to take advantage of the rapid growth.
To help you better understand the landscape and investment opportunities, we're excited to offer a full day of learning, conversation, and networking.
Here's What's in Store:
AgTech Update
The AgTech update will bring investors up to speed on where the market is today and will help them learn the industry landscape, its growth trajectory, and what they need to know about opportunities for investment in this fast growth area.
Investment Opportunities
From real estate, to crop commercialization, animal health and food tech, this expert panel will cover the specific investment areas that are hot and growing. 
Deals Done
Investment bankers, private equity funds, and strategic acquirers who have active or recently closed deals in this space discuss how investment in this sector is growing and where they have found success.
Keynote Lunch
Featuring Adrian Percy, Executive Director of the Plant Sciences Initiative at North Carolina State University
DealSource 1:1 Meetings
ACG DealSource is a premier networking event bringing together senior lenders, mezzanine capital providers, private equity groups, family offices, venture capital providers, investment bankers, and C-suite executives for an afternoon of prescheduled one-on-one meetings. Participants will have an opportunity to learn more about one another and request/accept meetings ahead of time using ACG meeting scheduling system for an efficient and productive series of meetings. Open to Private Equity, Mezzanine, Venture Capital, Family Offices, Sr. Lenders, and later-stage Ag Tech C-Suite execs by invitation only. Registration will be confirmed.
Registration
The conference is open to ACG members and non-members. DealSouce is an optional add-on and participation is limited to Private Equity, Mezzanine, Venture Capital, Family Offices, Senior Lenders, and later-stage Ag Tech C-Suite executives. General conference registration is required to participate in DealSource. 
ACG Members: $275 | DealSource: $250
Non-Members: $375 | DealSource: $350
Not a member? Join now to save on this event and leverage all the benefits of ACG membership. 
 
Interested in Sponsorship?
View available sponsorship opportunities or contact sponsorship@acg.org for more information. 
Thank you to our sponsors!