Image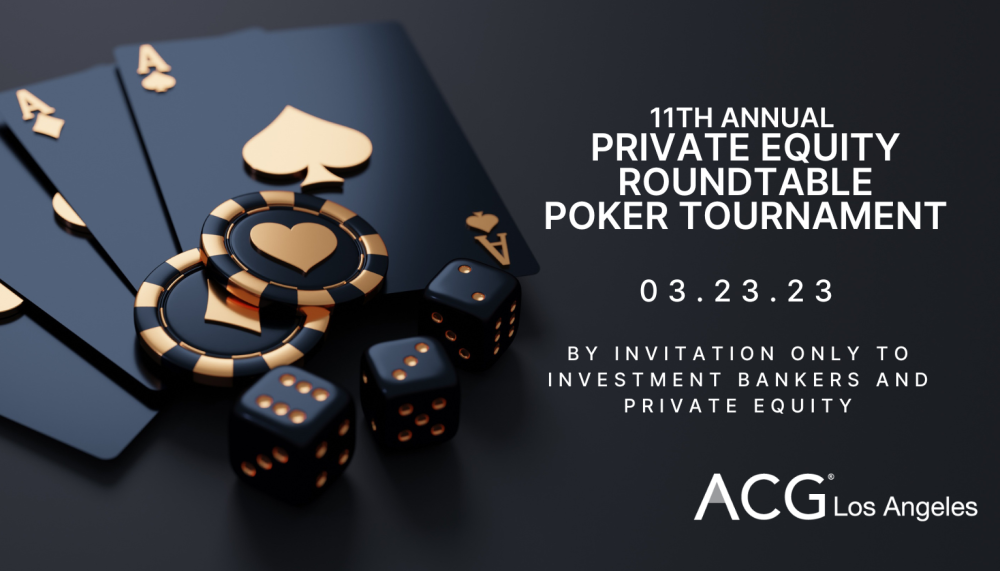 Overview
Body
Exclusive Invite for Private Equity and Investment Bankers!
Attend the ACG Los Angeles Private Equity Roundtable Poker Tournament on Thursday, March 23rd at the Viceroy Santa Monica. This supercharged networking event is only open to PE/IB professionals and draws an exclusive crowd of senior level executives for a unique and memorable evening.
All levels of players are welcomed, or join for the networking and hosted bar throughout the evening. Stellar prizes, giveaways for all, and much more!
Space is limited so Register Today to secure your spot!
$200 Members | $250 Non-members
*Business Casual Attire.  Valet Parking Included
If you are a Private Equity Exec or Investment Banker interested in attending, or a Service Provider that is interested in sponsorship, please contact Tuan Hoang @ TMHoang@BDO.Com | 310.557.8233
Schedule
5:00 PM – 9:00 PM Cocktail Reception and Networking
6:00 PM Texas Hold'em Poker Tournament (No Buy-In)
 Watch highlights from the 2022 PERT Poker Tournament!
PE Roundtable Committee
Tuan Hoang, BDO – Chair
Jane Adams, Piper Sandler
Clay Bryan, B. Riley Securities
Erica Curello, Mainsail Partners
Jeremy Holland Riverside Company
Jamie Kim, Gallant Capital
Steve Moon, Kroll
Tyler McLinn, Moelis
Connor O'Byrne, Gemspring Capital
Matt Oehlmann, TELEO Capital 
Mike Piric, Lincoln
Larry Simon, Clearview Capital
Evan Smith, Marlin Equity
Kevin Stephens, Houlihan Lokey
Jordan Stone, Platinum Equity
Jonathan Zucker, Intrepid