Image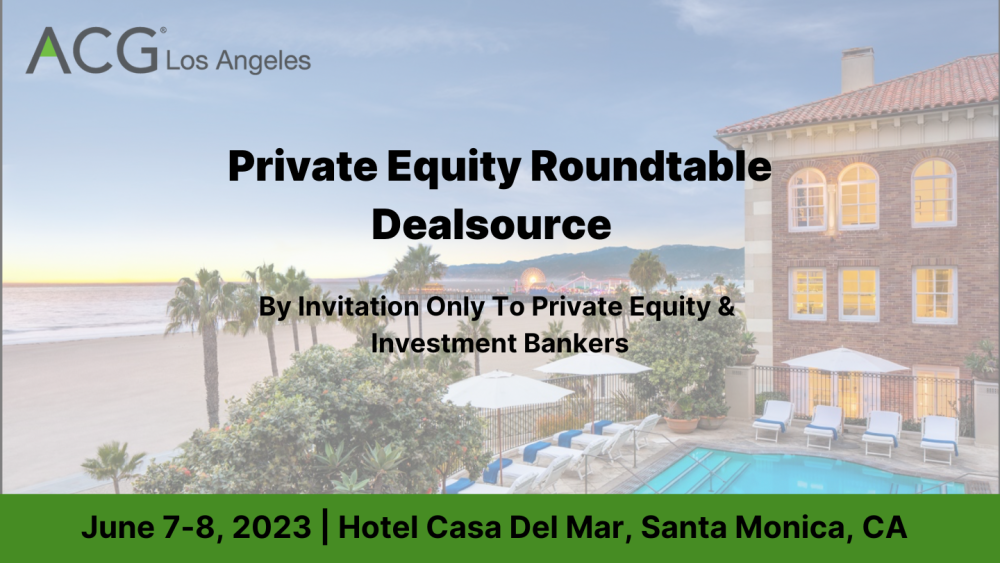 Overview
Body
Registration for this event has closed.  If you are a PE/IB still interesting in attending please contact Tuan Hoang: TMHoang@BDO.Com
The ACG Los Angeles Private Equity Roundtable invites you to our marquis Dealsource event by the beach! Exclusively for PE/IB professionals, this dealsource creates a heightened and efficient networking opportunity amongst a targeted group of your peers. Experience a full day of networking and private 1-on-1 meetings with key PE/IB professionals.  
AGENDA
June 7th - PE/IB Cocktail Reception @ LouLou Santa Monica  (at Santa Monica Place Shopping Ctr)  RSVP IS REQUIRED
5PM - 7PM
395 Santa Monica Pl #300, Santa Monica, CA 90401 (located on the 3rd floor)
Self Parking Structure 8 @ 2nd & Colorado (1571 2nd St.| Santa Monica)
June 8th - Dealsource @ Hotel Casa Del Mar – Santa Monica, CA
1910 Ocean Way, Santa Monica, CA 90405   *Hosted Valet
9AM Registration/ Networking/Breakfast
10AM Dealsource Meetings Start*
12PM Lunch
1-3PM Dealsource Meetings Continue*
3PM - 3:25PM Afternoon Break
3:30PM - 5:30PM Dealsource Meetings Continue*
5:30PM-7PM Networking Cocktail Reception
*Full slate of meetings not guaranteed
NOTE: Registration is by individual type- PE or IB. Please register accordingly. 
PE Roundtable Committee
Tuan Hoang, BDO – Chair
Jane Adams, Piper Sandler | Clay Bryan, B. Riley Securities |  Erica Curello, Mainsail Partners  | Jeremy Holland Riverside Company | Jamie Kim, Gallant Capital | Steve Moon, Kroll | Tyler McLinn, Moelis  | Connor O'Byrne, Gemspring Capital |  Matt Oehlmann, TELEO Capital | Mike Piric, Lincoln | Larry Simon, Clearview Capital | Evan Smith, Marlin Equity| Kevin Stephens, Houlihan Lokey | Jordan Stone, Platinum Equity | Jonathan Zucker, Intrepid