Image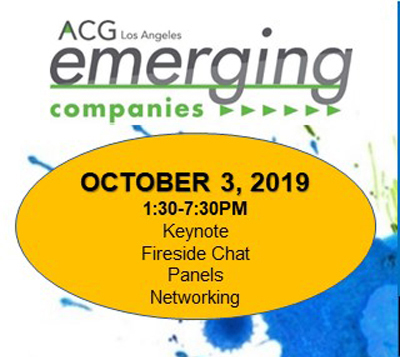 Event Details
When:
October 3, 2019 2 PM - 7 PM PDT
Where:
Location Name
WeWork Gas Tower | DTLA
Add to Calendar
Event Secondary Body
REGISTRATION NOW CLOSED but on-site registrations are very welcome!
AGENDA:
WEWORK GAS TOWER DTLA - LOBBY AND PATIO
THURSDAY, OCTOBER 3 | 1:30 - 7:30 PM
1:30 – 2:30 PM - Summit Registration and Networking | WeWork Gas Company Tower – Lobby

2:30 – 3:15 PM – Opening Keynote – Yancey Strickler, CEO & Co-Founder, Kickstarter and Author, This Could Be Our Future: A Manifesto for a More Generous World

3:15 - 4:00 PM – What all Consumer Brand Companies Need to Know about Building a Superstar Brand
Consumer product companies are under intense pressure to create brands that speak to consumers in a way never seen before. Intense scrutiny and fickle consumers, product transparency, locally sourced vs. economically sourced, socially conscious and responsible products. The list continues for consumer products selling to today's ever-changing consumer tastes and demands. How are brands navigating discerning consumer demands yet creating super star brands, scalability, sustainable growth and a sustainable fan base through the effective use of social media and other digital assets.

Panel:
Mason Arnold, Founder, CeCe's Veggie Co.
Eugene Kang, Co-Founder and CEO, Country Archer Jerky Co.
Anthony Zanontian, Co-Founder, Anthony's Goods
Moderator: Suzie Doran, Partner, SingerLewak

4:00 PM – Recharge Break – Espresso Coffee and Small Eats

4:30–5:15 PM – Growing through Mergers & Acquisitions: State of the Current Deal Markets for Consumer and Retail Companies and Top 5 Trends that Continue Driving Growth
Companies are still riding the growth curve through strategic M&A activities. Deals are getting done, capital is readily available and there's no shortage of appetite for mergers and acquisitions. What are the drivers, where is the continued growth, is a slowdown looming? Our experts in Capital Markets will examine growth drivers and give an overview into the current state of affairs in the M&A space.
Panel:
Will Chuchawat, Managing Partner, Mergers & Acquisitions, Sheppard Mullin
Jared Stein, Co-Founder and Partner, Monogram Capital
Duane Stullich, Managing Partner, FocalPoint, LLC
Moderator: Brenda Morris, Partner, CSuite Financial Partners

5:15-6:00 PM – Fireside Chat - Retail Reinvention: Do or Die
In an era of serious retail disruption and change, brands are looking for new ways to exist and stand out in the brick and mortar space. While most predicted the end of the mall, some brands are proving that with the right strategy, product mix and consumer experience, they are not only surviving they are thriving. The brands who know their consumers best are winning at the retail game and thriving beyond predictions.

Speaker: Mark Goldston, Chairman and CEO, The Goldston Group. He is also the majority owner, General Partner, and patented inventor of Athletic Propulsion Labs (APL) an athletic and footwear company based in Los Angeles.
Moderator: Orin Winick, National Director, Investment Advisory, Aspiriant

6:00- 7:30 PM – DJ + Networking + Farm to Table Food Experience + Craft Cocktails and Reception under the Moon, Stars and Lights of Downtown LA
For Sponsorship Opportunities contact
Mina Trujillo at mina@chraftpr.com or call 213.973.6110
Hosted by:
ACG
Sponsors