Image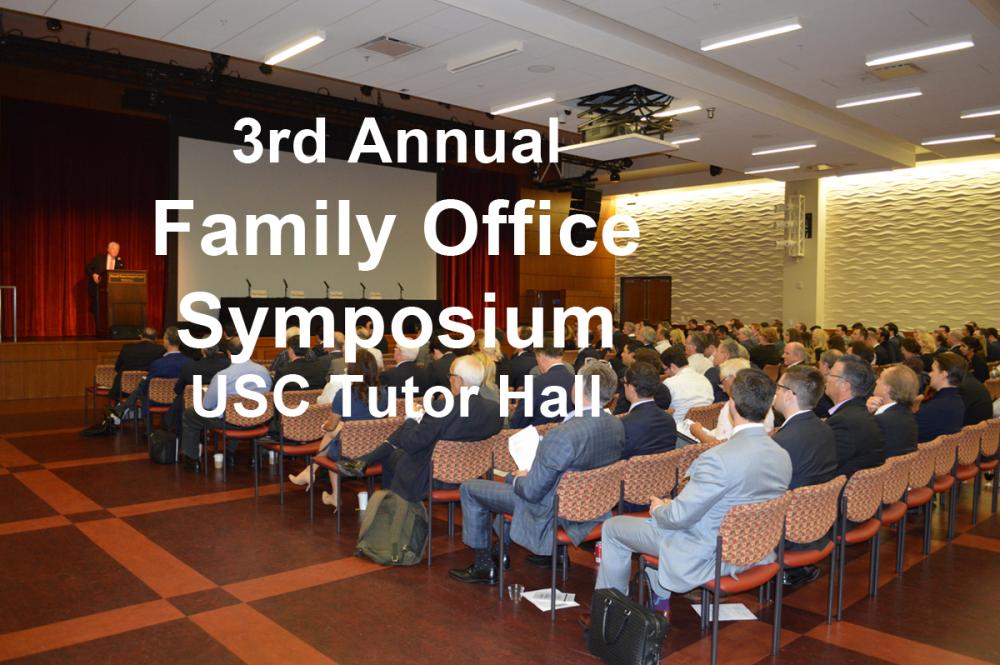 Event Details
When:
October 4, 2018 2 PM - 6 PM PDT
Where:
Location Name
USC Ronald Tutor Campus Center - 3607 Trousdale Parkway,LA,90089
Add to Calendar
Event Secondary Body
On-line registration for our Family Office Symposium is closed.   We encourage you to show up and attend as an on-site registration for an additional $20.
See you this afternoon!
PARKING
We have arranged $12 parking in the Figueroa Parking Structure (behind the Radisson Hotel).  Be sure to tell the parking attendant our

Parking RSVP ID# 264013.  An additional reminder was sent to registrants as of 9 am 10/3/18 with attached maps.
| | |
| --- | --- |
| RSVP ID | Date(s) Requested |
| 264013 | 10/4/2018 6:00 AM - 11:59 PM |
Requested Lot: Figueroa St. Structure
Requested Gate: Figueroa St. Structure
Vehicles Requested: 150
Driver Name(s): USC Family Office Symposium
Event Name: USC Family Office Symposium
Event Location: RTCC Trojan Ballroom
Payment Method: Collect from Guest
There is a bit of a walk to get to the middle of campus and the Tudor Campus Center .  The Tudor Center is between the bookstore and the Tommy Trojan statue.  Women, wear comfortable walking shoes

😊

  We are holding the Symposium in the Ballroom downstairs.
Directions to Parking Structure 2 at The Radisson Hotel
Driving Directions to Figueroa Street Parking Structure (Formerly Parking Structure 2)
3533 Flower Street, Los Angeles, CA 90007 PH (213) 740-5956
Parking is non-hosted - $12.00/attendee. 

110 (Harbor Freeway) North
1. Take the Exposition Boulevard exit.
2. Go straight through the 37th Street light. Keep left.
3. Go under the freeway bridge and across Flower Street and make a right on Figueroa Street.

110 (Harbor/Pasadena Freeway) South
1. Take the Exposition Boulevard exit. Keep right.
2. Go across Flower Street make a right on Figueroa Street.

10 (Santa Monica Freeway) East
1. Take the Hoover Street exit. Turn right at the light.
2. Continue until Hoover Street ends at Jefferson Boulevard. Turn left on Jefferson Boulevard, then turn right on Flower St (Behind the Basketball Arena).
3. At the next light (Exposition Blvd.) make a right.
4. Make on more right at the first light (Figueroa St.)

10 (Santa Monica Freeway) West
1. Take the Hoover Street exit. Turn right at the light.
2. Continue until Hoover Street ends at Jefferson Boulevard. Turn left on Jefferson Boulevard, then turn right on Flower Street (Behind the Basketball Arena).
3. At the next light (Exposition Blvd.) make a right.
4. Make on more right at the first light (Figueroa St.)

405 (San Diego Freeway) South or North
1. Transition to the 10 (Santa Monica Freeway) east heading toward Los Angeles.
2. Take the Hoover Street exit. Turn right at the light.
3. Continue until Hoover Street ends at Jefferson Boulevard. Turn left on Jefferson Boulevard, then turn right on Flower Street. (Behind the Basketball Arena).
4. At the next light (Exposition Blvd.) make a right.
5. Make on more right at the first light (Figueroa St.)

101 (Hollywood/Ventura Freeway) South or North
1. Transition to the 110 (Harbor Freeway) south.
2. Take the Exposition Boulevard exit.
3. Go across Flower Street and make a right on Figueroa Street.

5 (Golden State/Santa Ana Freeway) South or North
1. Transition to the 10 west (Santa Monica Freeway) and then to the 110 south (Harbor Freeway). Note: An alternate route if you are north of downtown and driving south on the 5: Exit directly to the 110 south and take it through the downtown area to Exposition Boulevard which is just south of downtown.
2. Take the Exposition Boulevard exit.
3. Go across Flower Street and make a right at Figueroa Street.
Directions to Parking Structure 2: Stay in your right lane and turn into the Radisson Hotel on your right side. The parking booth is to the left of the hotel.  
Once you have arrived:
Mention your RSVP ID number 

264013

 to the guard at the ticket booth. Pay for your parking reservation, then place your ticket on your dashboard to be clearly visible.
_________________________________________________________
Los Angeles Chargers
     For 58 seasons, the Chargers have led the fight to stretch the imagination and give fans the most exciting show in football. Behind the dramatic games, unforgettable highlights, beloved players, groundbreaking performances and one of the best uniforms in the NFL lies an uncompromising drive for success – one rooted in toughness, resilience and old-fashioned hard work. A charter member of the American Football League, the franchise was established in Los Angeles in 1960 and called the Los Angeles Memorial Coliseum home during its first year of existence. From 1961 to 2016, the team played in San Diego. Advancing to five of the first six AFL Championship games ever played, the Chargers claimed the 1963 title and later joined the National Football League when the two leagues merged in 1970. Since the merger, the Chargers have gone on to appear in Super Bowl XXIX and have captured an additional 10 division titles. The Chargers were purchased by construction leader and real estate developer Alex G. Spanos in 1984 and have been under the guidance of Spanos' eldest son Dean, the team's current Chairman of the Board, since 1994.  Dean Spanos' sons – A.G. Spanos, President of Business Operations, and John Spanos, President of Football Operations – oversee the day-to-day operations of the franchise. The Chargers returned to Los Angeles in 2017 and will play all home games at StubHub Center while the new L.A. Stadium and Entertainment District at Hollywood Park is constructed.
Moderator:
Pat Murphy Hirata, Partner at 

RSM
     For more than 25 years, Pat has delivered complex tax solutions and income tax planning services to strategic and private equity-owned companies in the manufacturing, high-tech, construction and service sectors. Other career highlights include serving as the National leader of RSM Estate and Gift Tax as a member of RSM National Tax, and developing and leading the National Family Wealth Services and Wealth Advisory Practice for RSM.  She recently rejoined RSM after serving as the Chief Financial Officer and Executive Vice President of Auction.com, LLC, which is the nation's leading platform transforming the real estate market place. Pat gained deep bench strength in financial reporting and operations in this fast-growing technology company.  As a tax partner in the Irvine office of RSM, she leads the West Region Private Client Services group, specializing in serving high net worth individuals, family offices and foundations. As both a CPA and attorney, Pat bridges the gap between tax structuring and compliance while serving clients with a steadfast commitment to exceeding their expectations.
Laird Norton Company
     Based in Seattle, Laird Norton Company is a 7th generation family-owned enterprise with investments in real estate, wealth management, and consumer products and services. What began in 1855 as a frontier logging operation in the Midwest, has evolved into one of the longest-standing family enterprises in the country. Over our 163-year history, it has been our mission to keep the family together and to sustain a business purpose for the benefit of our future generations.
     Today, Laird Norton has over 400 family members involved in the ownership of the company and the Laird Norton name represents a company with diverse business interests, enduring values, and a deep commitment to enriching the communities where we live and work.
Moderator:
Allen Hubsch, Partner at Loeb & Loeb LLP
   Allen leads a diverse practice spanning all facets of real estate law, working with clients in every significant industry sector in real property matters involving virtually every asset type. With more than 30 years of experience, he represents family offices in connection with real estate purchases and sales, leases, financings, and joint ventures, including multi-property and multi-jurisdictional transactions in markets across the country. 
Andell, Inc.
    Andell Inc. is a private investment firm and family office controlled by Ellen Bronfman Hauptman and Andrew Hauptman. Andell invests directly in both control and minority stakes in private and public companies and real estate and partners with top-tier investment managers around the globe.
Moderator:
Tim Lappen, Jeffer Mangels Butler & Mitchell (JMBM)
   Tim's practice, spanning more than 40 years, emphasizes representing clients as their outside general counsel in virtually any legal matter of importance to them, anywhere in the world. His work involves myriad family office matters, luxury homes, business, general residential and commercial real estate, entertainment, hospitality, intellectual property, tax, labor, litigation, land use, and more. Tim also represents entertainers, athletes, and others with regard to a variety of projects, including estate planning, pre- and post-nuptial agreements, philanthropic, and general business advice.  He is particularly well-known for his pioneering work with local US and international family offices on such disparate projects as estate planning, purchase and sale of residences, other real estate matters, litigation, labor law (especially household labor-related issues), and personal property acquisitions and dispositions (such as fine art, jewelry, other collectibles, yachts, aircraft, and particularly motor vehicles). In addition, Tim represents anyone who has an interest in a luxury home – buyers, sellers, lessors, lessees, developers, architects, general contractors, lenders, borrowers, and owners who need advice on such disparate matters as contracts, boundary disputes, litigation, land-use and zoning and even labor and employment issues involving the household staff.
   Tim's expertise extends to projects involving general business law. He is especially effective in his work with family-owned and other closely-held businesses as he can advise such clients on a wide range of topics. As one of the founding directors of the twice-yearly U.C.L.A. Anderson School Steinbeck Family Business Program, and as one of the directors of the USC Marshall School of Business Family Business Program, he presents often on the matters of particular importance to such clients.
Hosted by:
ACG
Event Materials
Event Materials
A.G. Spanos - LA Chargers
President of Business Operations
    A.G. Spanos was named President of Business Operations for the Chargers in May 2015. He oversees all day-to-day business operations of the organization, including marketing, sales, public relations, digital media and community relations. He also represents the organization at all NFL and ownership meetings.
    Previously, Spanos served as executive vice president–chief executive officer from 2011-15, executive vice president—executive officer from 2008-10 and director of marketing programs and business development from 2003-07.
    Spanos knows the power of professional sports and the Chargers ability to lift the spirits of an entire community. With that in mind, his number-one goal is, and always has been, to ensure the Chargers enjoy success on the field. Paramount in that effort is helping the franchise establish an undeniable home-field advantage. Since 2003, the Chargers have posted a winning record at home nine times, including 2006 when the team went undefeated at home for the first time in franchise history.
Working to ensure this trend will continue, Spanos oversaw the multi-million dollar upgrades to StubHub Center during the summer of 2017. The venue, home to the Chargers through the 2019 season, will be one of the most unique experiences in the league – providing fans with unmatched sightlines and unprecedented proximity to NFL action. From security to parking, seating manifest to the aforementioned capital improvements, Spanos has been dedicated to ensuring that games at StubHub Center will be an unparalleled experience Chargers fans won't soon forget.
   Another aspect of being competitive on the field is providing players and coaching staff with critical resources. Under Spanos' direction, the Chargers secured space for both training camp and a new practice facility during the 2017 offseason. The team's new training camp home at Jack Hammett Sports Complex in Costa Mesa, Calif., has undergone extensive field modifications to bring it up to NFL standards – a benefit the community will also soon enjoy – while the team's new practice facility, also in Costa Mesa, is receiving a dramatic overhaul as well. The state-of-the-art facility will provide the Chargers with the latest in technology and equipment and house the team's more than 130 full-time employees, not including players.
   Off the field, with an emphasis on the fact that Season Ticket Members are the backbone of the organization, the Chargers have added more value, greater access and have rebranded the team's most loyal fans as 'Season Ticket Members' under Spanos' direction. Key benefits of being a Season Ticket Member have grown to include the creation of dedicated service representatives, unique opportunities surrounding the Chargers practice facility, stadium tours, exclusive practice sessions at both mini-camp and training camp and an upgraded, more transparent seat relocation program among other items.
   In an effort to quench Chargers fans' unending thirst for information about their team, Spanos created the organization's digital media department in 2012. The department has been instrumental in providing an endless supply of unique content available only on the team's official website, Chargers.com, while expanding the Chargers' digital footprint across various social media platforms. Additionally, recognizing the benefits of producing web, digital and television content in-house, Spanos led the effort to construct a new television and editing studio in the team's practice facility and has been instrumental in acquiring new talent to support the team's ever-expanding media initiatives.
   Spanos attended La Jolla Country Day School in La Jolla, Calif., lettering in football and basketball. He played football as a freshman at Tufts University in Medford, Mass., before returning to California to continue his education at the University of Southern California, where he earned a bachelor's degree in marketing from the Marshall School of Business.
   Spanos is the grandson of Owner Alex Spanos, and he is the eldest son of Chairman Dean Spanos and his wife Susie.
John Spanos - LA Chargers
President of Football Operations
   John Spanos was named President of Football Operations for the Chargers in May 2015. He oversees all of the team's football operations, including player personnel, coaching, player finance and the salary cap, medical, equipment, video, player engagement and security. He also represents the team at League and Management Council meetings.
   Spanos began working for the Chargers in 1995, originally spending his summers in the football operations department as an assistant. From 1998-2000, he worked on contract negotiations and managing the salary cap under the direction of Ed McGuire before moving to New York to work in the NFL league office.
   In 2003 Spanos began working full-time as a scout. He methodically worked his way up through the organization before his career took a giant leap forward in 2013 when he was named Executive Vice President of Football Operations. This new position afforded him the opportunity to put his first big imprint on the organization, and he did just that as a key member of the selection committee responsible for the hiring of General Manager Tom Telesco. That year, the team returned to the playoffs for the first time since 2009 and won its first playoff game since 2008.
   Spanos has seen his role in the NFL Draft grow exponentially since his ascension in 2013, and the results have been overwhelmingly positive. The team's 2013 draft yielded Pepsi Next NFL Rookie of the Year Keenan Allen. The 2014 draft class was headlined by cornerback Jason Verrett, who was selected to his first Pro Bowl in 2015 after leading the team in interceptions and passes defensed. The 2015 NFL Draft yielded the team's leading rusher in top pick Melvin Gordon, while second-round pick, linebacker Denzel Perryman, came within five tackles of the first 100-tackle season by a rookie in team history. The 2016 draft class produced NFL Defensive Rookie of the Year Joey Bosa and tight end Hunter Henry, who led the team in touchdown receptions during his rookie season. Most recently, the 2017 draft class received high marks from media pundits as the team brought in, among others, Clemson National Champion wide receiver Mike Williams and All-American linemen Forrest Lamp and Dan Feeney.
   The 2017 season will mark Spanos' 22nd year in the NFL and his 19th with the team, with previous assignments within the organization including stints as a pro and college scout (2003-05), assistant director of college scouting (2006-07) and director of college scouting (2008-12).
   It's no coincidence that Spanos' ascension within the organization coincided with one of the most successful eras on the field in franchise history. From 2004-09, the Chargers won 67 regular-season games, third-most in the entire league. They also won three playoff games during that stretch, giving them 70 total wins from 2004-09, which was fourth-most in the league. The Chargers reached the playoffs five times from 2004-09 and advanced to the AFC Championship Game in 2007. Since 2003, the Chargers have been to the playoffs a total of six times.
   From 2001-03 Spanos served two stints in the NFL's Management Council office in New York. In 2008, he further expanded his business acumen when he was among a select list of NFL executives invited to participate in the NFL's Executive Education Program at the Stanford Business School in Palo Alto, Calif.
   Spanos continues to work closely with McGuire. They have managed the salary cap and retained some of the team's top players, negotiating multiple contract extensions for several current and former All-Pro players including Antonio Gates, quarterback Philip Rivers and Hall of Fame running back LaDainian Tomlinson.
   Staying true to his scouting roots, Spanos serves on the board of directors for National Football Scouting and is an Honorary Member of the University of California-San Diego (UCSD) Athletic Board.
   In June 2010, Spanos was named one of the "Top 40 Under 40" Greek-Americans by Greek America Magazine. The acknowledgment came in recognition of his achievements in both business and community leadership.
   Spanos was born in Stockton, Calif. He attended The Bishop's School in La Jolla where he lettered in football as a wide receiver and defensive back. He also lettered in golf and basketball, and was a member of three CIF championship teams. After Bishop's, Spanos attended Wake Forest University, graduating with a degree in business.
Debbie S. Brown - Laird Norton Company
Board Chairman & 5th Generation Family Member
   Since June 2012, Debbie has served as Board Chairman of the Laird Norton Company, a 163-year-old, seventh-generation business-owning Family with a diverse portfolio of investments in real estate, wealth management, and consumer products.
   Prior to being named Board Chairman, Debbie served as a director of the Company from 1996 to 2007 and beginning in 2011, was elected to a second term. She is also Chairman of Laird Norton Properties, one of their subsidiary companies.
   During her first term, Debbie chaired their Compensation Committee and served as a director on their Winona Capital Management Board. She also served on their Investment and Nominating Committees and on the Company's 2010 Long Range Planning Committee. Prior to joining the Board, Debbie played the lead role in the planning and implementation of their Children's Program, affectionately known as "Camp Three Tree."
   Outside of her involvement with the family company, Debbie is currently a director of a private holding company in Cleveland, Ohio and a meat processing company in Chicago, Illinois. She chaired the Board Advisory Committee for a family-owned retail hardware company in Seattle and provided guidance on the sale of the company. She also served on the Board of Family Business Network-North America chapter, a not-for-profit international network that is run by family businesses, for family businesses, with the aim of strengthening success over generations. She has been an invited guest and speaker at numerous family business events and conferences.
   In 1990, Debbie founded and served as CEO of Pacific Preschools, Inc., a network of private, high quality, work-site child care programs. In 1997, she led the sale of the company to Bright Horizons, the premier provider of employer-sponsored child care, and early education and, later that same year, participated in their IPO. For the next twenty years, Debbie served as their Vice President of Regional Development during which time she lead site selection and assisted in the development of 50 new child care facilities.
   From 1990 - 2007, Debbie also served as a founding director and board member of Child Care Resources, a non-profit agency that works with families and communities to ensure that all children have access to high quality child care and early education.
 
Jim Ellis - USC
Dean of Marshall School of Business
   Jim was appointed dean of the USC Marshall School of Business and holder of the Robert R. Dockson Dean's Chair in Business Administration in April 2007. As dean, he is responsible for the education of some 5700 students, both graduate and undergraduate. In addition, he holds a full time appointment as Professor of Marketing in the Department of Marketing, where he has been since 1997.
   Prior to being appointed Dean, Jim was Vice Provost for Globalization, for the University, responsible for building the USC name worldwide. He also served as the Vice Dean of External Relations, at the Marshall School of Business, as well as Associate Dean for Undergraduate Programs. He continues to teach the Freshman Leadership Colloquium class.
Holding an MBA degree from the Harvard Business School and a BBA degree from the University of New Mexico, Jim worked in the corporate world from 1970 to 1997. He served as President/CEO of Porsche Design, a high-end accessories company owned by Europe's Porsche family, from 1985-1990. From 1990-1997, he was Chairman/CEO of Port O'Call Pasadena, an upscale home accessory retailer, as well as being an owner/ partner in six other companies. Jim currently sits on numerous corporate and non-profit boards of directors.
At USC in 2003, he was awarded both the "Teaching Has No Boundaries" award, given by the faculty, and the Golden Apple Award, given by the students. In 2004, he was given the Outstanding Teaching and Mentoring Award from the USC Parents' Association.
Andrew Hauptman - Andell Inc.
Chairman
      Andrew  is the chairman of Andell Inc., a private investment firm and family office he controls with his wife, Ellen Bronfman Hauptman. Andell invests directly in both control and minority stakes in private and public companies and real estate. The firm also partners with top-tier investment managers around the globe. Andrew oversees the firm's investment strategy, and is actively involved in Andell's sports, real estate, media, and other operating businesses.
  He is the owner and chairman of Major League Soccer's Chicago Fire Soccer Club and is active on the League's Board of Governors. In 2017, he was inducted into the Chicagoland Sports Hall of Fame as Sports Advocate of the Year. He currently serves as a director of XIX Entertainment and on the advisory board of Altas Partners.  Andrew has served as a director of numerous public and private companies including BSN SPORTS, Dick Clark Productions, Koor Industries, Loews Cineplex Entertainment, Storage Mobility and Canyon Ranch Holdings, amongst others.
   Earlier in his career, Andrew worked as a senior executive with Universal Studios in London and played a key role in the oversight of its international operations, focusing primarily on the music and filmed entertainment groups.  He also worked in restructuring and mergers and acquisitions with Alex. Brown & Sons in New York.
    Andrew previously produced feature films through his production company Andell Entertainment, with credits including "State of Play," starring Russell Crowe and "Millions," directed by Danny Boyle.
    In addition to this work, he is deeply involved in several philanthropic and civic organizations.  Andrew serves as a national Trustee of City Year and is Co-Founder and Chair Emeritus of City Year Los Angeles.  He is a Director of The Hauptman Family Foundation, Co-Founder and Trustee of The Charles Bronfman Prize and President of the Chicago Fire Foundation.  Andrew is on the board of the Yale University Council, the advisory board of The Los Angeles Coalition for the Economy and Jobs, and on the leadership councils of Service Year and of International Medical Corps. Andrew holds a B.A. from Yale University and an M.B.A. from Harvard University.