Image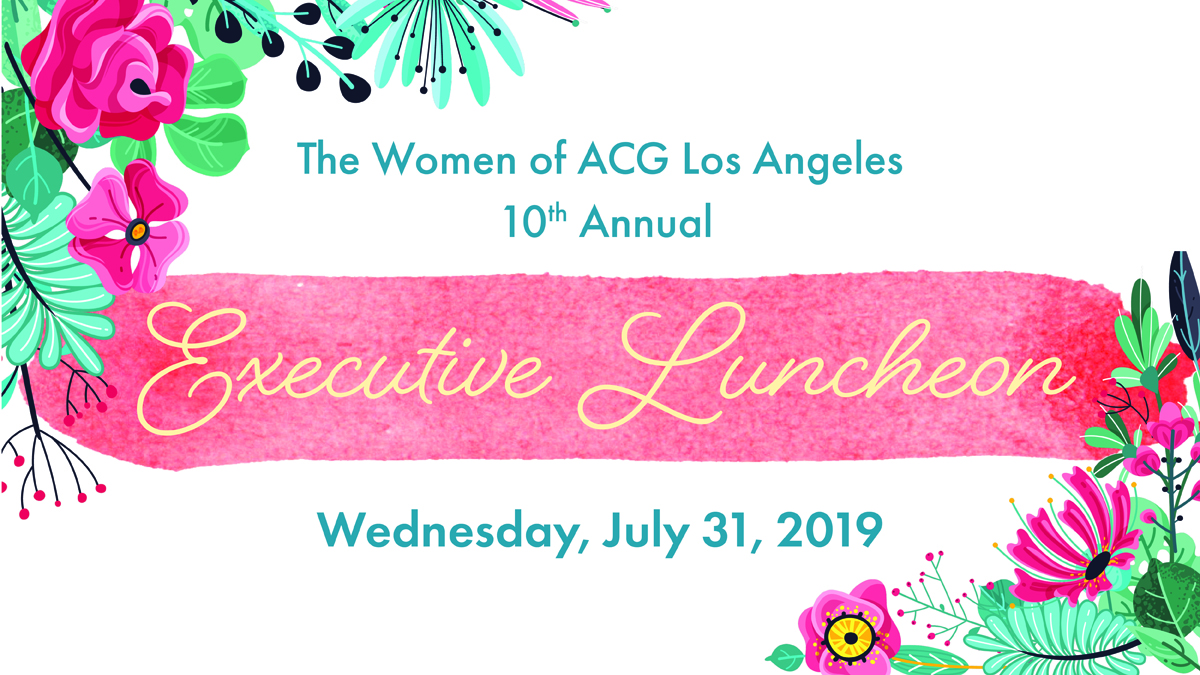 Event Details
When:
July 31, 2019 12 PM - 2:30 PM PDT
Where:
Location Name
Waldorf Astoria Beverly Hills
Add to Calendar
Event Secondary Body
     We are now sold out for the Women's Luncheon.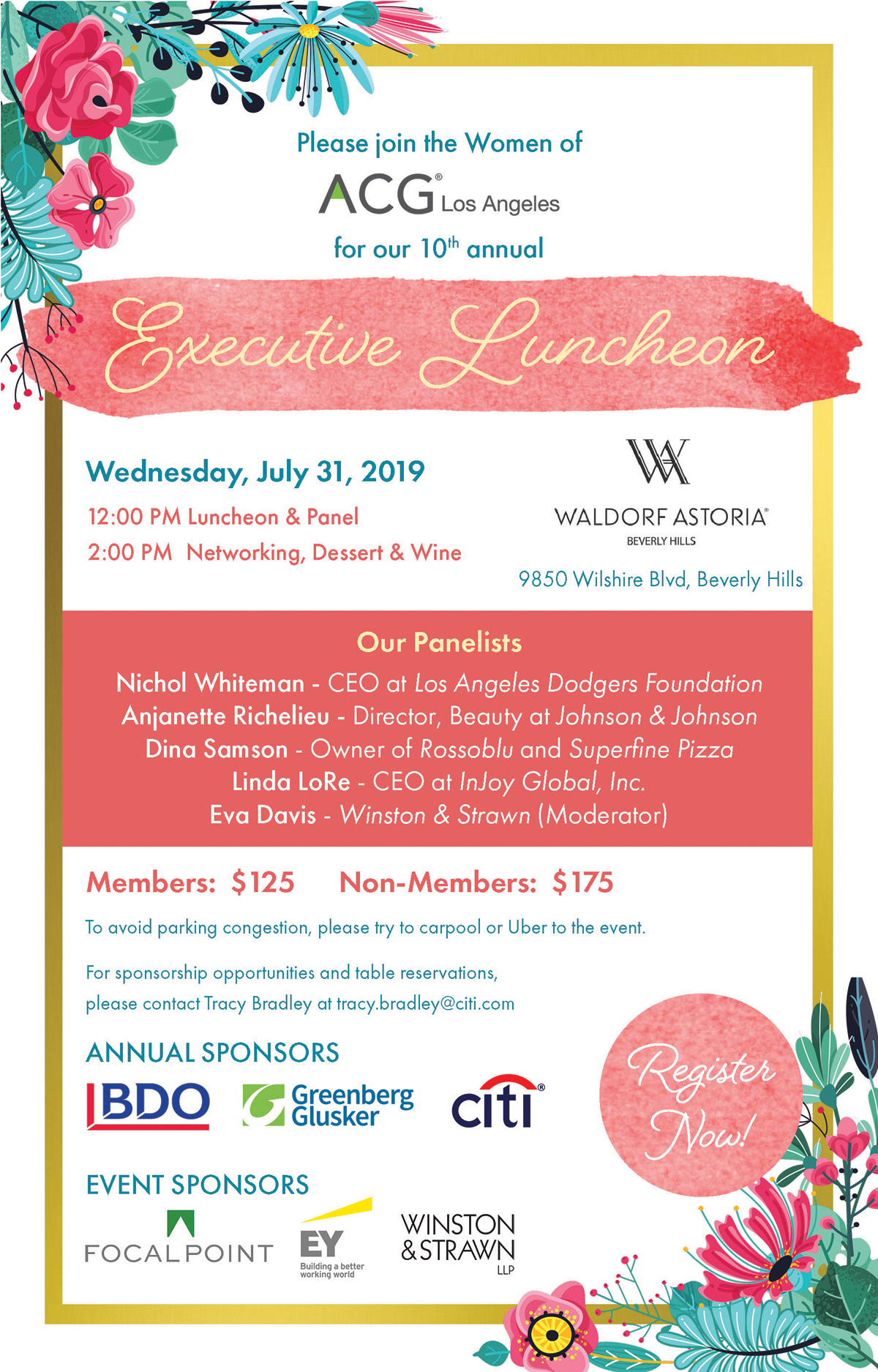 Hosted by:
ACG
Attendee List
Event Materials
Event Materials
PANELISTS: 
Nichol Whiteman, CEO Los Angeles Dodgers Foundation

Anjanette Richelieu – Director, Beauty at Johnson & Johnson

Dina Samson – Owner,

Rossoblu and Superfine Pizza

Eva Davis, Winston & Strawn - MODERATOR

Linda LoRe, CEO, InJoy Global, Inc.
Dina Samson, Owner of Rossoblue and Superfine Pizza
Dina has adeptly assumed the role of "unexpected restaurateur" having opened her first restaurant, Sotto, alongside husband/chef Steve Samson in 2011, quickly learning the ropes as the opening general manager. Since then, she has become the operational glue for their two current concepts, Rossoblu and Superfine Pizza. Both fall under the banner of newly formed San Julian Hospitality, of which she is a co-owner and managing partner, alongside Steve and longtime friend and hospitality pro Hans Luttman.
Dina spent 15 years in the world of finance, both as an investment banker and in hedge fund operations in SF and then NY. Seeking a change of scenery, she came back to the West Coast to LA to enter the world of video game production. When her husband, Steve, sought her expertise in financing his first restaurant, she soon became integral to the nascent restaurant's daily operation, taking on all marketing and finance responsibilities. Together, they have expanded their brand of hospitality through San Julian Hospitality with Rossoblu, their acclaimed ode to Bologna, and Superfine Pizza, which is widely considered the first "LA" pizza, melding the best traits from Neapolitan traditions and New York style. 
Linda LoRe, CEO and Co-Founder of InJoy Global, Inc.
Linda is recognized as a top industry expert on corporate culture, a corporate fundraisier and a master seminar facilitator, specializing in behavior modification. She has been a prominent leader in some of the countries most successful corporations, including Avon Products, Procter and Gamble, May Corporation (now Macy's), Giorgio Beverly Hills and Frederick's of Hollywood. She has served on public, private and
non-profit boards during her tenure in the business world. Recognizing the need for corporations to engage both employees and their customers in today's environment, LoRe is using her experiences to revamp current corporate cultures. InJoy Global is a company devoted
to turning the workplace into an engaged and profitable place of business.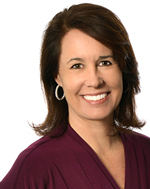 Eva Davis of Winston Strawn, Moderator
      Recognized in Best Lawyers in America and ranked in Chambers, Eva serves as Co-Chair of the Global Private Equity Practice of Winston & Strawn.  Eva is a "savvy dealmaker" who works with some of the most active private equity funds in the country. With over 20 years of experience, Eva provides "astute commercial advice" alongside her strategic M&A counseling when negotiating on behalf of US and global public and private companies, boards of directors and private equity funds involving their most significant transactional matters. Eva also manages Winston's Los Angeles office and serves on the Firm's Global Executive Committee. 
      Eva concentrates on U.S. and cross-border complex business transactions with a particular focus on mergers and acquisitions and private equity. As an advisor to strategics and private equity funds and their portfolio companies, she has counseled domestic and international clients in public and private M&A transactions, public and private debt and equity financing transactions, including initial public offerings, and distressed sales and investments in and out of bankruptcy. She has also represented public companies and their boards of directors and special committees in connection with enterprise-transformative business opportunities and legal challenges, as well as providing corporate governance advice.
      Eva has served as lead deal counsel and negotiated and completed transactions in a wide variety of industries, including aerospace, automotive, consumer products, energy, entertainment, financial services, manufacturing, medical devices, pharmaceutical, retail, semiconductor, technology and telecommunications.
     Eva graduated cum laude from Harvard Law School and summa cum laude from Duke University where she double majored in Economics and Political Science.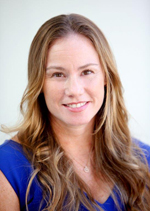 Anjanette Richelieu, Director, Beauty at Johnson & Johnson
Anjanette is the Director in the Skin Health (Beauty) business at Johnson & Johnson. She is a passionate, resourceful leader who loves to build businesses and bring ideas to life. Anjanette was previously the Global Franchise Director responsible for Portfolio and Project Management of the Johnson & Johnson Consumer Beauty Business. Prior to her Global responsibilities, she served as the Franchise Project Management Director at Neutrogena, responsible for New Product Development. She started her J&J career in 2002 as a Summer MBA Marketing Intern on Neutrogena Cosmetics. Following graduation, she worked in Marketing in both Innovation and Go-to-Market roles before beginning a series of cross-functional rotations in Public Relations, Business Strategy, Project Management, R&D and Supply Chain. In addition to her professional responsibilities, Anjanette leads the Women's Leadership and Inclusion (WLI) Chapter at Neutrogena.  Prior to her tenure at Johnson & Johnson, Anjanette was a Product Manager for eMind, an e-learning company; a Sr. Analyst in Marketing and Planning for the Los Angeles Times; a Marketing Coordinator at Deloitte Consulting and worked in the Learning & Development department for the Walt Disney Company.

While earning her B.A. in Economics from UCLA, Anjanette was a member of the Gymnastics and Water Polo teams and the Creative Director of Advertising for the Daily Bruin Newspaper. She holds an MBA in Marketing and Finance from the Marshall School of Business at USC and is PMP certified.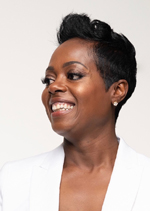 Nichol Whiteman, CEO, Los Angeles Dodgers Foundation
With a relentless dedication to improving the lives of others, Nichol leads the Los Angeles Dodgers Foundation (LADF) official charity – an award-winning leader in sports-based youth development. Under her leadership, LADF launched Dodgers RBI (Reviving Baseball in Inner Cities), a youth development program serving over 10,000 youth today. As part of its commitment to Southern California communities, the Foundation completed its 50th Dodgers Dreamfield, created a benefit gala, and increased fundraising by 1,000% with Nichol at the helm.
With a degree in Economics from Spelman College, she was the first in her family to graduate from college and has a passion for education, equity, and diversity. Her unwavering dedication resulted in positions in investment management and publishing before beginning a philanthropic career as VP, Western Region of the Jackie Robinson Foundation. As a child of Jamaican immigrants "in search of a dream," she frequently highlights the power of diversity in advocating for resources and opportunities for marginalized populations.  As an African American woman in Major League Baseball, Nichol understands the importance of access. She uses her resources to open doors and opportunities for youth regardless of their roots. 
Nichol has been recognized throughout the industry for her exceptional contributions having earned the 2018 Sports Business Journal Game Changers Award, Anti-Defamation League's 2018 Deborah Award, Ebony Magazine's 2017 Woman Up Award, and The Pink Tea Rose Foundation's 2017 Progressive Leadership Award to name a few.