Image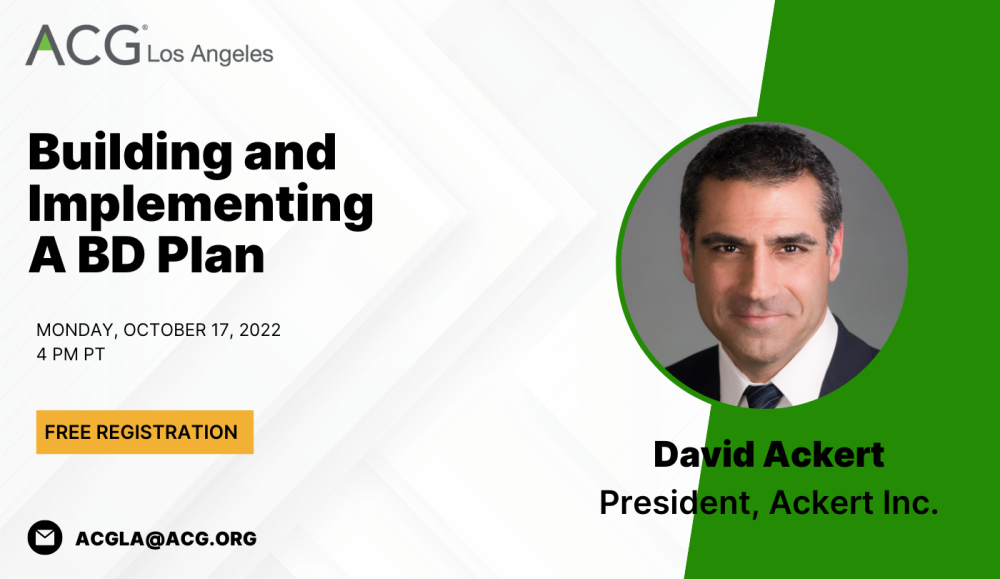 Event Secondary Body
ONLINE REGISTRATION CLOSES ON 10/14/22 AT 5 PM PT. PLEASE CONTACT ACGLA@ACG.ORG FOR REGISTRATION ASSISTANCE.
PROGRAM OVERVIEW
Building and Implementing a BD System
Industry surveys show that over 40% of business developers have no formal system for managing their key relationships. Struggling to adopt CRM, they try to manage ad-hoc lists of names and opportunities and fail to reach their full selling potential. In this interactive program, we will present a series of strategies you can use to build simple, sustainable relationship pipelines that garner more business from your network and generate more revenue for your firm.
This program will show you how to:
Identify and prioritize the most valuable relationships in your network
Apply the "sales funnel" and "reverse funnel" concepts as you advance relationships
Deepen relationships with prospective clients to increase the likelihood of engagement
Implement a system that supports regular, predictable business development
Apply a proactive, consistent follow-through routine to business pursuits
All registrants will receive our "Systematic Approach to Business Development White Paper" along with the recording of the webinar!
Hosted by:
ACG