Image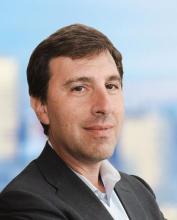 Aon Transaction Solutions
Stephen Davidson is a managing director and a member of the Aon Transaction Solutions executive committee. Stephen's primary responsibilities are divided into two roles: (i) managing transaction liability claims for ATS clients, through which he has overseen hundreds of claims involving alleged breaches of representation and warranty claims in North America and around the world and has helped negotiate the resolution of many of the largest and most complex of those claims; and (ii) working with clients and insurance markets on the development of insurance solutions to address litigation and other contingent risks.
Prior to joining Aon in 2016, Stephen was a commercial litigation partner in DLA Piper's New York office, where his insurance and reinsurance practice included arbitration, litigation and counseling for global insurance companies involving directors and officers liability and professional liability coverage and complex reinsurance disputes. Stephen's commercial litigation practice concentrated on business litigation for public and private companies. Stephen began his career at Schulte Roth & Zabel LLP, where he worked as a litigation associate for several years.
Stephen received his B.A in Political Science from Yeshiva University and his J.D from Columbia Law School.