Image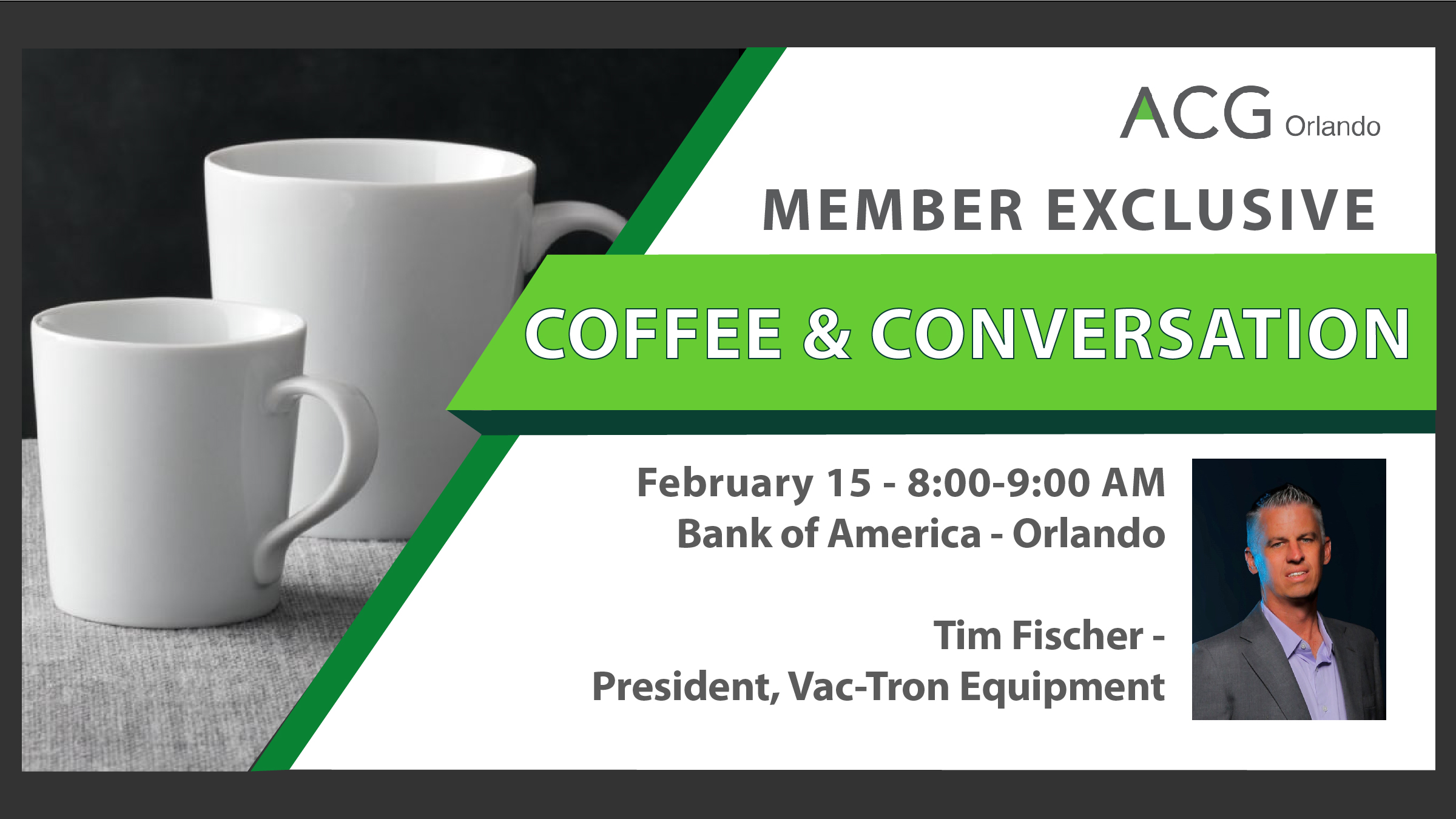 Event Details
When:
February 15, 2019 8 AM - 9 AM EST
Where:
Location Name
Bank of America Merrill Lynch - Orlando
Add to Calendar
Overview
Body
ACG Orlando invites our members to join us on Friday, February 15th for the launch of our new Member Exclusive Coffee & Conversation Series.  Developed so our members can have intimate discussions with prominent middle-market professionals from Central Florida's business community, members will have the chance to network with each other before a roundtable discussion with our guest speaker, Tim Fischer, President of Vac-Tron Equipment.
Coffee and pastries to be provided - Space is limited.
Speakers
Tim Fischer
Vac-Tron Equipment
President
Tim Fischer has spent his career growing businesses and has been on both sides of the M&A transaction.  His career started with a start-up dialup ISP (Internet Service Provider) that grew to be the 2nd largest privately held ISP in the country with more than 100,000 subscribers thru 25 acquisitions in 28 months. After successfully operating the business he helped orchestrate a sale to a Denver based private equity firm.  He then joined the PE firm where he helped serve as Senior Managing Director overseeing more than 10 of the portfolio companies and playing an active role in their growth and eventual sale.  Fischer eventually took over CEO of one of the portfolio companies, Central Florida based Vac-Tron Equipment, one of the world's largest manufacturers of vacuum excavation equipment.   During his three years as the CEO, Vac-Tron saw it's business more than double in size, with it's eventual sale in 2018 to a strategic buyer.  Tim received his MBA in Finance at Loyola University Chicago and his BS from the University of Notre Dame.  He resides in Debary with his daughter and son.