Image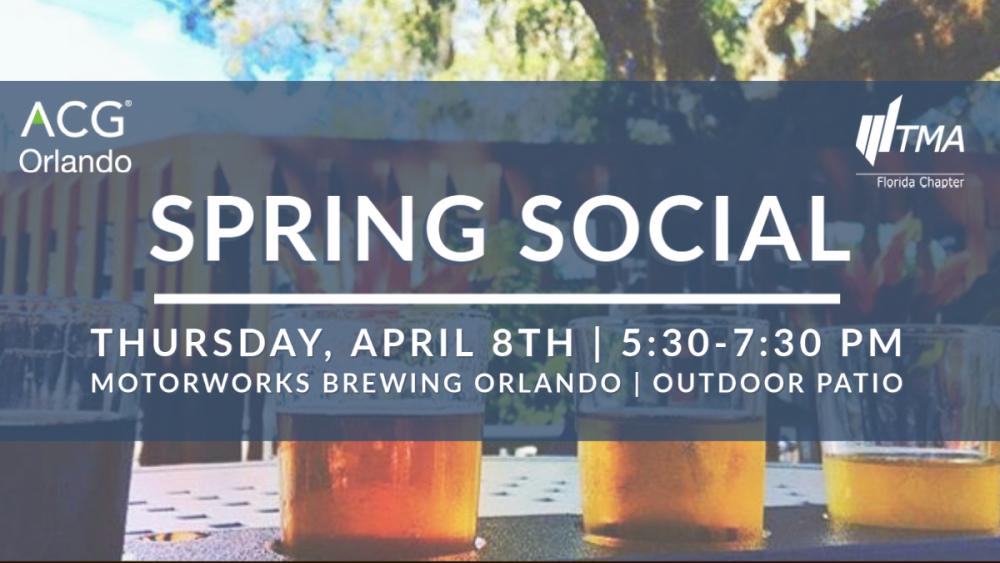 Event Details
When:
April 8, 2021 5:30 PM - 7:30 PM EDT
Where:
Location Name
Motorworks Brewing Orlando - Outdoor Patio
Add to Calendar
Event Secondary Body
After hosting two successful in-person events in 2021, we are excited to announce our Spring Social with TMA Florida! Join ACG Orlando & TMA Florida on April 8th at Motorworks Brewing, Orlando's newest downtown craft brewery. Enjoy appetizers and craft beers while networking safely on their outdoor patio with other ACG and TMA members and guests! 
Space is LIMITED so register early. 
PRICING
 
ONLINE (ENDS 04/07)
ONSITE (04/08)

MEMBER

(TMA Florida Members please use discount code - email if needed)

$40.00
$65.00
YOUNG PROFESSIONAL MEMBER
$35.00
$65.00
NON-MEMBER
$65.00
$65.00
Click here for information on ACG Orlando membership. 
In advance of the program, ACG Orlando's leadership wants to provide you with information and a few guidelines that we ask you strictly abide by at this in-person event:
Masks as well as social distancing are required for this outdoor event. 
In order to attend this event, each in person attendee must execute a COVID-19 waiver form, which can be viewed here.
We ask all attendees to adhere to the following guidelines at the event:
If not already, please become familiar with the Center for Disease Control and Prevention (CDC) guidance to avoid the spread of COVID-19, including mask wearing and social distancing. Please follow this guidance and follow all instructions of ACG Orlando while at the event.
Please do not greet fellow attendees by hugs or handshakes. We recommend waving.
Please do not circulate business cards. We recommend you utilize LinkedIn, e-mail or text images of business cards to exchange contact information.
Guests are required to wear a facemask upon entry to the event and while moving throughout the venue. When at a table at a safe social distance from other guests you are not required to wear a mask - this includes while eating or drinking.
If you registered to attend in-person but are experiencing symptoms of COVID-19 on event day (such as cough, shortness of breath, or fever), you are not permitted to attend this event. Please contact acgorlando@acg.org in the event you must cancel due to the above and a refund will be promptly issued.
In the event you have any questions in advance of attending, please contact acgorlando@acg.org. 
Hosted by:
ACG