Image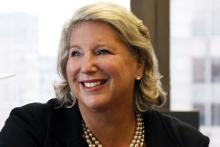 Chief Operating Officer and Vice Chairman, Strategic Initiatives
Pamela Hendrickson is the Chief Operating Officer and Vice Chairman of Strategic Initiatives at The Riverside Company, a global private equity firm. As COO, Ms. Hendrickson manages a number of teams, including deal origination and fundraising, and as Vice Chairman she oversees the development of new initiatives and supervises several of Riversides' fund strategies. Ms. Hendrickson also sits on the global Riverside Investment Committee, which considers investments in most of Riverside's fund strategies.
Ms. Hendrickson has been an active advocate for private equity through Congressional testimony, television interviews, various printed interviews and op-eds that she has written. She is currently a member of the Board of the American Investment Council, is a past Chairman of the Board of the Association for Corporate Growth and has been a member of the board of the Small Business Investor Alliance. She is the incoming Vice Chairman of the advisory board of the Kenan Institute at Duke University and on the Board of Trustees of the National Humanities Center.
Prior to joining Riverside, Ms. Hendrickson spent 22 years at JPMorgan Chase, 15 of them as a Managing Director in a variety of leadership roles. Pam has an AB in Public Policy and History from Duke University and an MBA from the Kellogg Graduate School of Management at Northwestern University.