Image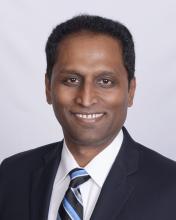 Ranjith focuses on the U.S. Private Equity Practice where he helps private equity firms to conduct pre- and post-LOI operational due diligence. He also works with PE firms and their portfolio companies to conduct operational and supply chain diagnostics and rapidly implement performance improvements that support the value creation thesis.
He recently shared his thoughts about private equity's COVID journey and why innovative and insightful due diligence has become more critical than ever to pre- and post-deal success.  Learn more about Ranjith's PE perspectives in his recent one-on-one interview.
He has worked extensively in aerospace and building products industries to improve on-time delivery, increase profitability, optimize inventory, improve material yield, and to coordinate and manage crisis communication during the pandemic. He is a respected change agent with extensive hands-on operational leadership with demonstrated experience leveraging performance improvement to improve EBITDA, reduce working capital and to leverage gains for sustainable growth.
Most recently, Ranjith was vice president and general manager of Safran Cabin, Inc—a global supplier of cabin interiors for business and military aircraft. Following an acquisition of Zodiac Aerospace, he led a team of 500+ with P&L responsibility. At Zodiac, he was a senior lean manager and later promoted to director of operational excellence.
Ranjith also worked at Pella Corporation as a plant process, engineering manager and as a senior process engineer. There, he introduced continuous improvement methodologies to a new facility, led engineering, quality, continuous improvement, and maintenance teams. He oversaw five cost centers, mentored 180+ kaizen teams, and ensured optimal service delivery to 300+ big box home improvement stores.
He is a Six Sigma Black Belt and is IIE and PMP licensed. His Pella training included kaizen team leader, mentoring and training techniques, leadership strategies, people development process and problem solving. He is a former member of the Project Management Institute and the Institute of Industrial Engineers and the American Society of Agricultural Engineers. He is a U.S. patent holder for "Window Assembly with Movable Interior Sash" (US 8,376,019 and CA 2,588,978)
Ranjith has an M.B.A. in Operations Management from The University of Iowa, a Master of Science in Agriculture and Bio Systems from North Dakota State University, and a Bachelor of Science of in Agricultural Engineering from Tamil Nadu Agricultural University in India.