Image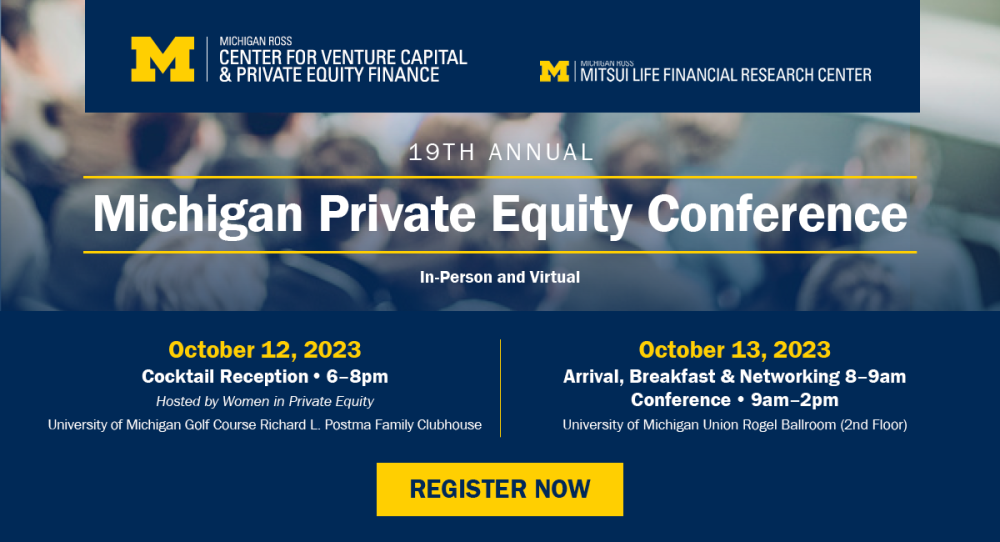 Event Details
When:
October 12 - 13, 2023
Where:
Location Name
University of Michigan Union Rogel Ballroom (2nd Floor)
Add to Calendar
Overview
Body
Goldman Sachs Head of the Midwest, Chris Keogh, will serve as the keynote speaker for the 19th Annual University of Michigan Private Equity Conference on October 12 and 13. He will be interviewed by TriMas Chairman of the Board Sam Valenti. 
In addition to Chris, we have curated a timely list of panel discussion topics including Partnering with Private Equity from a CEO's Perspective, Financing A Deal in Today's Market and the Impact of Chat GPT and AI in Private Equity. We will be announcing our panelists and moderators in the coming weeks.
On Thursday October 12, you are invited to a pre-conference cocktail reception for attendees and presenters at the Richard L. Postma Family Clubhouse of the University of Michigan Golf Course from 6:00 pm to 8:00 pm.
The University of Michigan Private Equity Conference will be held on Friday, October 13 at the Michigan Union which is located at 530 S. State Street in Ann Arbor. The event will begin at 9:00 am with registration and a light breakfast and conclude at 2:00 pm after lunch and networking.
The event is sponsored by Aon, Honigman, ACG Detroit, Latham Watkins, Sturbridge Capital and Pathlight Capital and presented in partnership with the Mitsui Life Financial Research Center