Image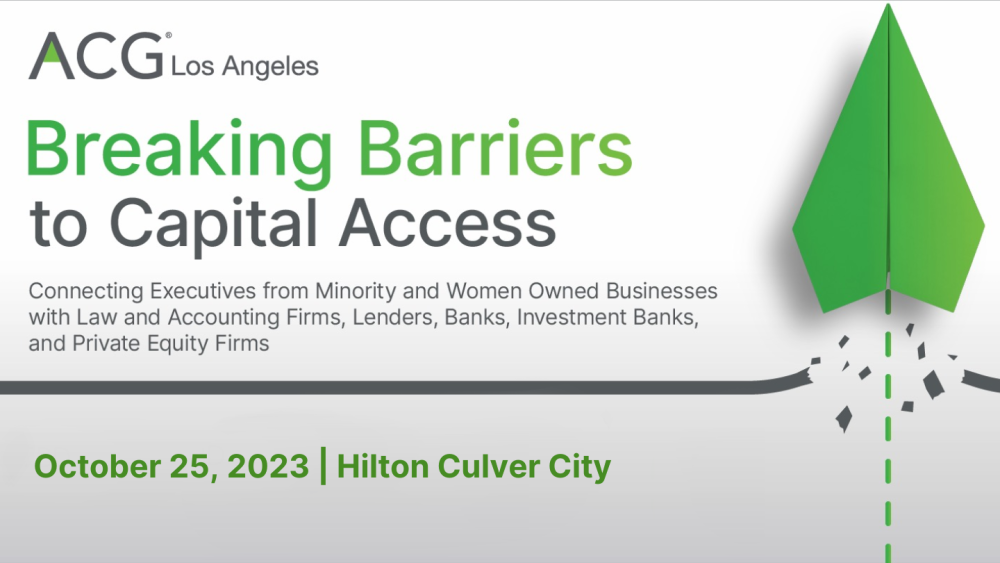 Event Details
When:
October 25, 2023 12 PM - 6 PM PDT
Where:
Hilton Los Angeles Culver City
Registration Closes 3 Business Days in Advance Of Event (10/20/23)
Although ACG Los Angeles cannot create investment vehicles to invest directly in minority- and women-owned businesses, we can build infrastructure to enable the marketplace of business leaders and capital mechanisms to connect. At Breaking Barriers to Capital Access, ACG Los Angeles helps the community by building people infrastructure, information infrastructure, and knowledge infrastructure.
Join us to help break the barriers that historically have existed for women- and minority-led businesses to access capital­—be it private equity, venture capital, loans, etc. This exclusive ACG Los Angeles event, hosted by the Diversity, Equity & Inclusion Committee, will include lunch, key discussions, and plenty of time for women and minority business owners to network with private equity, investment banking representatives, and service providers.
Pricing
$185 ACG Member | $250 ACG Non-member
ACG Los Angeles is an ally to women-owned and minority-owned business enterprise and offers a discounted rate for eligible executives. USE DISCOUNT CODE 2023LAXBB-BUSINESS at registration to receive the following rate:
$37 ACG Member |  $50 ACG Non-member
>>>Learn More about Sponsorship Opportunities here!
Event Materials
Hosted Valet Parking available in front of the hotel with entrance on Centinela. Just mention ACG.  Event will be in the Pacifica Ballroom (3rd Floor).
Image