Image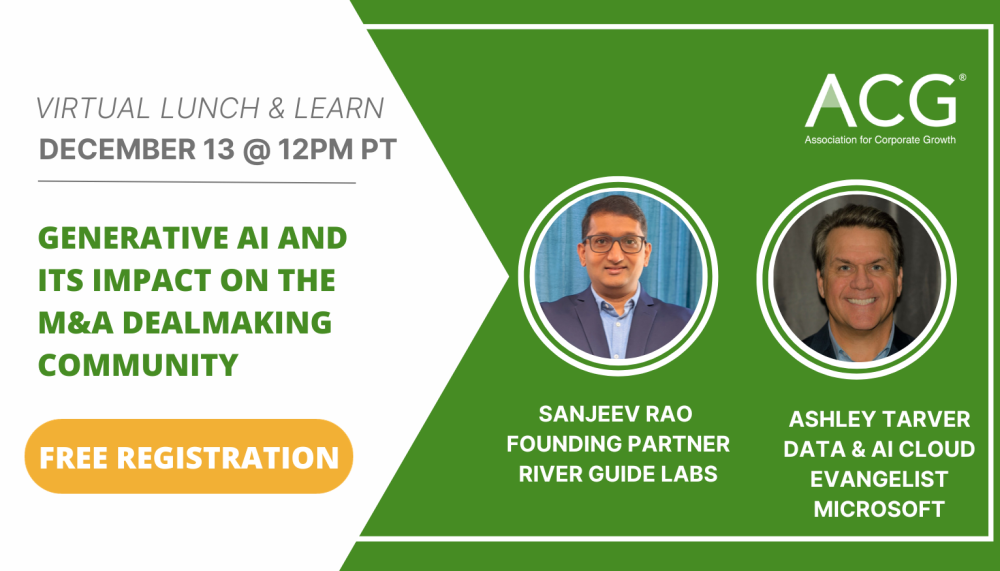 Event Details
This is a virtual event.  We will share a Zoom link before the event.
Sanjeev Rao is an AI technologist who has taken B2B and B2C businesses from 0-1 and 1-n. He has developed AI algorithms since the mid 1990s and taken products to market in power utilities, healthcare, banking, biotech, advertising, marketing tech, and e-commerce. He is a 3x entrepreneur, a hired CEO, and has 25+ years of operating experience.
...
Ashley Tarver is a technology evangelist and entrepreneur based in Silicon Valley, California, and the board president for the Association of Corporate Growth – Silicon Valley (ACGSV.org). He is currently employed by Microsoft as a Data & AI Evangelist and advises companies on their adoption of cognitive AI and generative AI technologies. He has founded and successfully exited three start-up businesses and is currently an investor and advisor. Ashley is active throughout Silicon Valley, involving a wide variety of technology trends and often speaks on digital transformation topics that include data privacy, autonomous driving, predictive analytics, anomaly detection, cloud, data transformation, machine learning and artificial intelligence.
After getting an aerospace engineering degree and serving in the US Army, Ashley started his hi-tech career as a field technician investigating and trouble-shooting circuit board failures in telecommunications equipment. His career path has included strategic technology roles within Cisco, NTT, Cloudera, and Microsoft giving him a well-rounded understanding of networking, software, data, cloud, AI, and systems integration. He has worked globally with dozens of start-ups and Fortune 100 companies to evaluate and deploy the latest technologies to solve some of the most complex business and digital transformation challenges across most industries.
Looking forward to welcoming you!