Image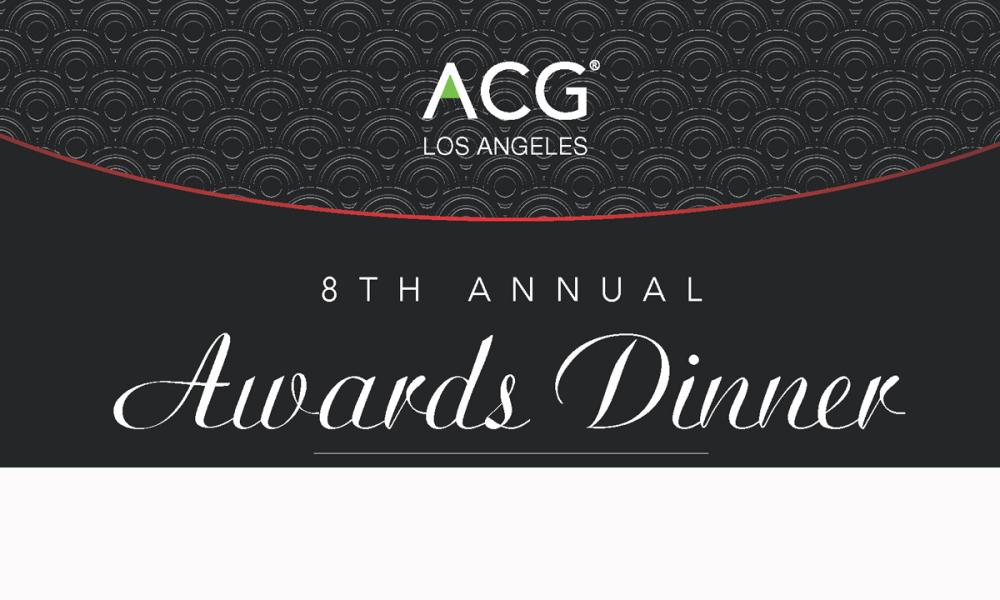 Event Details
When:
May 9, 2018 5:30 PM - 8:30 PM PDT
Overview
You may still register and show up for tonight's Award Dinner.  I'll create a name badge on-site for late registrants but we're thrilled to have you attend.  We have a few - great but sadly empty seats that we'd love to fill.  See you tonight.  Park under the Walt Disney Concert Hall and they'll add your name to our hosted parking list.
For over 40 years, ACG LA has been a hub for the city's business community - a place for executives of all types to learn new practices, challenge conventional thinking, and broaden and strengthen their relationships throughout the region.  Our members represent companies and industries that are as varied - corporate executives, commercial and investment bankers, private equity investors as well as legal, accounting and finance professionals, many of whom specialize in mergers and acquisitions or corporate development.  
Our 8th Annual ACG LA Awards Ceremony honors a collection of  eight outstanding companies that have demonstrated the principles that are core to our organization.  This is our way of recognizing a select group of local companies that have not only demonstrated leadership in their fields but also made a significant impact in the region.  From apparel to software to consumer products to professional sports, our award recipients represent a diverse array of private and public companies,  and they are a true testament to the thriving business community in the greater Los Angeles region.  
Event Materials
We will be featuring a Special SCOTCH TASTING from The Macallan (Highland Single Malt Scotch Whiskey).  
We will be providing a selfie Photo Booth, sponsored by INSPERITY.
Award WINNERS:
Health-Ade Kombucha  (Private Company Growth Award)  was started in 2012 by a husband, wife, and best friend in a true farmers' market start-up story: a small credit card and a big dream to make REAL FOOD and bring only THAT to the commercial shelf.  Kombucha is a fermented tea that contains probiotics and healthy acids. The company offers its products in original, apple, ginger lemon, plum, grape, cayenne cleanse, beet, carrot, and pomegranate flavors. It sells its products through stores and restaurants.The best tasting and highest quality kombucha you can buy is just the start, as our ultimate mission is to be the champion of the happiest and healthiest you.  Read more!   
Penske Media Corporation (PMC)  (Strategic Deal of the Year Award)  is an American digital media, publishing, and information services company founded in 2003. PMC publishes more than 22 digital brands, including a joint venture in India with ZEE TV for its India.com brand. The company also produces more than 50 annual events and conferences as well as housing a research and emerging data business.  In December of 2017, Penske Media Corporation acquired a controlling interest in Wenner Media, parent company of the iconic magazine Rolling Stone. PMC will invest in Wenner Media at a valuation estimated at just over $100 million. 
Diff Eyewear  (Social Impact Award)  prides itself on being socially conscious and charitable at heart.  Their family of stores, strive for the perfect pair - handcrafted with designer quality materials and delivered to you with love. Diff Eyewear manufactures the same quality eyewear as overpriced luxury brands - offering the highest quality eyewear at a fraction of the cost and making a difference by giving back to communities around the globe! 
Sugarfina  (Market Disruption Award)  is a unique, candy shop offering a range of high-end imported sweets from chocolate & caramel to gummies & fruit.  A gourmet candy boutique by Rosie O'Neill and Josh Resnick. While traveling and tasting different candies from around the globe they embarked on a mission to create the candy store of their dreams. Sugarfina works with artisan candymakers to source and create over 140 different types of gourmet candies made from the world's finest ingredients. Best-sellers include Champagne Gummy Bears made with real Dom Pérignon champagne and Rosé roses for Rosé lovers. Candies are packaged in beautifully designed lucite cubes and bento boxes, making them the perfect gift for weddings, baby showers, and birthdays.
Los Angeles Chargers  (Mayor's Award)  originated as the Los Angeles Chargers of the American Football League in 1960. The team relocated to San Diego in 1961 and captured the AFL championship in 1963. It finished in first place in five of the 10 AFL seasons. Since joining the NFL when the two leagues merged in 1970, the Chargers have won 11 AFC West division titles, including five titles recently in a six-year period (2004-09). Overall, the team has played in 28 playoff games. The Chargers were purchased by construction leader and real estate developer Alex G. Spanos in 1984 and has been under the guidance of Spanos' eldest son Dean, the team's current Chairman of the Board, since 1994. That same season the team won the AFC Championship and played in Super Bowl XXIX. Dean Spanos' sons – A.G. Spanos, President - Business Operations, and John Spanos, President - Football Operations – oversee the day-to-day operations of the Chargers. The Chargers returned to Los Angeles in 2017 and all home games will be played at StubHub Center while the new L.A. Stadium and Entertainment District at Hollywood Park is constructed.
Algenist  (Industry Transformation Award) is an award-winning beauty brand unlocking the secrets of algae, one of the oldest and most nutrient-rich plants in the world, to deliver anti-aging innovations with clean and safe formulas. While studying algae, Algenist team of leading scientists uncovered an incredible ingredient with never before seen skin benefits! Algae produces a compound that not only allows them to survive, but also thrive and regenerate in the harshest environments on the planet. It helps protect and regenerate the algae cells. This compound is Alguronic Acid, naturally-sourced and sustainably produced, which outperforms and transcends skincare boundaries.  Algenist mission is to offer visible and measurable anti-aging results in 10 days.
Headspace  (Founders Award)  Headspace was founded in 2010, by Andy Puddicombe and Rich Pierson. Puddicombe is a former Buddhist monk, and Pierson has a background in marketing and new brand development.  Headspace began as an events company, holding mindfulness talks in and around London.  Demand from attendees for a way to share these techniques led to Puddicombe and Pierson looking into developing a mobile app, with the first version of the Headspace app launching in 2012.[12] Headspace now employs over 50 staff, working between the company HQ in Los Angeles and London, UK.  Meditation has been shown to promote subtle improvements in focus, attention and the ability to ignore distractions.  Headspace provides guided meditation resources online; accessible to users through the company's website and via a mobile app on the iPhone and Android platforms. The techniques taught through the programm combine elements of both calming and insight meditation. In June 2014, Headspace launched version 2 of its platform. In the first 6 months since release the company signed up twice as many users as it did in the previous two and a half years, and served them 125 million minutes of meditation practice.  Headspace's business model is built mainly on subscriptions: $12.99/month when billed monthly or $7.92/month when billed yearly. Alternatively, a lifetime license can be bought for a one-time fee of $399.99.
24HR Homecare (Healthcare Innovation Award)  provides in home care services to seniors and children with developmental disabilities.  It has locations in Torrance, Irvine, Encino, Walnut Creek, Culver City and San Diego and numerous others.  24Hr HomeCare is the premier home care agency and supplier of top-notch Caregivers.  The success of our clients and company is entirely dependent on the quality of our Caregivers. We make certain to find and provide our senior clients with the industry's best caretakers so that have a positive in-home care experience. 
Thank you to our sponsors!