Image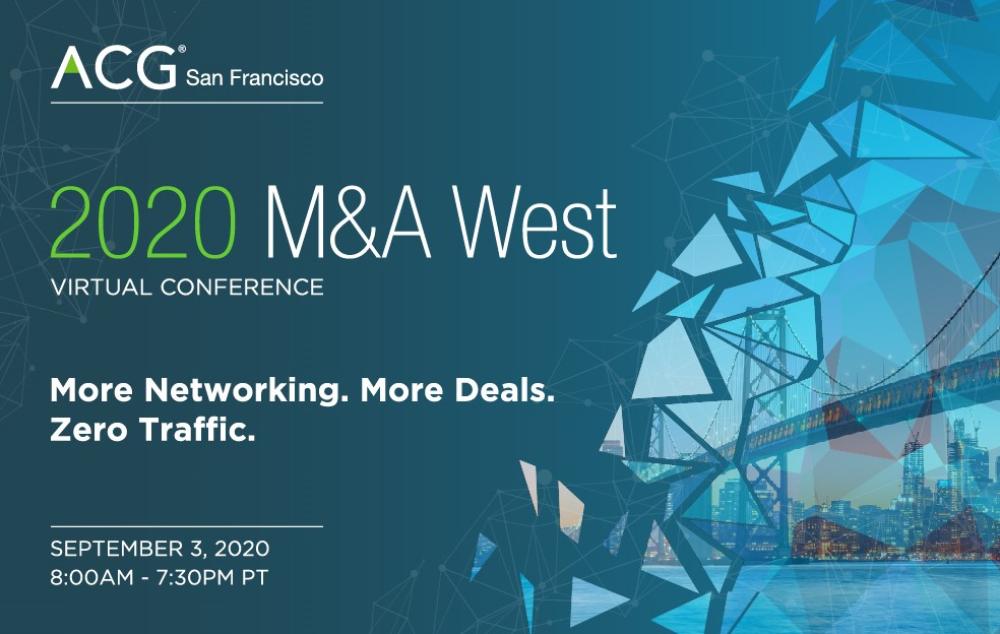 Event Details
When:
September 3, 2020 8:30 AM - 10:30 AM PDT
Add to Calendar
Overview
Body
This registration page is for PE FIRMS and MEZZANINE LENDERS ONLY
If you are interested in General Registration, register HERE
If you are an Investment Banker interested in a table at ACG DealSource®, please register HERE
The Capital Connection® PE Virtual Expo is open to all registered M&A West Conference attendees. If you are a Private Equity firm or Mezzanine Lender, you are invited to reserve a table as an Exhibitor at Capital Connection® by registering below. As an Exhibitor, the ACG Capital Connection® PE Expo provides unparalleled access to capital and the perfect opportunity to discuss your operations, investment focus and portfolio companies.
All Exhibitors are invited to attend an "Invitation Only" Dealmaker's Reception on Wednesday, March 2nd. This is a kick-off event where participating Private Equity firms and Mezzanine Lenders have a chance to interact with Sponsors, Speakers and the Investment Banks participating in the ACG DealSource® Exchange.
2020 Capital Connection® PE Expo Exhibitors
American Pacific Group
Aterian Partners 
Bertram Capital
Blackland Capital Partners, LLC
Century Park Capital Partners
Edgewater Capital Partners
Encore Consumer Capital
Five Points Capital
Gauge Capital
Gemspring Capital
GenNx360 Capital Partners
H.I.G. Capital
Harbour Group
HGGC
High Road Capital Partners
Incline Equity Partners
Insight Equity
Origami Capital Partners
Palladium Equity Partners
Palladium Equity Partners
PNC Mezzanine Capital
PNC Riverarch Capital
Saw Mill Capital
Seacoast Capital Partners
Sole Source Capital
Soundcore Capital Partners
Tecum Capital Partners
Transom Capital Group
WILsquare Capital
ACG Capital Connection® Booth for Private Equity Exhibitors and Mezzanine Lenders: $795/booth (room)
DealSource® Exchange participation and meeting scheduler access
Two (2) registration tickets for full-day Virtual Conference access
Copies of ACG DealSource® Exchange attendee list
More detailed Conference info can be found at the virtual Conference platform HERE.