Image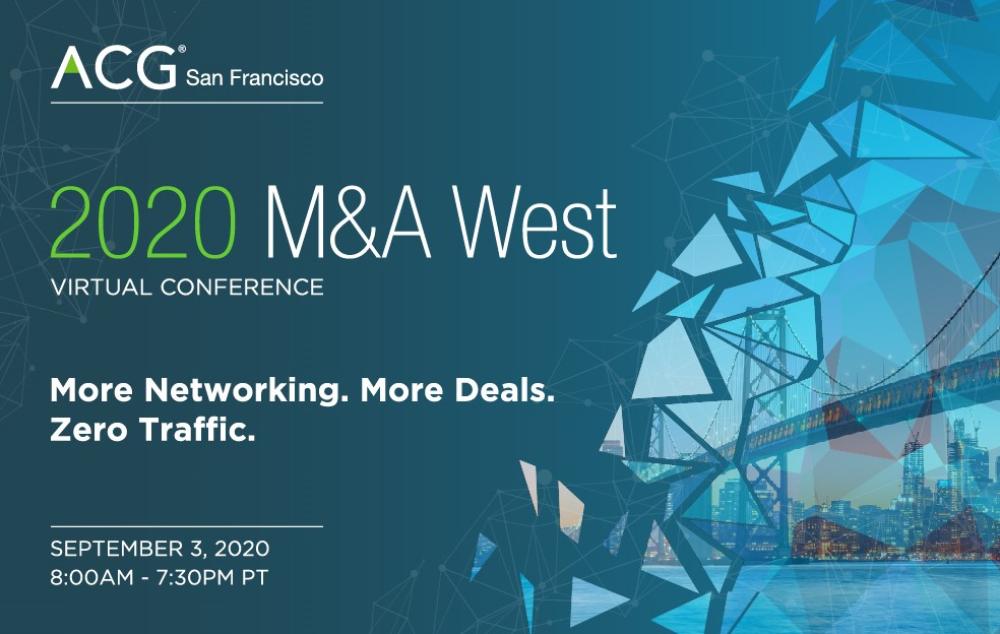 Event Details
When:
September 3, 2020 8:30 AM - 7:30 PM PDT
Add to Calendar
Overview
Body
2020 M&A West Conference
Virtual Platform | September 3, 2020
As we approach our rescheduled Conference date of September 2020, it's become clear that holding M&A West live and in-person presents too great of a health risk to our long-standing community, as well as being logistically impossible to safely accommodate 450+ attendees in person.
 With this in mind, ACG SF has been exploring the various virtual platforms and we are excited to announce that M&A West will be held virtually on September 3rd. For those not familiar, virtual conference platforms are very robust and becoming more so. We are confident that we will be able to offer our attendees and sponsors even greater benefit through this virtual experience (with increased and easy to navigate networking experiences including pre-scheduled and on-the-spot meeting requests).
Please note that if you were previously registered for the 2020 M&A West, the Conference agenda and schedule remain the same - all registrations will be applied to the September date.
We invite you to join us in a virtual format for the 2020 West Coast M&A Conference on September 3rd to stay connected with the ACG community of leading dealmakers:
Registration fees:
ACG Member: $395 | Non-Member: $595 
M&A DealSource® Exchange will also be held virtually for qualified IB/PEs:
Investment Bankers: $299 (Investment Banks ONLY, register HERE)
Private Equity Firms: $795/up to two attendees, $150 for each additional (Qualified PE firms, register HERE)
For more details about agenda, panels, and keynote speaker updates, please visit the virtual Conference platform.