Image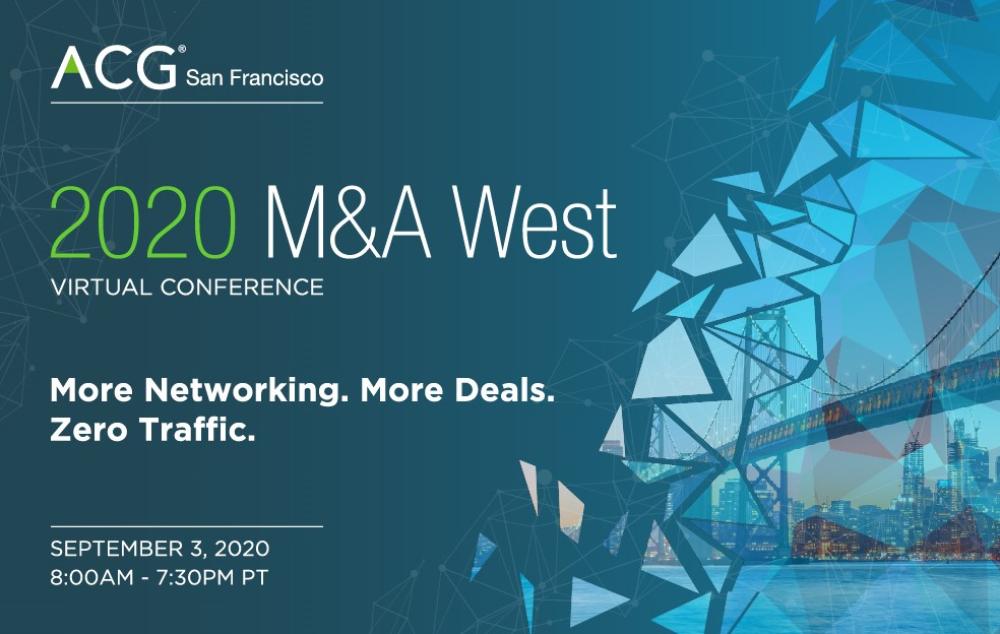 Event Details
When:
September 3, 2020 10:30 AM - 5:30 PM PDT
Add to Calendar
Overview
Body
THIS REGISTRATION PAGE IS FOR INVESTMENT BANKS ONLY
 If you are interested in General Registration, register HERE
If you are a PE firm interested in attending DealSource® you must register as a Capital Connection® Exhibitor, please register HERE
ACG DealSource® offers investment bankers an exclusive opportunity to pre-schedule one-on-one meetings with attending private equity firms and limited partners. Participating investment banks will have reserved virtual rooms to taking pre-scheduled meetings with participating PE firms at the 2020 M&A West Conference. *Please note that by registering as a qualified Investment Bank, you are agreeing to take a designated amount of pre-assigned DealSource® meetings scheduled on Thursday, September 3rd from 10:30am-5:30pm.
Open only to Qualified Private Equity Firms, Intermediary/Investment Bankers/Family Office/Private Company CFO's and Strategic Buyer Executives.
2020 Participating Investment Banks
Bainbridge
Berman Capital, LLC
BofA Securities, Inc.
CIBC Cleary Gull
CriticalPoint Partners
Dinan Capital Advisors
Duff & Phelps Securities, LLC
G2 Capital Advisors
Harvey & Company LLC
Lincoln International
Locus Capital Partners
Metropolitan Capital
MHT Partners
Stifel
The McLean Group
The Spartan Group LLC
Tioga Advisors
TM Capital Corp.
Tritium Partners
Woodside Capital Partners
NOTE: PE Firms/Mezz Lenders wishing to participate in pre-scheduled meetings with participating ACG DealSource® Investment Banks will need to register and attend the ACG Capital Connection® Expo. ($795/up to two attendees). All individual intermediaries and capital providers who register will be invited to participate in ACG DealSource® Exchange and will be provided access to the online scheduling tool to make optimal use of your time.
More detailed Conference info can be found on the virtual Conference platform HERE