Image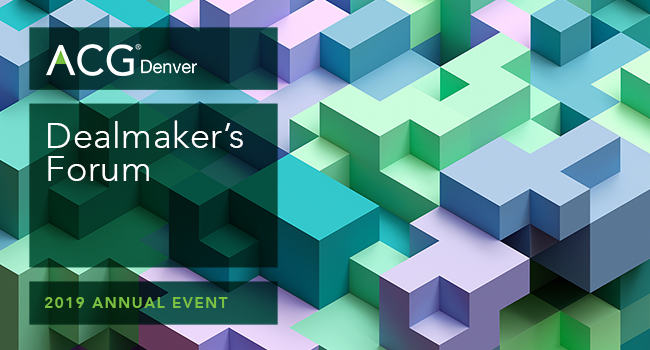 Event Details
When:
November 19, 2019 1:30 PM - 5:30 PM MST
Cost:
$100 - $150
Where:
Location Name
Hilton Denver City Center
Add to Calendar
Overview
Body
The Dealmaker's Forum is designed to bring together and educate corporate executives looking to buy or sell a business, as well as the broader M&A community of investment bankers, private equity professionals and other trusted advisors about current trends and issues and their impact on deal making activities. As the M&A market continues to evolve, our experts predict what will make deals happen short-term and long-term, as well as providing thoughts on areas of growing concern that may stop deals from ever getting to the finish line. This year's 12th annual event features two panels followed by cocktails.
Panel 1: Sweating (What Used to be) the Small Stuff. As buyers are growing increasingly sophisticated in a crowded and expensive marketplace, they are focusing on new areas of potential risk to limit potential liabilities and try to ensure they can hit the ground running following closing. Our panel will discuss these transaction challenges and potential remedies. Panelists include:
Jason Werner, Partner, Bryan Cave Leighton Paisner
Tyler Mark, Associate, Bryan Cave Leighton Paisner (Moderator)
Panel 2: The Next Gold Rush. Is it legalized cannabis and mushrooms, autonomous driving, "smart" meters or something more? Our panel will discuss industries and technologies on their radars as ripe for the next wave of M&A transactions. Panelists include:
Rob Heilbronner, Managing Director, Integris Partners
Chris Picardi, Senior Vice President of Commercial Banking, KeyBank
Please note: there will be an additional $15 surcharge for any onsite registration.