Image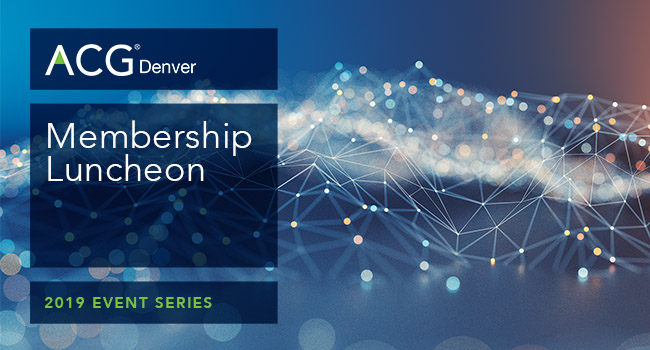 Event Details
When:
December 10, 2019 11:30 AM - 1:15 PM MST
Cost:
$60 - $90
Where:
Location Name
Embassy Suites Downtown Denver
Add to Calendar
Overview
Body
Note: Guests are welcome to attend two luncheons before joining ACG Denver.
Do you know where your tea comes from? Where and how your tea is cultivated makes all the difference in its taste and quality, as well as its overall impact on the planet and its people. Since 2006, Denver-based Teatulia Organic Teas travel straight from their organic tea garden in Northern Bangladesh to your teacup—nonstop.
Co-Founder & CEO Linda Appel Lipsius will share her secrets around building a brand known for doing things better—from the regenerative garden itself to the beautiful and sustainable packaging to the long list of awards Teatulia has received for quality. And how she has built a thriving middle market growth company along the way.
A Denver native, Linda earned her B.A. from Columbia University and her MBA in finance from New York University before moving to London, Los Angeles then back to Denver. Named one of Food & Wine/ Fortune's "20 Most Innovative Women in Food & Wine," Lipsius is a leading voice in topics ranging from entrepreneurship to women in business to sustainable business practices to clean food.
Please note: there will be an additional $15 surcharge for any onsite registration. 
Speakers
Linda Appel Lipsius
Teatulia Organic Teas
Co-Founder & CEO
Since 2006, Linda has been working with her partners in Bangladesh to bring premium-quality, 100% Organic, direct-sourced teas from a previously-unknown growing region to the United States. She has built a brand known for doing things better. Not only the face of the company, Linda also leads the retail channel and foodservice sales, and started the mama 'hood (a resource for new & expecting moms & their families) & Teatulia Tea Bar, next door to Teatulia's Headquarters. Previously, Linda was VP International with Orange Glo International (OGI) - makers of OxiClean, Kaboom, Orange Glo and Orange Clean - and Account Manager for Young & Rubicam. She lives in LoDo with her film maker husband Adam and her 11 & 9 year old Dorothy & Eli. In her spare time, Linda hangs with her kiddos, escapes to the mountains, devours movies & books and runs or practices yoga.