Image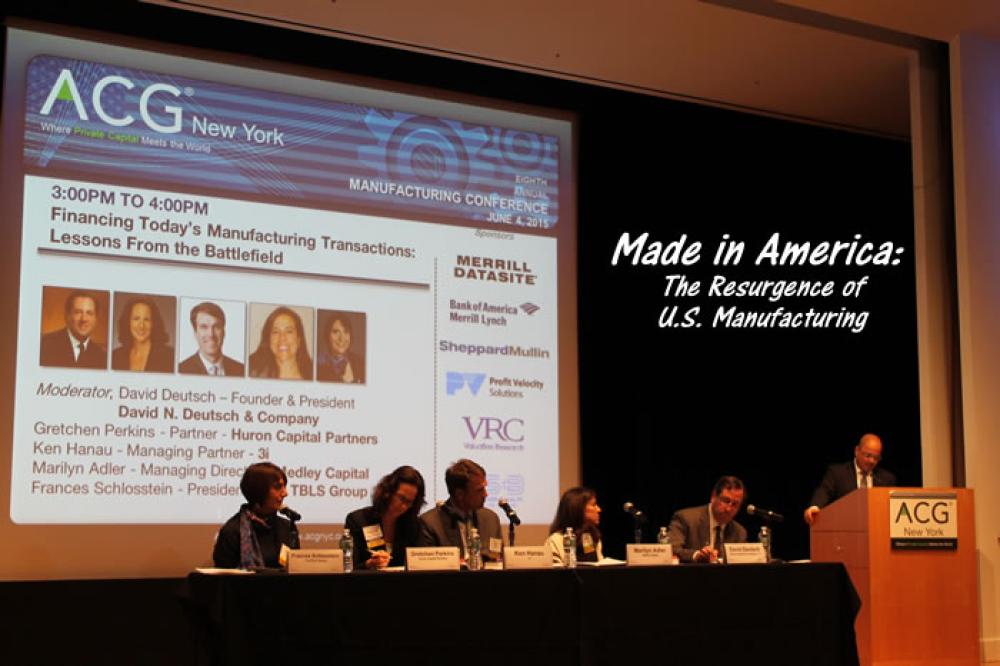 Event Details
When:
June 21, 2017 1 PM - 8:30 PM EDT
Where:
Location Name
180 Central Park South,NYC
Add to Calendar
Overview
Body
Made in America: The Resurgence of U.S. Manufacturing
Wednesday, June 21
New York Athletic Club, NYC
Conference Agenda
12:00pm– 1:30pm Keynote Address / Lunch
1:45pm – 2:45pm Panel Session I - Middle Market Business Owners
3:00pm – 4:00pm Fireside Chat
4:15pm – 5:15pm Panel Session II - Industry Specific Bankers
5:30pm – 7:30pm One-on-One Dealmaker / Industry Meetings and Networking Reception
Business Economic Luncheon --

Middle Market Companies: America's Economic Engine

The current economic climate and its impact on tangible deal flow.
Cross border trade and its impact on product cost.
The impact of rising interest rates on cost of capital.
The labor markets and the increase demand of a more technical work force,
The role of government policy and its impact on industry.
These are just to name a few.

Keynote Speaker --                                      
William Strauss, Senior Economist and Economic Advisor – Chicago Federal Reserve Bank

William A. Strauss is a senior economist and economic advisor in the economic research department at the Federal Reserve Bank of Chicago, which he joined in 1982. His chief responsibilities include analyzing the current performance of both the Midwest economy and the manufacturing sector for use in monetary policy. He organizes the Bank's Economic Outlook Symposium and Automotive Outlook Symposium. In addition, he conducts industrial and manufacturing roundtables throughout the year. 
Click here for full bio.   
Making Value: US Based Manufacturing in a Global Economy --
Business Owner/Operator Panel                                        
 

                                    
Moderator, Moderator, Carl Roston, Co-Head of M&A and Private Equity, Akerman LLP LinkedIn
Joseph Anderson, Chairman & CEO, TAG Holdings, LLC LinkedIn
Eric Fisk, CEO, Fisk Alloy, Inc. click for bio
Edgar Smith, Chairman & CEO, World Pac Paper click for bio
Ryan Sullivan, President, Xenith LinkedIn

Overview: Given our theme, "Made in America: The Resurgence of U.S. Manufacturing", we will hear from leading business owners and learn how these operators are focused on improving their current margins. Are there strategic initiatives at play to drive annual sales? Value creation is all about driving earnings and we will have the opportunity to explore how business owners are thinking about their businesses in light of the current market environment.

The role of the business owner in creating more jobs in the US and the impact of a technical versus traditional labor pool.

How are business owners strategically positioning their businesses in order to increase market share given the competitive global market place.

What cost cutting or efficiency measures are being adopted in order to improve overall earnings?

What role will automation play in the near term and its impact on the US labor market?
Fireside Chat --
Private and Public Partnerships: A Regional View of Investment Capital --




Moderator, Nelson Schwartz, economics reporter for The New York Times click for bio
John Sampson, CEO, Northeast Indiana Regional Partnership LinkedIn 
Don Cunningham, President, Lehigh Valley Economic Development Corporation click for bio
Hannah Stork, Director of Business Development, Northeast Indiana Regional Partnership LinedIn

Overview: Local economic development authorities play a vital role in economic development within their various regions of jurisdiction. We have invited two regional representatives to our event of whom will cover their various economic initiatives.
Many local economies have traditionally lost jobs to overseas manufactures. What creative solutions have local government economic authorities played while providing incentives for businesses to stay in their local communities?

Tax incentives have played a vital role in providing proper incentives for businesses to commit to communities long term. We will explore how these trends will continue in the near term.

Public and Private capital sources are the primary engine of local economic growth and development. We will explore the partnership between both sources of capital providers and its impact on project development.
Panel 2 --            
Capitalizing on the Resurgence --
Manufacturing M&A and Investment Trends


Moderator
, James Kask, Partner,
CohnReznick LLP LinkedIn
Kevin Frisch, Managing Director, 
Imperial Capital, LLC LinkedIn
Christian Lund, Partner, Hamilton Robinson click for bio
David Ruf, Managing Director,
Stifel Financial Corporation
LinkedIn
John Stewart, Partner,
Monomoy Capital Partners
LinkedIn
Luke Webb, Managing Director, 
Lincoln International LinkedIn
Overview: The M&A market continues to be marked by high acquisition multiples, creating an opportunity for industry experts to develop innovative methods in order to address how money can be made in transactions. A group of leading industry bankers and private equity investors will explore current M&A trends in domestic manufacturing industries and assess how their expertise and experience can help define creative solutions to increase the likelihood of a closed transaction and a successful investment outcome.
Panelists will speak on trends & recent history of manufacturing verticals.




-Heavy industrials (metals, paper, chemicals, etc.)




- Light industrials




- Automotive




- Packaging/Distribution




- Building Products

What impact will re-shoring, the Trump presidency, and the Fed's rate strategy have on domestic manufacturing M&A pricing and activity? Are high acquisition prices the "new norm" or can investors anticipate pricing relief?

There are solid implications of having a well-diversified PE portfolio of companies. How are PE firms rebalancing their existing portfolio of companies to anticipate an improvement in US manufacturing?

How does value get created over time? Are add-ons an effective means to "average down" a high entry multiple and create long term value with synergistic targets?

When is the right time to exit? When is the right time for maximum value creation?

The role of choosing the right operating team and its impact on growth and return.
Invite Only --

Industry One on Ones --
Private Equity Professionals and Investment Bankers to gather for an opportunity to review and share deal flow opportunities within the manufacturing sector. The event will be

invitation only

.
---
Event Secondary Body
MANUFACTURING COMMITTEE:
Anthony Caudle, Chair, RedTail Capital Markets
Daniel Officer, Vice Chair, Sperry, Mitchell & Company
Bonnie Harland, Pouschine Cook Capital Management
Richard Prestegaard, High Road Capital Partners
Matt Jahrsdoerfer, Berdon LLP
David Reynolds, Alvarez & Marsal
Brink Young, Synergy Environmental
David Clark, Raymond James
Bharat Ramprasad, Stifel
Hosted by:
ACG