Image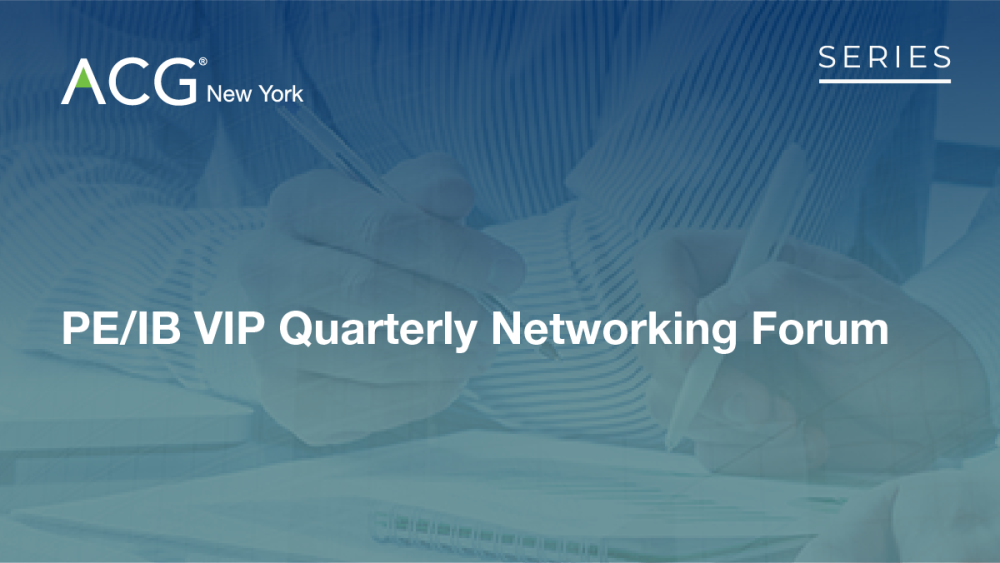 Event Details
When:
December 2, 2021 6 PM - 9 PM EST
Cost:
$200 - $250
Where:
Location Name
The Union League Club
Add to Calendar
Overview
Body
This Quarterly PE/IB Networking Forum will be held exclusively for Private Equity Executives, Investment Bankers, Lenders and invited guests. Steered by the ACG NY PE/IB Committee, each intimate peer-to-peer gathering is an excellent forum for ACG NY member only PE/IB executives, Lenders and others to share experiences and best practices while developing relationships in a convenient, enjoyable and relaxing setting.


This Roundtable will feature a discussion on the importance of ESG for both buy & sell side.
Once a growing movement centered mostly on climate, the concept of ESG has only continued to expand – with particular current focus on issues surrounding Diversity, Equity, and Inclusion (DE&I). Transaction, investor, and regulatory demands have heightened, and reporting requirements continue to increase around the world.
For the asset manager or portfolio company seeking to address ESG, the language, frameworks, and depth of topics surrounding these areas can be overwhelming. In this interactive session, we hope to demystify much around ESG providing tangible first-steps for best-in-class programs.
A well thought out ESG program is no longer "nice to have," it has become a "must have." Sellers, buyers, and investors alike are demanding stewardship, familiarity, and best practices around ESG that will protect businesses and create responsible value. We will delve into topics such as:
      - Basic foundations of a strong ESG program


      - Evolving expectations with respect to E, S and G

      - Best practices for full-cycle ESG integration, from pre-acquisition diligence, through ownership and exit


Event Secondary Body
CHECK OUT THE FULL SERIES & DATES
Hosted by:
ACG