Image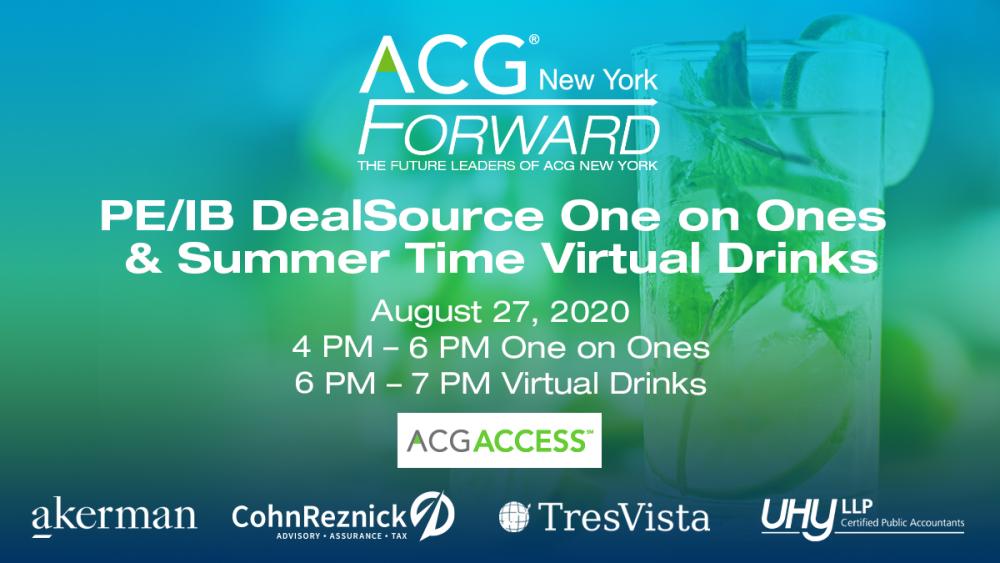 Event Details
When:
August 27, 2020 4 PM - 7 PM EDT
Cost:
$30 - $50
Where:
Add to Calendar
Overview
Body
This ACG members only event has limited capacity and registration is first come, first served.
Agenda:
3:30 PM - 4:00 PM Networking
4:00 PM - 4:35 PM Introductions & Panel
4:40 PM - 6:00 PM One-on-One Meetings
6:00 PM – 7:00 PM Virtual Drinks (Open to All)
7:00 PM - 7:05 PM Close
Panel and One-on-One Meetings are only open to an intimate audience of:
Private Equity Fund Managers
Investment Bankers
The Private 1-1 meetings will be facilitated by ACG Access. The platform allows you to upload your extensive profile, review the attendee list, rank your ideal picks and request meetings. Who you agree to meet and consequently your meeting schedule will be controlled by you. The process and meetings is curated to your deal needs.
Please note that a percentage of event proceeds will be donated to ACG Cares. 
Speakers
Image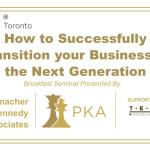 Troy Iskarpatyoti
Graycliff Partners
Vice President, Credit
Troy is a Vice President at Graycliff Partners, a NY based investment firm focused exclusively on the lower middle market. Graycliff has a dedicated credit fund that is industry agnostic and focused on unitranche, subordinated debt, structured junior capital and minority equity investments, as well as a dedicated equity fund focused on control buyout transactions, primarily in niche manufacturing, business services and value-added distribution. In total the firm oversees over $1 billion in assets under management.   
At Graycliff, Troy drives origination, underwriting and deal execution efforts on behalf of the firm's dedicated credit fund. He has extensive experience across a variety of industries including industrials, business services, manufacturing, distribution and consumer; as well as a variety of transaction types including private equity, independent sponsor and unsponsored financings.
Prior to joining Graycliff in 2015, Troy was as an analyst with Jefferies within their Global Industrial investment banking group. Troy graduated from Vanderbilt University with a BA in Economics and a concentration in Financial Economics and Mathematics. 
Image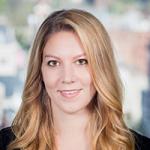 Christen Paras
MiddleGround Capital
Head of Business Development and Investor Relations
Christen Paras is Head of Business Development and Investor Relations at MiddleGround Capital. She focuses on originating and evaluating new investment opportunities; developing investment themes; building relationships with intermediaries, business owners, and industry executives, the firm's limited partners, and prospective investors; and managing all marketing and communications for the firm.
Founded in 2018, MiddleGround Capital is a private equity firm based in Lexington, Kentucky with a second office in New York City. The firm makes control equity investments in lower middle market B2B industrial, manufacturing, and specialty distribution businesses and works with its portfolio companies to create value through a hands-on operational approach and support long-term growth strategies. MiddleGround is currently investing out of its first fund of $460 million and has made 6 acquisitions to date.
Prior to joining MiddleGround, Christen served as Head of Global Business Development for CoBe Capital, an operationally-focused private equity firm that acquires corporate divestitures across North America and Europe. Christen was previously a Managing Director at Orion Consultants, a fixed income management consulting firm, where she advised global investment banks on managing their top institutional relationships and optimizing market position before, during and after the Great Recession.
Christen received her MBA from The Wharton School at the University of Pennsylvania and her BA from the University of Pennsylvania.
Image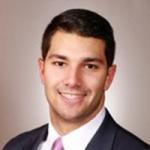 Melvyn Threatt-Peters II, MBA
The DAK Group, Ltd.
Vice President, Mergers & Acquisitions, Sponsor Coverage Officer
Melvyn Peters is a Vice President at the DAK Group, a NJ-based middle market investment bank that provides advisory services to multi-generational family, founder or entrepreneur-led organizations, private companies and financial sponsors throughout the United States.
At DAK, Melvyn drives origination and deal execution efforts for buy and sell-side M&A transactions, restructurings and financings. He has extensive experience serving a variety of industries including; industrials, business services, consumer, technology, and healthcare. He also leads DAK's sponsor coverage efforts for private equity and credit funds, family offices, and independent sponsors. 
Prior to joining the DAK Group, Melvyn was as an Associate with Nexus Capital Markets, a boutique Investment Bank focused on the EMEA Region. He started his career at Broadridge Financial Solutions, where he managed a team in the Investor Communications Division after completing their Management Training Program.

Melvyn earned his BA and MBA from St. John's University and completed post graduate coursework at NYU.
Image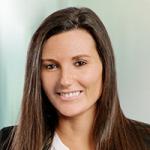 Jeanine Marino, Moderator
Jeanine has more than ten years of experience providing audit, accounting, and business advisory services at UHY LLP. She has significant knowledge in many industries and across multiple practices.
She is responsible for all phases of engagements, including planning and execution. She is well verse with interfacing with all levels of client management and suggesting improvement in accounting policies and procedures. Jeanine manages engagements for a variety of industries that include financial services, private equity and investment companies, web-based services, not-for-profit organizations, manufacturing, commercial and other nonpublic entitiesJeanine has significant knowledge and professional experience in a range of client needs including: audits of financial statements, financial due diligence services, including preparing Quality of Earnings reports for both buy and sell side of transactions, other transactional services, including detailed review of working capital, EBITDA, and Quality of Earnings reports, opening balance sheet audits for closed acquisitions, including assistance with push-down accounting and valuations of intangible assets, review and compilation engagements, employee benefit plan audits, audits and reviews of publicly traded companies including IPO filings, proxy statements, and required filings of 10-K and 10-Q forms and consulting services including Section 404 of the Sarbanes-Oxley Act for Public Companies
Attendee List
Event Materials
Event Materials
ACG Access Platform 

Please contact Angie Clay at aclay@acgnyc.org for more information.
PE/IB Pricing (Includes One-on-Ones, Panel, & Summer Time Virtual Drinks):
$30 ACG NY Member 
$45 ACG Member of Another Chapter 
$50 Non-Member 
Summer Time Virtual Drinks Only Pricing (Open to All):
Complimentary for ACG Members 
*Open to members first due to limited availability. If space permits non-members will be invited. 

ACG NY Virtual Events Terms & Conditions