Image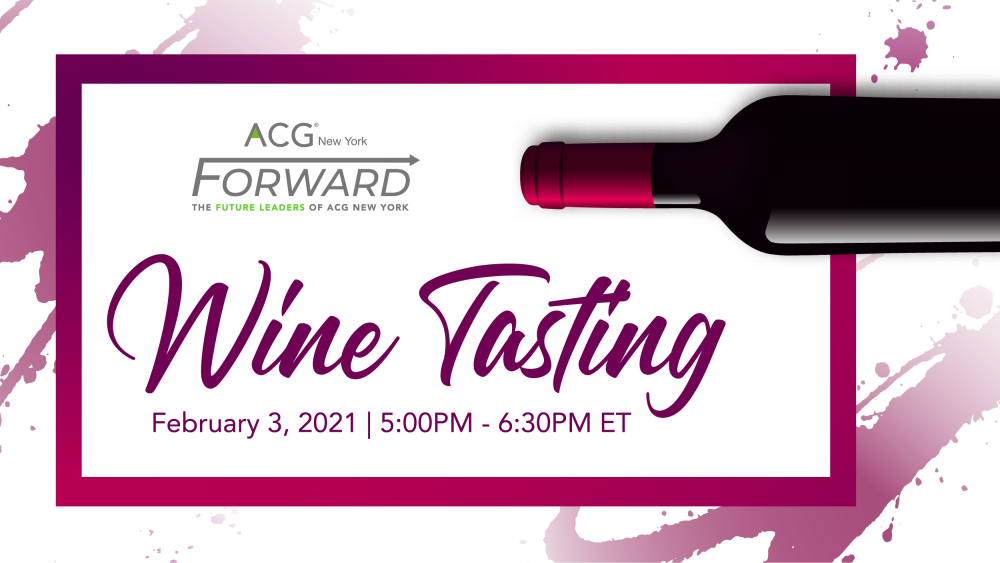 Event Details
When:
February 3, 2021 5 PM - 6:30 PM EST
Where:
Add to Calendar
Overview
Body
 This event is now sold out -- we look forward to seeing you at our next event! 
Join ACG New York for a fun and educational Virtual Blind Wine Tasting event with Lifetime Vintage! You will receive four anonymous wines (all in 375ml half bottles) and we will work together in small groups with a trained sommelier to play a fun and competitive guessing game to identify the wines. Each team will be scored on how well they can guess the varietal and vintage. The winning team will receive a prize.
This event is for young professionals who are Forward members or interested in becoming Forward members of ACG New York. Forward is defined as Young Professionals 35 and younger.
Event Secondary Body
ACG New York Forward was established to offer Young Professionals 35 and younger with the resources needed for professional growth. This group is designed for mid-level professionals focused on M&A and deal-making in the Tri-State area. Our mission is to promote young professionals in the deal-making space with a networking forum where they can comfortably meet and network with peers in the industry. This group will help you grow as a leader and learn from mentors who will help guide you into the next stage of your career.
Hosted by:
ACG