Image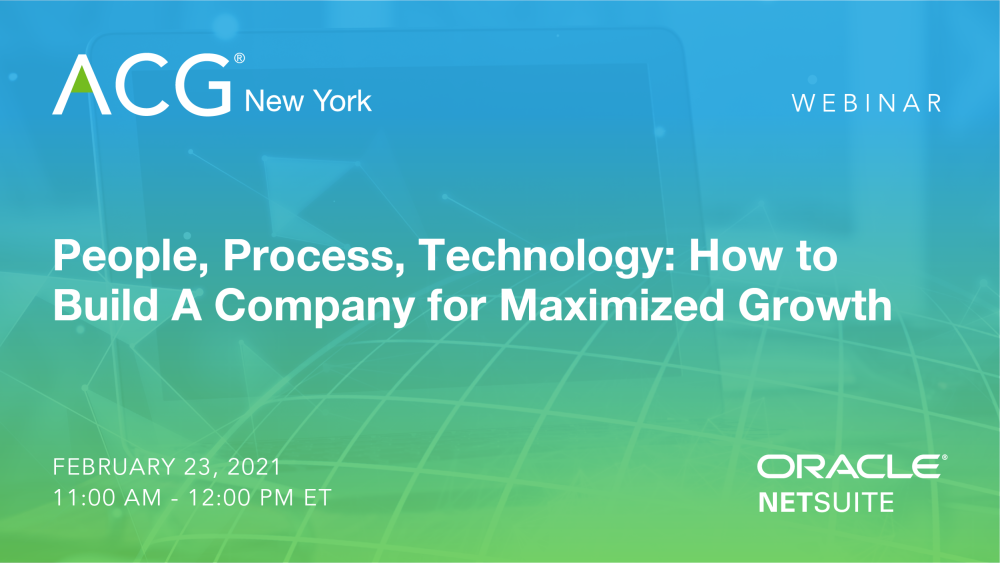 Event Details
When:
February 23, 2021 11 AM - 12 PM EST
Where:
Add to Calendar
Overview
Body
REGISTRATION NOW CLOSED

Join us for Part Two of People, Process, Technology: How to Build A Company for Maximized Growth. The purpose of a webinar between NetSuite and ACG NY is to infuse existing conversations on corporate growth, raising capital, adding net value and maximizing exits with the role that technology can play in improving professionalization, transparency, good governance and speed.
Lyndsey Grubb from the NetSuite Private Equity Practice will join to discuss the relationship between strong technology, operational efficiency, company culture and fundraising/valuations/exit. They can industry trends, the working relationship between PE/VC firm and portfolio company, how a PE firm drives operational value creation and how strong technology infrastructrues and the right people can enhance that value creation and ultimately lead to an ideal exit.
This webinar will cover:
• Technology must improve and advance efficiency, transparency, good stewardship and speed
• The power of simplifying your technology tools, not hype
• How can investments in technology affect resilience to unforeseen events like COVID-19?
• The relationship between strong, cloud-based technology and corporate growth/fundraising
• A tactical breakdown of the ACG member realities / challenges and the ways that cloud-based technology addresses them, focusing on transparency of financials, good stewardship of investments and corporate processes advanced and buttressed by technology
Event Secondary Body
Agenda: 
11:00 AM - 11:05 AM Introductions 
11:05 AM - 11:55 AM Lyndsey Grubb interviewed by Vikash Magdani
11:55 AM - 12:00 PM Closing Remarks 
Hosted by:
ACG
Sponsors
Event Materials
Event Materials
Complimentary for Members and Non-Members.
Please contact Angie Clay for more information.