Image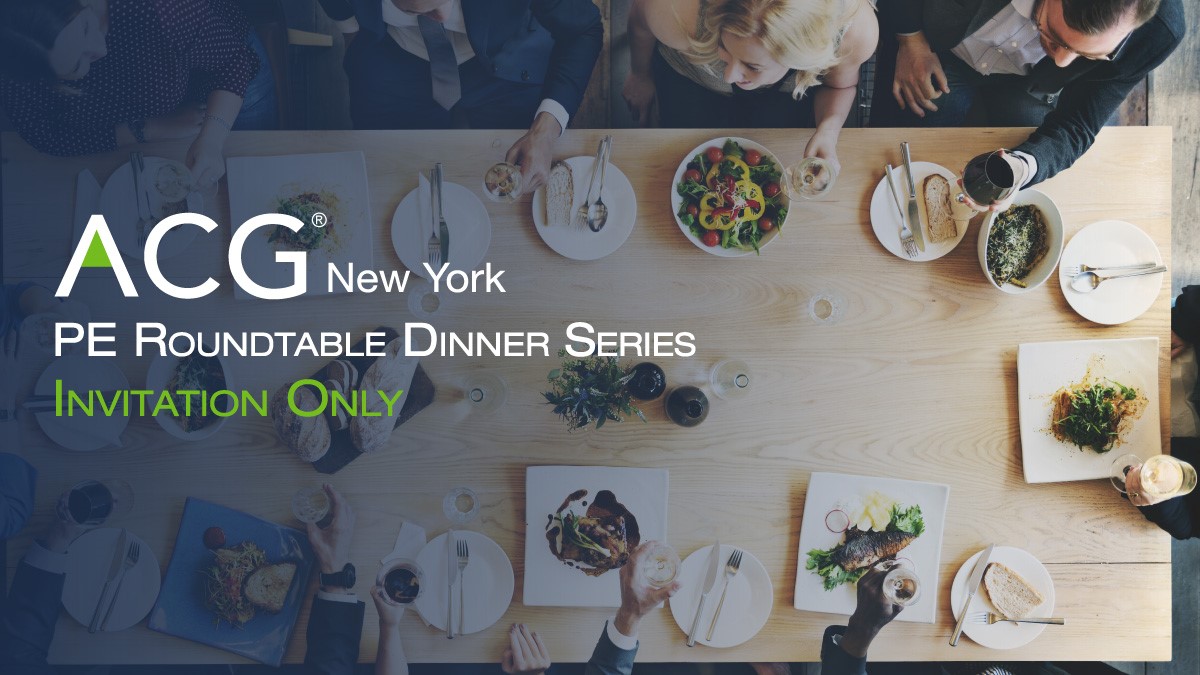 Event Details
When:
September 12, 2019 6 PM - 9 PM EDT
Where:
Add to Calendar
Event Secondary Body
The Private Equity Roundtable enables senior level PE investor the opportunity to collaborate with your peers to gain valuable insights. This limited-membership group will help you and your firm navigate an increasingly competitive middle market M&A landscape. If you are a private equity professional living outside of New York, the PE Roundtable also provides an excellent reason to plan a quarterly visit and meeting with your key investment banking and limited partner prospects. 
Modeled off of YPO, the Private Equity Roundtable discusses issues decided by the annual members that are relevant to PE investing to understand and develop best practices in our industry relating to deal sourcing, financing, LP development, due diligence, operational improvement, strategy development, portfolio company management, GP management and exit maximization, by inviting industry leading speakers to address the members in a an open discussion/roundtable forum.
The ACG New York Private Equity Roundtable is an intimate discussion-based group that is only open to Principals and Partners of Private Equity firms that make direct investments in middle-market companies and have at least $100 million of committed capital.  By design, this group only has 25 members at any time and once full, will be open on a wait-list basis only.  Each member can participate on a 1 year basis or on a meeting to meeting basis (depending on space).  
The cost to attend for will be $375 for the remaining 2 dinners.  Each annual member may attend in person or substitute with another senior member of your firm. 
We generally meet the 3rd Thursday in March, June, September, and November for cocktails and dinner, starting at 6pm and ending at 8:30pm. This allows us 45 minutes to network with our peers, 15 minutes for a sponsor presentation, an hour for dinner and a presentation, and 30 minutes to discuss topics of member interest.  Further, an added benefit of membership is that when any member has a question or issue, they can email other members with their questions and all members participate in an online discussion regarding their experiences as they relate to the question raised.  In this way, not only would we benefit from the quarterly meetings, but from a network of peers that allows you to identify and implement best practices.
AGENDA:
6:00PM - Cocktails & Networking
6:45PM - Sponsor Presentation
7:00PM - Dinner and Presentation
8:00PM - Executive Session - OPEN ONLY TO MEMBERS
8:30PM - Conclusion

Remaining Dinner Series Includes the Following Dates: September 12, 2019 and November 14, 2019
For additional information or to request an invitation, please contact the Event Co-Chairs:
Robert Landis, Partner, The Riverside Company   rlandis@riversidecompany.com or 212.265.6408
David Hellier, Partner, Bertram Capital (dhellier@bcap.com) or 650.358.5083
Hosted by: ACG New York
Hosted by:
ACG
Attendee List
Event Materials
Event Materials
Event Related Questions?
Contact Kara Gomes at kgomes@acgnyc.org or call 212-489-8700 x4