Image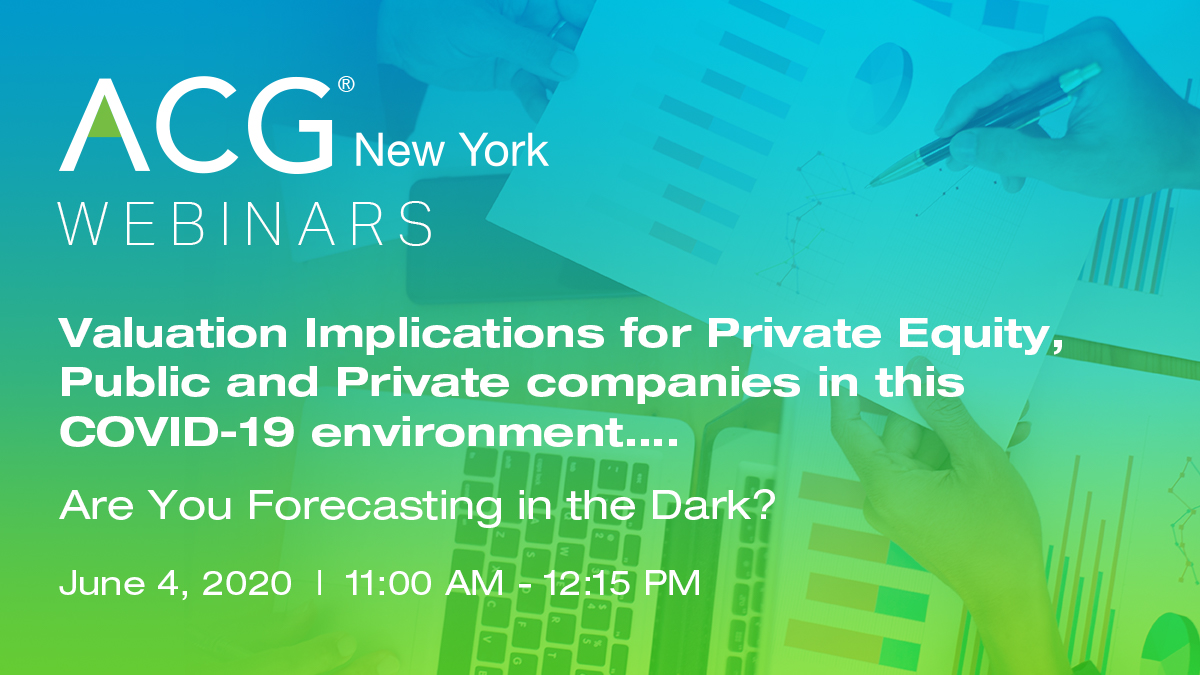 Event Details
When:
June 4, 2020 11 AM - 12:15 PM EDT
Cost:
Free
Add to Calendar
Overview
Body
Join Corporate Valuation Advisors, Inc. (CVA) and Reed Smith, LLP for a lively and informative discussion featuring valuation perspectives from Jim Volkman of CVA, and transaction considerations for professionals within the M&A space from Chris Sheaffer of Reed Smith. This webinar will address the impacts and opportunities of a distressed market on valuations and transactions for Private Equity as well as public and private companies. Topics include, uncertainty and volatility, transactional and accounting implications, earn-out provisions and unique opportunities from a buyers and sellers perspective.
Valuation Considerations in a Distressed Market, PE and Public/Private Companies
Presenter, James Volkman, Corporate Valuation Advisors, Inc. (CVA)
Uncertainty and volatility (Effects on; Value, options values, multiples & forecasts)

Transaction Impacts (Earn out Provisions, multiples, contingent considerations, etc.)

Accounting Implications (Goodwill/long lived assets impairments)

Opportunities (Distressed business availability, Stock options, estate planning)
Private Equity, Public and Private Company Considerations in Distressed Market
Presenter, Chris Sheaffer, Reed Smith LLP
Market/Macro Level Impacts (return and exit timing assumptions, forecasting)

Buyer Perspectives (Impacts on price,  revenue growth, supply chain, risks, etc.)

Seller Perspectives (timing, pricing, guarantees, structure options to mitigate risk)

Other Considerations (earn out concepts, EBITDA adjustments, impact on interim operating covenants, definition of Material Adverse Effect, etc.)
Speakers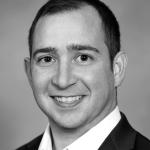 Chris Sheaffer
Chris is a partner in Reed Smith's Global Corporate Group resident in the firm's New York office and also serves as global vice-chair of the Private Equity Group. Chris concentrates his practice on private equity transactions and domestic and cross-border mergers & acquisitions across a broad range of sectors, including consumer brands and retail, industrials and manufacturing, technology, media and telecom (TMT), financial services, healthcare, and entertainment & media.
Chris was named among M&A Advisor's Emerging Leaders and has been recognized as a "Rising Star" for Mergers & Acquisitions by Super Lawyers every year since 2013. Chris is an active member of the Association for Corporate Growth (ACG) and is a member of the Board of Directors of Trailblazers, a local non-profit supporting child development through outdoor adventure, leadership and after school programming.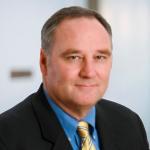 Thomas Stapleton
Corporate Valuation Advisors, Inc.
President and Managing Director
Tom serves as the President and Managing Director for Corporate Valuation Advisor's, Inc. Serving in this capacity, Tom is responsible for developing the corporate growth, marketing and sales strategies as well as developing and maintaining client relationships for all types of valuation engagements including, but not limited to: Business Enterprise Valuations, Purchase Price Allocations, Stock and Stock Option Valuations, and Ad Valorem Tax Services. He is also a principal shareholder of the Company.
Tom spent over 20 years of his career at Fortune 500 Company Pitney Bowes, working primarily in the marketing, sales, and finance divisions. Tom's key leadership responsibilities included the management of customer marketing, customer satisfaction, business development, and business process improvement. Tom completed studies at Harper College and Northwestern University's Kellogg School of Management.
Tom's been married to his wife Meg for over 35 years, has three grown children that he is very proud of, and two new grandchildren that are the apple of his eye. His hobbies include good music, bad golf, and following all of the college and professional sports teams in Wisconsin. His favorite time is spent with his family and friends.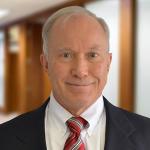 James Volkman
Corporate Valuation Advisors, Inc.
Managing Director of Financial Valuation Services
Mr. Volkman serves as the Managing Director of Financial Valuation Services. In that capacity, he is responsible for the performance and management of all financial valuation engagements undertaken by the Company. He has performed appraisals of the capital stock of a wide array of industries and his appraisals have been relied upon for purposes related to Fairness Opinions, Solvency Opinions, Restructurings and Recapitalization, establishment and continuation of Employee Stock Ownership Plans, Acquisition and Divestitures and Estate Planning.
Mr. Volkman also has considerable experience in the valuation of intangible assets. His appraisals have included complex patented and non-patented technologies as
well as agent contracts with actors, musicians and professional sports figures. The nature of his work has required that he provide expert testimony on numerous occasions in support of his value conclusions.
Mr. Volkman received a Masters Degree in Finance from the University of Wisconsin and is a Senior Member of the American Society of Appraisers designated in Business Valuation. He is also a principal shareholder of the Company.
Moderator, Frank J. Marcucci, Jr.
Corporate Valuation Advisors
National Director
Frank serves as the National Director, Business Development of Corporate Valuation Advisors, Inc., ("CVA"). Mr. Marcucci is responsible for client development efforts in securing new markets within the Northeast Corridor, the Midwest, Canada, Europe and Asia. The majority of Frank's new and existing clientele are Fortune 500, public and private company clients, closely held enterprises, private equity, investment banking, trust & estate planners, law and accounting firms and their advisors. Frank has a 25+year track record of managing the maintenance and growth of key client relationships, as well as the development and implementation of appropriate strategies and goals critical to the firm's long term success.
Prior to joining Corporate Valuation Advisors, Mr. Marcucci was a National Director for EAC Valuations, LLC. His background also includes senior positions at Management Planning, Inc., and Enterprise Appraisal Company.
Mr. Marcucci attended Villanova University, Montgomery County Community College, Admiral Farragut Academy, and is continuing education through valuation seminars and conferences. He has professional society memberships with The Association for Corporate Growth (ACG) – New York & Philadelphia, The Philadelphia Estate Planning Council (PEPC), Chief Financial Officer Network (CFO), The Estate Planning Council of Delaware (EPCD) and the Wilmington Tax Group (WTG).
Frank's interests include rugby, biking, running, tennis, PA Sports (Steelers/Eagles/Philadelphia Union), spending time with family and friends. He also holds the positions of: Chairman – Devon Horse Show, Committee Member – Radnor Races, Radnor Hunt, Associate Member – The Orpheus Club of Philadelphia.