Image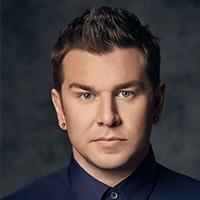 Louis-James Davis (LJ) is an award winning inventor, innovator and entrepreneur in cyber technology security. He is also the CEO and founder of VST Enterprises a pioneering cyber security and technology firm based in Manchester As an inventor and innovator he has brought various concepts and technologies to market that are at the cutting edge of revolutionising the banking, identity anti counterfeiting and crime prevention sectors with a focus around consumer interactions and security.
Formerly a highly successful professional musician on the international stage, LJ retired from the rock music scene in 2009 after an illness took him away from mainstream performance. During his convalescence he turned his passion for technology into entrepreneurial momentum and invented a unique form of code scanning tech which has now become the basis for the innovation of the VCode® cyber security technology.
His first foray into the world of technology happened when LJ designed the worlds smallest combined GPS & telecommunications wristband for children and vulnerable adults with dementia and other illnesses. The technology that was designed by Louis was so ahead of its time that it was shown at the Consumer Electronics Show (CES) in Las Vegas. This was all before Apple had bought the Apple Watch to market. The technology was later sold to a major corporation allowing LJ an exit strategy to focus and continue with his next innovation, the VCode®.
Having looked at the existing code scanning technologies that were in the market at the time with 2D bar codes and QR codes, Louis quickly realised that both technologies were limited in their uses and had major fundamental drawbacks in their applications. Fundamentally their biggest vulnerability lay in their security, allowing them to be hacked and breached.  As bar codes and QR codes were viewed as first and second generation technology, LJ set out to achieve the next generation of code scanning technology in the shape of VCode®.
Unlike bar codes and QR codes, VCode® would have the highest levels of security, greater operability, inter connectivity and flexibility to be used in many sectors from anti counterfeiting, government identity, logistics, supply chain management, to banking and finance. Alongside the VCode® technology, LJ also then built the secure platform engine for VCode® to sit alongside and provide the operability and capability to be used in other areas such as anti counterfeiting of currency, diamonds, precious metals and identity provisioning.
In March 2020 when the world was shaken to its core with the deadly Covid-19 pandemic, LJ wanted to see if he could pivot the existing technology of VCode® into a digital health passport that could provide a record of Covid 19 testing.  Within 6 weeks LJ's idea to pivot the VCode® code scanning technology into a secure digital health passport was born.
Since then LJ  - as CEO of VST Enterprises - has used the VCode® technology components to create and launch the V-Health Passport™ globally. This has been developed into the worlds most secure digital health passport in the fight against Covid. The technology provides Governments, Corporations, organisations and the public to have a health passport wallet - contained in their mobile phone on an app  - secured by VCode® which provides authentication of a persons identity, their Covid test status and record of vaccinations. The V-Health Passport™ also uniquely has its own contact tracing capability built in and was designed with privacy in mind offering GDPR compliant technology built on a self sovereign identity model.
V-Health Passport™ is being rolled out to Governments around the world, corporations and organisations. It is also being used in pilots and active programs across sports, entertainment, airlines, business, commerce and industry. V-Health Passport™ is also front and centre of a number of campaigns such as 'Fit To Fly,' 'Fans Are Back', 'Back To School', 'Fans Are Back' all aimed at getting people flying, back into school or University or back into sports grounds, music concerts and/or theatres. 
A unique visionary and innovator in the tech and cyber tech space, LJ is an in-demand speaker on entrepreneurship, technology and cybersecurity and has spoken at many exhibitions and conferences on behalf of VST Enterprises, MIDAS, UK Trade & Investment and Manchester Universities.
Both he and his wife Nicole Davis are committed and dedicated philanthropists, committed to helping the next generation of male and female talented coders and programmers to gain entrepreneurial skills whatever their background. LJ is a primary supporter of numerous initiatives that help underprivileged or under supported businesses struggling to find a platform for their enterprise to access channels for contacts, investment and growth. LJ was awarded the role of Ambassador for Science & Technology by the President Of Zimbabwe in 2018 at the World Economic Forum in Davos.
He later resigned the role to put more focus on developing other projects including one with the United Nations where VCode® is being used as part of the SDG Collaboratory Project ( Sustainable Development Goals) to give 9 Billion people unique identifiers using VCode® by 2030. These are projects to assist the 'under banked' and 'under privileged'. LJ is the Creative Digital & Health Care Technology Ambassador for the Manchester Metropolitan University and also an ambassador for  Manchester's leading Coding University Code Nation. He is also an ambassador for KidScan Children's Cancer Trust and a founding trustee of the Darwin Charity Project.