Image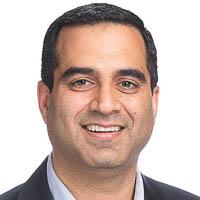 Ashish Kachru co-founded Altruista Health in 2007 with the mission to provide a highly advanced yet intuitive care management solution for the healthcare ecosystem. He has successfully led the evolution of the company from a start-up to an industry leader that has been noted twice by Becker's Healthcare as a Top Population Health Company to Know. This success led Ashish to be named one of the Top 10 Emerging Healthcare Industry Leaders by Managed Healthcare Executive magazine in 2018. Ashish draws his leadership and process improvement expertise from a wide range of industries, including manufacturing, consumer product goods and venture capital, combining best practices from each to improve the delivery of healthcare. Prior to Altruista's founding, he was the National Director of Business Risk Management with UnitedHealth Group, where he managed more than 3 million Medicaid members in 20 states. Additionally, he served in a market strategy and planning leadership role with Proctor & Gamble. In 2017, Ashish received the EY Entrepreneur Of The Year® Award in the health category for the Mid-Atlantic region. He was named a Top 25 Tech CEO by the Northern Virginia Technology Council in 2019. Ashish is a member of the Forbes Technology Council and regularly authors columns for Forbes online.

His speaking credits include a 2020 panel on AI and machine learning at BIO International, Health Datapalooza, the Bank of America Healthcare Conference, the Medicaid Managed Care Summit, the WEDI National Conference, the Northern Virginia Technology Council Conference, the Northern Virginia Capital Connections Conference and the Mid-Atlantic Association Capital Connections Conference.

Ashish is a member of the Young Presidents' Organization. He holds a master's degree in engineering and nanotechnology from the University of North Carolina, and a master's in business administration from the University of Chicago Booth School of Business. Ashish is a Master Six Sigma Black Belt.