Image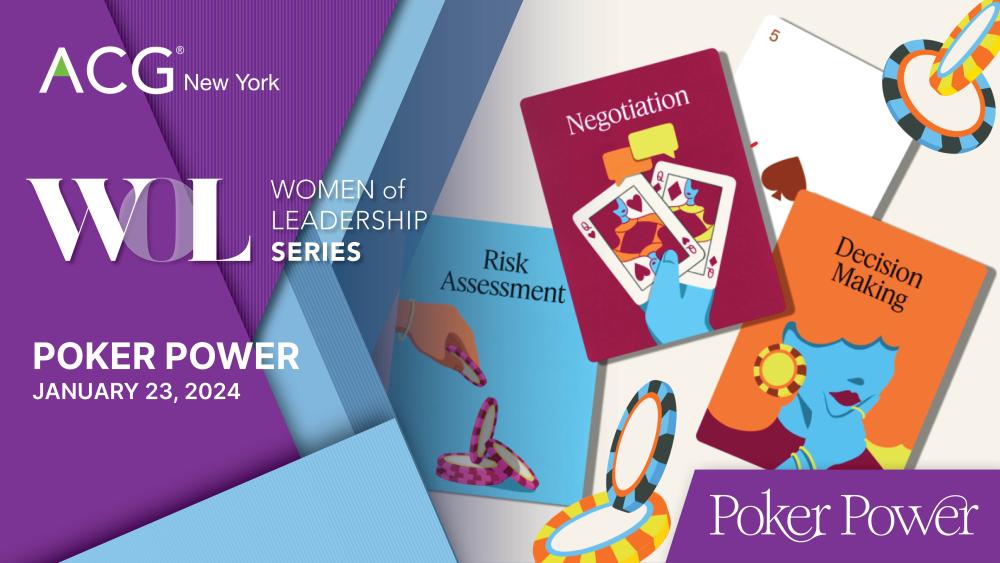 Event Details
When:
January 23, 2024 6 PM - 8:30 PM EST
Where:
Add to Calendar
Event Secondary Body
Join ACG NY for an exciting evening of poker and networking with fellow women in the Middle Market! Refine your poker playing skills with Poker Power. World class instructors will lead interactive workshops teaching both poker and critical leadership skills so that any situation can be turned into a big WIN!

Poker Power has taught over 1 million women+ how to play the game, the game of poker and the game of life, so they can compete and succeed in business, finance, and life — all in a fun, supportive, and safe-to-fail environment.

Thank you to the ACG NY Women of Leadership Committee for hosting this special event. 

Thank you to Poker Power for their collaboration on this event!
 
Image

ABOUT ACG WOMEN OF LEADERSHIP SERIES
ACG NY Women of Leadership (WOL) was founded in 2008. While embracing and maintaining the principles and goals of ACG and the NY Chapter, WOL specifically focuses on facilitating connections between women leaders in the deal-making community so that they can share experiences, needs, contacts and overall, help one another succeed. The Women of Leadership Series is dedicated to providing female leaders a forum to connect and network. This series is hosted by the ACG NY Women of Leadership Committee.  
CHECK OUT THE FULL SERIES & DATES
Hosted by:
ACG
Event Materials
Event Materials
Please contact ACG New York for more information.
Pricing:
$295 ACG Member 
$325 Non-Member